Business Insurance
Learn more about what it means to be a Farmers
customer by starting your quote today.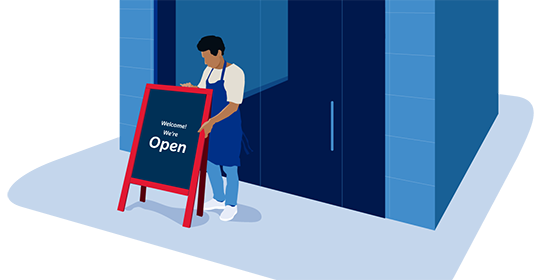 Whether you're shopping for commercial insurance, ready to purchase a policy or reviewing your current coverage, we're here to help you:
Research business insurance options by coverage type and industry type.
Understand the value Farmers agents and claims representatives add to your experience.
Get answers to insurance questions that are often asked by small business owners like you.

Our goal here is simple: To equip you with information so you can choose the commercial insurance coverage you want for your business.
Browse business insurance coverage types
Business owners have told us they like the customizable policies Farmers offers - and these are the major components in your robust menu of business insurance options.
Additional business insurance options to consider
You can also explore coverage options with these handy "cheat sheets" that outline industry-specific insurance options for businesses like yours.

Apartment - For owners of small apartment buildings, large apartment complexes and everything in between.

Auto Service and Repair - For owners of shops that specialize in collision repair, oil changes, transmission repair and more.

Commercial Real Estate - For those who own office buildings, retail shopping centers, industrial parks, warehouses and self-storage facilities.

Contractor Insurance - For independent contractors such as plumbers, electricians, landscapers and painters.

Education and Non-Profit - For organizations including schools and civic groups.

Homeowners Association - For governing bodies that manage the common areas and other aspects of a homeowners association.

Manufacturing - For companies that manufacture products of virtually any type.

Office - For the offices of independent professionals such as doctors, lawyers and consultants.

Religious Organization - For churches, synagogues, mosques, temples and other types of religious organizations.

Restaurant and Food Truck - For owners of food trucks and quick service, casual and fine dining restaurants. 

Retail Store - For those who own shops such as salons, dry cleaners, boutiques and convenience stores.

Wholesale - For businesses that provide wholesale goods and services to retail industries.