Every Person, Every Perspective, Every Day



OUR WORKPLACE
Taking care of our employees is a top priority. Here are some of the ways we provide support:
Farmers Family Fund
Farmers® employees share a long history of giving generously of their time and money to support others — including their co-workers — in their time of need. The Farmers Family Fund enables the Farmers community to respond quickly when eligible employees experience a qualifying unexpected financial hardship. Since its launch in 2012, it has provided more than $4 million in grants to support employees.
Diversity, Equity, Inclusion and Belonging
Our commitment to diversity and inclusion is the foundation of our organizational culture. We sponsor a broad range of employee groups, including the Women's Inclusion Network, Farmers Pride, Veterans & Advocates, Farmers Asian Alliance, Somos Farmers, Black Professionals Alliance, Disability Inclusion Group, Farmers Future, Farmers Fit, Mindfully Fit and Caregiver Connect. Visit our Careers and our Diversity, Equity, Inclusion and Belonging pages to learn more.
---
OUR COMMUNITIES
Giving back, serving others and making a positive impact in communities across the country is at the core of Farmers social responsibility efforts.
Disaster Resilience
One of the major ways we seek to serve our communities is through philanthropic efforts focused on disaster resilience. Together with our nonprofit partners, we help communities plan and prepare for natural disasters and recover in the aftermath.
We help communities get ready
by sharing best practices and safety information/education materials
We help communities get through
by providing immediate and experienced response, and supporting first responders
We help communities get strong
by helping rebuild more sustainable and resilient communities


Disaster Relief Giving Campaigns
To help make it easy for our employees to contribute to nonprofits working on the ground to save lives, respond and rebuild after natural disasters, we set up giving campaigns and, in some instances, match dollars donated by our employees.
Nonprofit Partners
As Farmers works to maintain a high standard of responsible corporate citizenship, we donate our time and resources to nonprofits that help make a difference in our communities.We have strategically aligned ourselves with three national nonprofits: SBP, Team Rubicon, and Operation BBQ Relief.
SBP's mission is to help shrink time between disaster and full recovery by working with communities prior to a disaster and helping disaster-impacted citizens and communities recover in a prompt, efficient and predictable manner. Since its founding in 2006, SBP has directly rebuilt homes for more than 1,888 families with the help of more than 180,000 volunteers in cities across the United States and Puerto Rico.
Team Rubicon unites the skills and experiences of military veterans with first responders to rapidly deploy emergency response teams. Founded in 2010, Team Rubicon has deployed across the United States and around the world to provide immediate relief to those impacted by disasters and humanitarian crises.
Operation BBQ Relief provides comfort to those in need by connecting, inspiring, serving and educating in communities far and wide. The nonprofit was founded in May 2011 in response to a need for relief efforts in tornado-stricken Joplin, Missouri, and continues to respond to natural disasters and other situations to help feed displaced residents and emergency personnel.
---
ECONOMIC EMPOWERMENT
Farmers will support programs that work to eliminate financial barriers for low-moderate-income communities. We'll be working with organizations to deliver financial literacy, insurance education and career development opportunities, help grow diversity in the game of golf, and fund scholarships through HBCU and HSI universities to invest in the next generation of talent.
Economic Empowerment includes a focus on:
Career development and career readiness programs
Strengthened University Relations through speaking events and to support talent diversity
Growing the game of golf to bring greater diversity to the sport and help to eliminate the financial barriers of the game at all levels
Financial Literacy, funding programs to deliver financial education and introduce risk and insurance at a younger age, connecting the dots between financial readiness and being prepared for the unexpected
---
FARMERS INSURANCE OPEN
The Farmers Insurance Open®, a marquee event on the PGA TOUR, is held in January at Torrey Pines Golf Course in La Jolla, California. Since becoming the title sponsor in 2010, Farmers has developed the tournament to center around much more than just golf. The tournament continues to make an impact on the community through its charitable platform, Together on the Tee. The Farmers Insurance Open has generated millions of dollars benefiting local charities, including the six Champions for Youth organizations that support at-risk and underserved youth and low-income military families.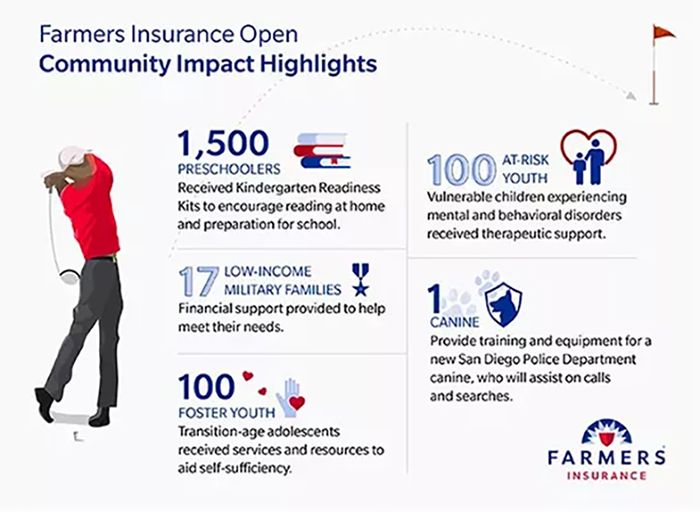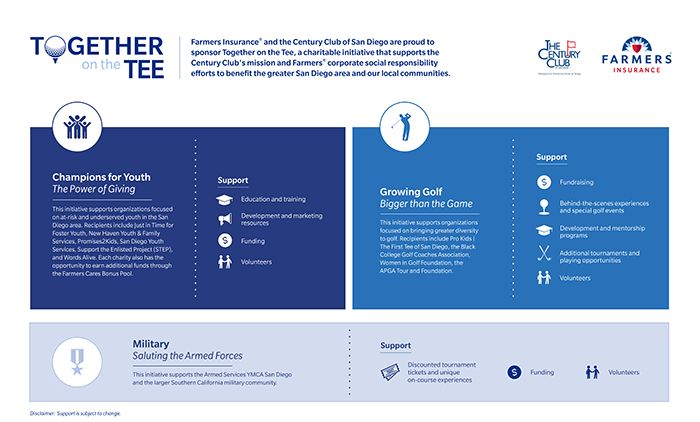 Learn more about the Century Club of San Diego.
Advocates Professional Golf Association (APGA)
The APGA Tour was established in 2010 to bring greater diversity to golf.
Farmers Insurance has funded APGA Tour events and athletes, including Kamaiu Johnson and Willie Mack III. In a first for the PGA TOUR, Farmers hosted an APGA Tour event at the 2020 Farmers Insurance Open and was proud to host it again in 2021 and 2022.
Farmers is increasing its financial support for player access and working to provide professional and career development opportunities for athletes.
Kamaiu Johnson, 2020 APGA Tour champion, was awarded a sponsor's exemption to the 2021 Farmers Insurance Open by Farmers and the Century Club of San Diego.
VOLUNTEERISM & EMPLOYEE PROGRAMS



Farmers is passionate about helping make a difference in the communities where we work and live. Over the past six years alone, Farmers has donated more than $33.8 million to support worthwhile causes, and our employees have volunteered to the tune of 278,500 hours of their time.
These are just a few examples of what we're talking about:
Rebuild Initiative — Farmers employees have picked up hammers and hard hats to assist our nonprofit partner SBP in rebuilding homes damaged or destroyed by natural disasters.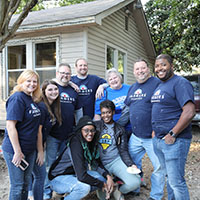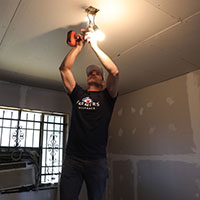 Farmers volunteers have partnered with nonprofit SBP to help rebuild homes damaged in hurricanes, tornadoes and other natural disasters.
Pro golfer Rickie Fowler has worked alongside Farmers disaster relief efforts for years. Here, he
slings a paint roller with volunteers rebuilding a Houston home damaged by Hurricane Harvey
 — and teaches the youngster who lives there a little golf.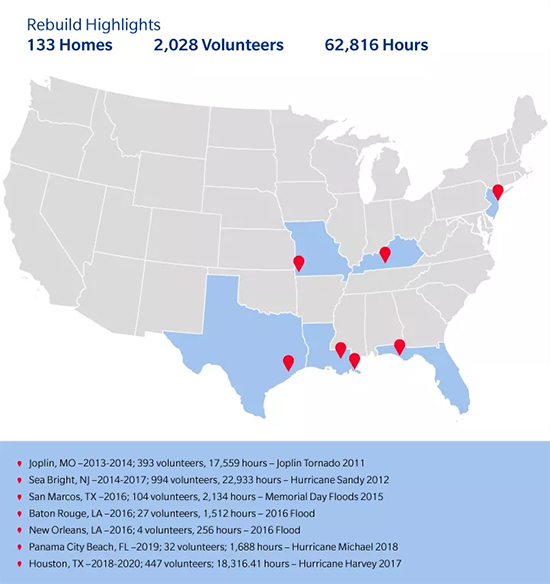 Skills-Based Support for Nonprofits — We tap the skill sets of our employees to support communities in a multitude of ways and help nonprofits build efficiencies internally. These initiatives include marketing support, talent recruitment and leadership development training for nonprofit executives.
Blood Drives — Our employees support local communities by opting to roll up a sleeve and donate blood through organizations like the American Red Cross.
Benevity is a place for employees to search for volunteer opportunities near them, log volunteer time and make donations to causes they care about.
Farmers Community Champions (FCCs) are groups of employees that have stepped up to support community initiatives in their local communities.
The Community Grant Program offered by Farmers is employee-driven and helps support local nonprofits that align with our corporate giving initiatives. Local nonprofits we have supported include the Los Angeles Fire Department Foundation, the Search Dog Foundation and more.
The Volunteer Incentive Program rewards employees who give their time to support their local community. As employees log volunteer hours, they earn an hourly rate, up to $500 per year, that can then be donated back to a charity of their choosing.
Community Champion — Every year, Farmers recognizes one employee for going above and beyond their job description to help others. The prize is a $10,000 grant to the charity of their choice.


ENVIRONMENTAL SUSTAINABILITY
Our Commitment
Farmers continues to take measures to become a more environmentally focused organization that operates in a way that benefits our people, planet and communities.
Two enterprise-wide operational priorities:
Eliminate single-use plastic
Reduce internal paper consumption by 80%
What We've Done So Far
Paper
We reduced our internal paper use by over 80% in the last five years.
We save energy, fuel and paper through paperless billing and a significant reduction in internal print communications.
Plastic
In 2019, polystyrene and plastic were removed from our operations wherever biodegradable alternatives were practical.
IMPACT Community Capital
In the late 1990s, Farmers, along with other prominent insurers, founded IMPACT Community Capital (ICC), an organization striving to more efficiently make socially responsible investments in traditionally underserved communities. These investments seek both a solid financial return and a positive sustainable and societal impact. 
Our Employees
The Go Green Team was established by our employees as Farmers sustainability champions, reinforcing the enterprise's commitment to sustainability efforts. Raising awareness around environmental sustainability and encouraging employees to be involved is critical to helping make an impact across our organization and society as a whole.