Vacation Home Insurance
Learn more about what it means to be a Farmers customer by starting your quote today.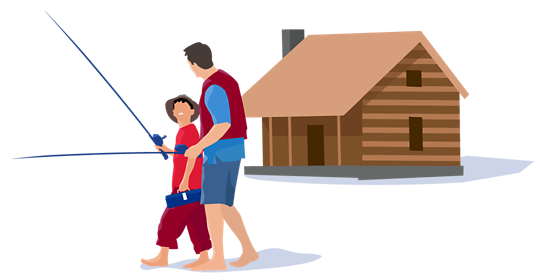 Maybe you have a cabin in the mountains, a lake house or a beach cottage. Whether your vacation home is used as a weekend getaway or a seasonal retreat, it's a special place you want to protect. And a Farmers® agent can talk to you about a variety of coverage options.

Customize Your Seasonal Home Insurance Coverage
You can choose customizable coverage for your seasonal or vacation home even if you don't insure your primary residence with Farmers. These are some of the risks you can help manage:
Ice damages your porch
Risk:

Freezing rain hits your mountain cabin during a January storm. When the ice builds up, your porch's awning collapses.
Coverage:
Comprehensive property insurance coverage can help with damage caused by the weight of ice and snow.
Your guest is injured
Risk:

Your fishing buddy slips and falls on the steps to your front porch. The doctor says nothing is broken—but he'll need to stay off his ankle for a few days.
Coverage:
Liability coverage for your vacation home can help with medical bills and time off work if you're legally responsible for an injury.
Lightning destroys your media center
Risk :
Lightning strikes close to your second home at the lake — destroying a television and audio system.
Coverage:
Replacement cost on personal property can help by replacing your damaged entertainment equipment with brand new components.
Maximize value with multiline discounts
You can get the most value from Farmers coverage with discounts when you buy multiple policies — be sure your specialty homeowners insurance quote includes quotes for auto coverage.
Farmers works to build strong customer relationships
Farmers has spent 90 years putting customers first. Are you shopping for vacation rental insurance or second home insurance coverage, or do you have a question about your policy? Maybe you're ready for a specialty home insurance quote. Whatever insurance you want, Farmers agents are ready to deliver personalized service and support.
You'll experience a similar level of care from our knowledgeable claims representatives, who will provide assistance as quickly as possible.
To learn more about what Farmers can do for you, call an agent today.