Save with Signal®*
There's nothing to it: Enroll, download the app, drive safely and start saving with an initial discount.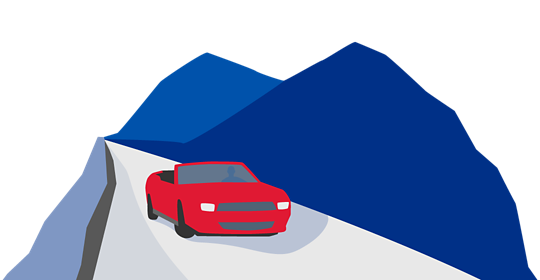 What is Signal?
Signal is a smartphone app that monitors your driving behavior — for example, things like your braking habits, phone use, and speed. It can help you stay better focused on driving by encouraging you to put down the phone and practice safer habits. Upon policy renewal, you could save money based on your safe driving.  However, risker driving behavior could raise your premium at renewal.   
Signal also comes with CrashAssist, another great benefit of being a Farmers customer. This app feature can help detect if you've been in a crash and send help, if you want it.
Using Signal could reward you in other ways, too: Every month, if you drive safely with a focused driving time at 80% or better and use the app, you're automatically entered into a drawing for rewards worth up to $100.*** 
How do I sign up? Enroll. Download. Drive.

Step 1: Talk to your Farmers agent or call 1-800-709-7821 and ask to enroll in Signal. 
Step 2: Download and enable the app from the link we text to you. 
Step 3: Start driving.
How could I earn more rewards by using Signal?
Keeping your Signal focused driving time at 80% or better can put you in the running for a chance to win up to $100 in rewards each month***. Rewards include gift cards for a variety of merchants. Your focused driving percentage takes into account your phone use for the month. 
 
How does CrashAssist crash detection work?
CrashAssist is an optional feature that uses sensors in your phone (already used by the Signal app) to help detect when a crash occurs. It will send you a notification asking for verification that you have been in an accident. If you confirm a crash has occurred and you want help, an emergency responder will contact you. If you are unable to respond, we will request emergency services at your location.

CrashAssist:
Can contact emergency services and send them to your location, if you want it
Can help you request a tow or report a claim
Delivers tips about things to consider at a crash scene
Lets you share your location with contacts

Frequently Asked Questions
1
How do I earn the youthful driver component of Signal?**
Any driver aged 15 to 24 in your household can enroll in Signal. Once the youthful driver has met the qualification requirements, you can qualify for the additional discount amount. Households with more than one youthful driver enrolled can earn a single youthful driver discount amount based on the age of the youngest driver.
2
How can monitoring my driving help me become a safer driver?
Much of our driving is instinctive and automatic. Getting a close view of your driving behavior can help you learn what you're really doing behind the wheel and allow you to make changes. Signal monitors behaviors including:
When you're distracted by phone use
How excessively you hard brake
How often you speed
When you drive — whether in rush-hour or light traffic
How many miles you drive
3
How does my driving behavior impact my premium?*
Safe driving behaviors reflected in the data collected from the Signal app could result in a policy premium discount at renewal. Riskier driving behaviors, however, could result in a higher renewal premium rather than a discount.
The Signal app looks at the percentage of enrolled drivers on the policy using the app, whether one or more youthful driver(s) are enrolled and the driving behavior results of all applicable drivers.
Note: Signal looks at the big picture of your driving habits. As more trips are captured, your driving behavior results will become more in line with your overall driving patterns.
1
What devices does Signal work on? 
Signal needs specific hardware and smartphone sensors to function, including location sensors, network access, an accelerometer and a gyroscope. Cellphones that can run Android 7.0 or newer or iOS 12.0 or newer will work.
2
Does Signal collect my personal information? Does it share my data?
Signal has access to two types of personal information. The first type includes details you provided to us when you enrolled. The second type is data Signal gathers to track your driving style. All information collected from the Signal app will be treated in accordance with the Signal Privacy Policy and the Farmers® Privacy Policy.
*SIGNAL® AND THE SIGNAL DISCOUNT ARE NOT AVAILABLE IN HI, NY & SC. THE SIGNAL DISCOUNT IS NOT AVAILABLE IN CA. SIGNAL IS AVAILABLE WITH FARMERS® BRANDED SMART PLAN AUTOMOBILE POLICIES AND FARMERS FLEXSM PERSONAL AUTO POLICIES. NOT AVAILABLE WITH ALL FARMERS BRANDED POLICIES. 
** The overall Signal discount will display as one discount because the youthful driver component is not broken out separately.
*** NO PURCHASE NECESSARY. VOID WHERE PROHIBITED BY LAW. A PURCHASE OF ANY KIND WILL NOT INCREASE YOUR CHANCES OF WINNING. Sweepstakes start at 9:00 a.m. PT on the first day of each month and end at 11:59 p.m. PT on the last day of each month. Open to legal residents, age 18 or older at the time of entry, in each of the following states: Alabama, Arizona, California, Colorado, Connecticut, Florida, Georgia, Iowa, Idaho, Illinois, Indiana, Kansas, Louisiana, Massachusetts, Maryland, Michigan, Missouri, Montana, North Dakota, Nebraska, New Jersey, New Mexico, Nevada, Ohio, Oklahoma, Oregon, Pennsylvania, South Dakota, Tennessee, Texas, Utah, Virginia, Washington, Wisconsin, Wyoming. Odds of winning depend on the number of eligible entries received. For complete details and full Official Sweepstakes Rules, eligibility, prize disclosures, and to enter the alternative entry, visit Signal Rewards Sweepstakes Official Rules. Sponsored by Farmers Group, Inc., 6301 Owensmouth Ave., Woodland Hills.