Catastrophe Claims
When a major weather event hits, Farmers can help you get things back on track.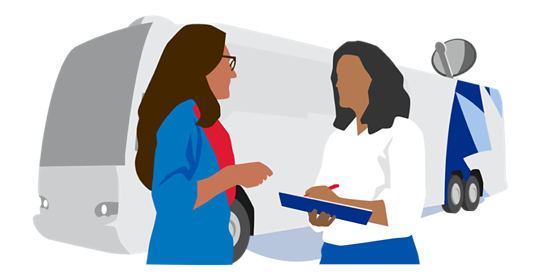 Navigating after a disaster
We're here to help you get back to where you want to be.

If it is safe to do so, take steps to protect your property from further damage by making small emergency repairs. If possible, keep damaged items in case they're needed for your claim review.

FEMA may also provide assistance after some disasters. Call (800) 621-3362 or go to DisasterAssistance.gov for more information.

Our mobile claim center will be on the scene, staffed with claims representatives to help get you the information you need and connect you with friends and family.  Find the location of the mobile claims center buses on Twitter @FarmersResponse.
Tips that can help minimize damage from natural disasters
Hurricane
Trim trees and shrubs to aid wind resistance.
Make sure rain gutters and downspouts are free of debris.
Install window shutters or board up windows with pre-cut 5/8-inch marine plywood.
Secure the roof to the walls with hurricane straps or clips. You can do this yourself or hire a professional.
Tornado
Store batteries, weather radio, flashlights and water in basement or storm shelter for use during an event.
If you don't have a basement or storm shelter, find an interior room with no windows to be your designated space.
Close interior doors to help compartmentalize the structure and provide more barriers between you and the storm.
Earthquake
Anchor furnishings to walls — bookcases, grandfather clocks, cabinets, artwork, etc. 
Install latches on drawers and cabinet doors to keep contents from spilling. 
Apply safety film to windows and glass doors to prevent shattering. 
Install ledge barriers on shelves and place heavy items on low shelves. 
Secure the water heater and other large appliances to walls. 
Attach ceiling fixtures to the permanent structure. Hire an electrician to attach lights and fans.
Wildfire
Remove dead vegetation from plants and lower branches from tall trees. 
Keep the gutters, roof and outdoor spaces free of debris like leaves and twigs. 
Clear out window screens and attic vents.
Move firewood at least 30 feet from the house. 
Use roofing materials with a Class A fire rating (the highest). 
Install metal angle flashing at the edge of the roof. 
Box in eaves that have an open construction (i.e., where rafter tails are visible). 
Install metal flashing where wood decking meets the siding (if the siding is combustible). 
Replace single-pane windows with multi-pane, tempered-glass windows with screens.
Evacuation
If you evacuate, return home only when officials say it is safe. If you cannot return home and have immediate housing needs, text SHELTER + your ZIP code to 43362 (4FEMA) to find the nearest shelter in your area (example: shelter 12345).
Catastrophe FAQs
Get quick answers to our customers' most common questions
If you are not sure if you should file a claim, you can always consult your Farmers Agent for advice.  When you file a claim on your own policy, you are responsible for your deductible to repair your damaged auto, home or business.
Once you file a claim, a Farmers Claim Representative will contact you and review your policy coverages and explain how they apply to your specific claim.
Will filing a claim affect my premium?
Many variables are factored into your policy's premium, and your premium could be affected. Things like your driving record, at-fault accidents, home claims history and where you live may be taken into consideration. Talk to your Farmers agent if you have questions about your premium. 
How do I send receipts or documents?
You can upload documents to a claim either by logging in or, if you do not have a login, you can upload them here.