Although earthquakes in the U.S. tend to happen along the West Coast (California and Alaska have the most), homes and apartments in more than 40 states are at risk for damage caused by earthquakes, according to the U.S. Geological Survey's National Seismic Hazard Map. Standard homeowners, condo or renters insurance typically does not cover the damage, but you can add optional earthquake insurance.
What does earthquake insurance cover?
An earthquake can shake a home right off its foundation or break a few windows and knock computers and glassware to the floor. Earthquake insurance can help you pay these related costs:
Making structural repairs
Rebuilding your house
Paying for temporary housing 
Replacing your belongings
Whether you own a condo, single-family home or townhome, earthquake damage is covered only by adding earthquake coverage to your policy. The same is true for renters, even if you carry renters insurance.
How much does earthquake insurance cost?
The amount you pay for earthquake insurance is based mostly on the risk. Costs are lower in areas where earthquakes are rare and higher where they're more common. The answers to these questions also have an impact on the cost of earthquake insurance:
What material is your home made of? A wood home will typically withstand an earthquake better than brick, for example. 
When was your home built? 
What is the average per-square-foot cost of construction in your area?
Has your home been reinforced or retrofitted for earthquakes?
Do I need earthquake insurance?
Earthquake damage can be catastrophic, and federal disaster assistance programs may only go so far in helping you rebuild. Your regular homeowners, condo or renters insurance probably doesn't cover damage to your home or your belongings if they are damaged by the shaking of an earthquake or its aftershocks — though it may (or may not) cover some related damage: for instance, if a fire starts because a quake rips gas lines.
Does my existing homeowners or condo insurance cover earthquakes?
A standard home insurance policy typically does not cover damage caused by earthquakes. Optional earthquake insurance can be added, though. 
One possible exception in some states, including California, is fire damage related to an earthquake — say if a gas line ruptures and causes a fire. That damage may be covered by regular home insurance. Likewise, water damage from a quake-caused water line break or explosion may be covered by some existing home policies.
How do I get earthquake insurance?
Farmers® offers earthquake insurance as separate coverage in most areas. A Farmers agent can help you review your current home insurance or renters policy and help you determine if earthquake insurance is available in your area and how much it would cost to add earthquake insurance.
California Earthquake Authority (CEA)
In California, earthquake insurance is mainly issued by the California Earthquake Authority, and you can purchase this coverage through a Farmers agent. If you live in another state — whether you own a house or condo or rent an apartment — an agent can help you understand your coverage options so you can get the coverage you want.

Learn From Experience
Expand your knowledge base with articles relevant to you.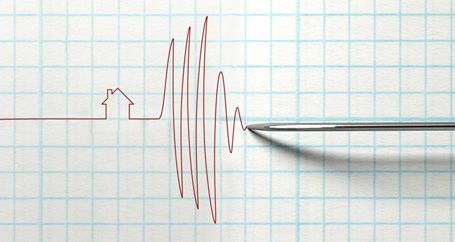 How Can Insurance Help Me Prepare for an Earthquake Disaster?
Whether foundation repairs are covered depends on the source of the damage. Every part of your home, including the foundation, is subject to wear and tear over the years. Foundations can settle, develop cracks and lose their ability to seal out water.