Farmers GroupSelectSM
Home Coverage
You have access to special savings on home insurance. We offer special discounts of 15%† on average on auto coverage based on where you work or the associations you belong to.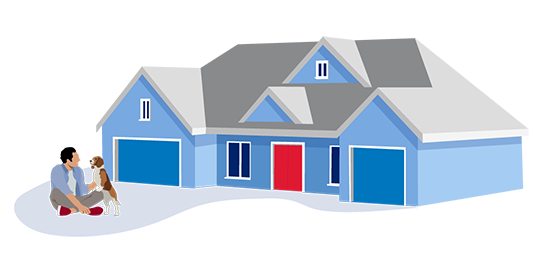 Whether it's a house, condo, or apartment, there's no place like home. Farmers GroupSelect provides discounts, as well as insurance policies that you can customize to your needs and budget. Others have saved hundreds by making the switch.
Protect the place you call home with quality, customizable coverage.
Outstanding Service
You can rely on great customer service and 24/7 claim reporting when you need it the most
Flexibility
Customize a home, condo, or renter's policy that you can tailor to fit your needs. Plus save even more when you bundle your home and auto policies.
Coverage
In the event of tornadoes, hail, fire, theft, and more, rebuild your home and replace lost or damaged property with no surprising costs with a policy that can address gaps in coverage, such as having coverage limits available to pay for increased cost of rebuilding to new codes.1 ID Protection Services are provided to customers.2
†Based on the average nationwide discount available from Farmers GroupSelect in 2020 through the Farmers GroupSelect group auto and home insurance program for eligible individuals.
*Based on the average nationwide annual savings in 2020 reported by new customers who called the Farmers GroupSelect employee and affinity member call center, switched their auto and home insurance to insurance policies issued through the Farmers GroupSelect employee or affinity member program, and realized savings. Potential savings vary by customer and may vary by state and product.
1 Subject to policy terms and conditions.
2 Identity protection services are not available to auto customers in NC or NH, nor with all policy forms. Identity protection services are available in NC homeowners policies with the optional "Identity Theft Expense and Resolution Plus" endorsement for an additional premium.
3646856.1