In 2009, Cliff Allen turned his barbecue obsession into a business, opening the People's Pig food truck in Portland, Oregon.
For seven years, he operated out of the food truck and hoped, one day, he'd have the capital to open a brick-and-mortar restaurant. That hope became reality in 2015 when he secured a lease on a restaurant space (as luck would have it, a former, beloved barbecue joint) in North Portland. He opened a second restaurant in 2017.
Here, Allen returns to his roots to talk about the "rules" he followed and mistakes he made along the way as a food cart operator with big ideas and a small budget.

RULE 1

Your truck is more than just a pretty face. Invest in equipment that won't break down.
The biggest mistake I made starting out was buying a flashy truck that turned out to be a lemon. It cost $20,000, twice what I should have paid, and I didn't have a mechanic check it out. All four of the back tires were bald, and after buying new ones, I didn't have any money left for other maintenance. I ended up selling it at a loss. As for other equipment: buying used may be cheaper in the short run, but it's not usually worth it. If your cooler doesn't work 24 hours a day, your food spoils and you're out of business. Better to pay $1,000 for a new cooler than spend that same amount on repairs.
RULE 2

You're on wheels. Don't let anyone roll off with your livelihood.
My second "truck" was actually a cart with a trailer attached, meaning anyone could have hooked my trailer to their vehicle and driven away with it. I don't know of any other business that could disappear like that. Buying business insurance meant I was generally covered in case of fire, and it also meant I was helping to physically protect my business.
RULE 3

Don't separate yourself from the food truck pack. Go where the customers are.
To people who already know it, porchetta is a magnet: they'll find you. But other people need to be able to discover you. At first, I thought if I physically separated myself from cheaper carts, and parked where there was less competition, I could charge more for quality sandwiches. But there were only two other carts at my first location, and some days I sold five sandwiches. I felt like I was slowly dying. I had to move to a larger pod (where many food trucks congregated) to really stake my flag.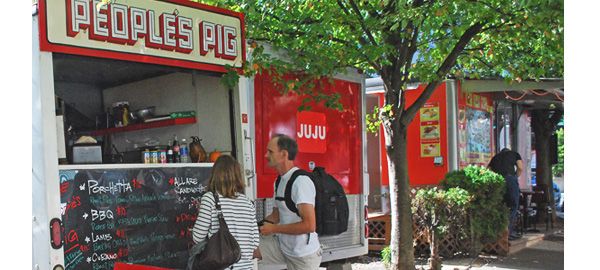 RULE 4

You're a food truck, not a 5-star restaurant. Budget your costs accordingly.
Sourcing organic pork from a small farmer almost put me out of business. More than half my costs were going to that pork, but I couldn't raise the price of my sandwiches. In street food, you have to be realistic about what you can spend and what you can charge. The margins are so slim that if you keep making the same mistake, you can drive yourself out of business really fast.
RULE 5

Social media is your friend.
I might have been selling sandwiches on the street forever if a couple of influential chefs hadn't loved my food and talked me up. They sent a bunch of journalists my way, so I got lots of good press early on and went from selling 10 sandwiches a day to 50. But to keep that kind of momentum going, you need to take advantage of social media. Twitter is amazing because it's your direct voice. I use it to announce our specials and it's great for visuals too: Oh yeah, there's Cliff, he's cooking the pork on the grill right now.
RULE 6

You won't turn a profit without taking some terrifying risks.
I was still $30,000 in debt when my truck broke down one day, and I walked home past an old barbecue joint going out of business. The landlady ran it for 60 years, and she wanted to keep barbecue in the neighborhood. Given my debts, maybe I had no business opening a restaurant. But I already had all the equipment, so I could just turn the key and run the place. I borrowed another $6,000 for the lease, and I was good to go. It was sheer instinct, but it paid off. I'm debt-free from the original $40,000 I borrowed from friends and family. I do miss the efficiency of my tiny truck kitchen, though. I could do so much in so little time. Serving a customer a minute was really satisfying.

Used vs. new
Have a pro check used equipment before buying — you may spend more repairing old than buying new.
Get a quote
Includes personal service from a Farmers agent.

Written by
Cliff Allen as told to Marisa Robertson-Textor
Photo courtesy of Nathan Tucker


The information contained in this page is provided for general informational purposes only. The information is provided by Farmers® and while we endeavor to keep the information up to date and correct, we make no representations or warranties of any kind, express or implied, about the completeness, accuracy, reliability, suitability or availability with respect to this article or the information, products, services or related graphics, if any, contained in this article for any purpose. The information is not meant as professional or expert advice, and any reliance you place on such information is therefore strictly at your own risk.