Motorcycle Insurance
Learn more about what it means to be a Farmers
customer by starting your quote today.
Call for a quote 1-888-938-2121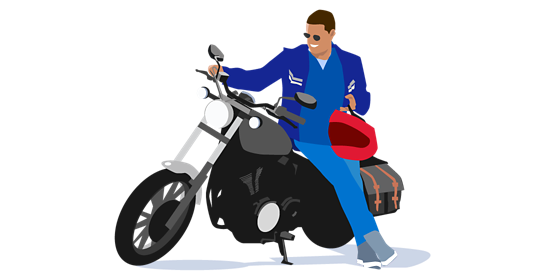 How do you enjoy your motorcycle? You might be a weekend warrior who cruises up the coast on sunny afternoons. Maybe you use your bike to navigate a traffic-clogged commute. Or you may take it on long journeys — experiencing the open road and an ever-changing landscape.

Customizable motorcycle coverage options
Call 1-888-938-2121 for a quote today.
However and wherever you ride, you know a motorcycle has unique risks. Your Farmers® agent understands — and can show you customizable coverage options that help with risks like these:
You Put Your Bike Down
Risk
You misjudge a turn on at a rural intersection and put the bike down. You escape with a few cuts and bruises, but repairs will cost more than your motorcycle is worth.
Coverage
Elite and Plus packages can help if your bike is a total loss. Elite coverage provides current market value for a motorcycle that's less than five years old — Plus coverage lasts until a bike is two years old.
You Lose Personal Property
Risk
At a stop on a cross-country trip, you notice your saddlebag's straps have come undone. Your phone, first-aid kit and heavy-duty rain poncho are gone — probably lying somewhere on the side of a highway.
Coverage
Elite coverage can help with the cost of replacing personal property when it's lost, stolen or damaged in an accident.
You Damage Your Helmet
Risk
After lunch at your usual spot, you're walking to the parking lot when you lose your grip on a helmet you're carrying — it hits the pavement.
Coverage
Elite, Plus and Saver packages can help pay for damage to safety apparel like your helmet — you can select the amount of coverage that's right for you.
Choose from three Motorcycle Choice packages
Every motorcycle policy from Farmers can include three types of coverage:
Liability coverage can help if you're legally responsible for an accident that causes damage or injuries.
Collision coverage can help with the costs of repairing damage to your motorcycle if you hit another vehicle or fixed object.
Other than collision coverage can help with a loss caused by something other than an accident — for instance theft, vandalism, hail or collisions with animals.
Motorcycle Choice packages make it easy to choose — and customize — the coverage you want by combining popular features for different needs and budgets:
$500 safety apparel coverage
First accident forgiveness
Available optional equipment coverage
Available towing and roadside assistance coverage
$1,500 safety apparel coverage
$3,500 optional equipment coverage
Total loss settlement for two years based on the value of a new motorcycle
Trip interruption and track day coverage
Reasonable and necessary expenses for towing and roadside assistance
$2,500 safety apparel coverage
$5,000 optional equipment coverage at replacement cost
$2,000 personal effects coverage at replacement cost
Total loss settlement for five years based on the value of a new motorcycle
Enhanced rental coverage
Diminishing deductible
Diminishing waiver
You can also customize your policy with coverage like:
Optional equipment coverage up to $15,000
Transport trailer coverage up to $7,500

Increased liability limits

Medical payments

Uninsured motorist coverage
Not all products, coverages and discounts are available in all areas.
Get special coverage for special bikes
Special packages give you a choice of the Plus and Elite features you want — along with coverage tailored to your unique ride:
The Vintage Package is for motorcycles that are at least 25 years old and maintained or restored to original condition.
The Custom Package provides coverage for motorcycles that are limited edition, one-of-a-kind or equipped with more than $30,000 in options.
The Low Speed Package is designed for low-power vehicles driven around neighborhoods and on private roadways.
The Street Legal ATV Package provides coverage for ATVs that meet state requirements for registration and operation on state highways.