Frequently Asked Questions
Pick a topic to help find answers to your insurance questions, or check out our top 10 most asked questions below.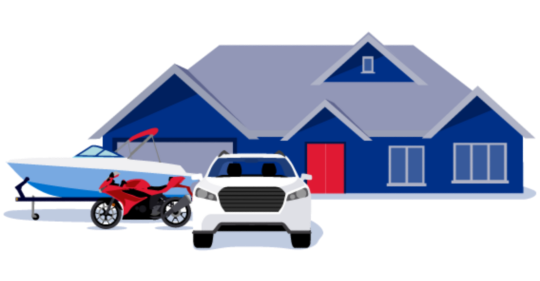 1
I forgot my username and password.  How do I log in?
Trying to log into your My Farmers account, but can't remember your username and password? Don't worry; we can help recover your information.

Click Forgot Username/Password and follow the prompts on the recovery page.

If you need assistance, contact your Farmers agent or Farmers Customer Care Center:

1-888-327-6335
Mon-Fri 7:00 am to 11:00 pm Central Time
Sat-Sun 8:00 am to 8:00 pm Central Time
2
My bill is due, but I can't login to My Farmers. What should I do?
You can make a one-time payment here. If you need help paying your bill online, please contact your Farmers agent, or call Farmers Customer Care Center:
1-888-327-6335
Mon-Fri 7:00 am to 11:00 pm Central Time
Sat-Sun 8:00 am to 8:00 pm Central Time
3
What are insurance risk indicators? How does my risk affect the price of my coverage?
With 85 years of experience providing insurance and working in communities across the country, Farmers understands how important it is to deliver quality coverage at affordable rates. We understand that as a dedicated driver, homeowner, parent, child, or worker, you want, and rightly deserve, the most dependable coverage for your hard earned money, and with safe habits, should come lower insurance costs.
That's why, at Farmers, we're always looking for new ways to keep the cost of insurance affordable. To do this, we use a tool called the Risk Assessment Indicator.
4
What is personal liability umbrella coverage?
Lawsuits have become commonplace in today's world, and more and more we're seeing larger awarded sums than ever before. In fact, in 2013 over 60,000 injury cases appeared in U.S. courts, each averaging $60,000 in payouts!
To help protect your hard earned assets, you maintain liability coverage with property insurance like auto and homeowners. These policies have limits though, and with increasing frequency, lawsuit awards are exceeding these limits. That's where Farmers Personal Liability Umbrella insurance comes in.
An umbrella policy is an extra layer of liability coverage, designed to go above and beyond the coverage of your other insurance policies. If you're ever sued for damages, and the verdict exceeds even the highest limits on your existing property coverage, an umbrella policy kicks in to cover the additional expenses so you don't have to put your savings, your home, and your business at risk.
Learn more about umbrella insurance or talk to your Farmers agent for more information.
5
How do I report a loss?
After a car accident, home damage, or any kind of loss, it's important to let your Farmers agent know. To get the claims process moving immediately, choose a method below:
Text REPORTCLAIM to 29141, and you'll receive a link to begin the claims process. Messaging and data rates may apply.
Use our Farmers Mobile App
Call the Claim Contact Center at 800-435-7764. (English, Spanish and hearing-impaired available)
6
How do I print my Auto insurance ID card?
Print your Auto insurance ID card or evidence of insurance through your Farmers.com account. Log in, click on Get ID Card link. Choose options for printing, mailing, or faxing.
If you don't have a Farmers.com account, you can register or access your ID through the Farmers.com login page. Click "Get ID card" and enter requested information. 
7
What kinds of Auto insurance discounts are available?
Farmers offers a variety of discounts to help you save on your insurance, and reward you for safe behavior. Discounts vary by state, so make sure to check for which discounts you're eligible.
Generally, Farmers helps you save with discounts for:

Select occupational groups (doctors, RNs, dentists, teachers, police, firefighters, etc.)

Homeowners
Teens with parents who have safe driving records
Drivers who own cars with standard safety features
Drivers who own multiple cars
Drivers who use the Signal® app (not available in all states)
And more!
Contact your local Farmers agent for more details.
8
Am I covered if I rent a car?
Car rental companies charge daily fees for their own insurance to damages in your rental agreement. However, it is possible that your current auto policy provides rental car coverage. This typically varies by state though, so check your policy or contact your local Farmers agent for more details.
9
What does "full coverage" mean?
This is an often misinterpreted term, and doesn't refer to a policy that covers "everything." Instead, full coverage typically refers to a policy that includes both liability coverage and coverage for damage to your property.
Your Auto insurance Policy Declaration page lists the coverage you have selected, and a Farmers agent can help you select Auto insurance coverage that fits your needs and budget.
10
What is a Good Student Discount?
The good student discount is an auto insurance discount available in most states that rewards young drivers for doing well in school.
To qualify, the driver must be between 16 and 24 years old, a full-time student enrolled in high school or college, and must provide documentation that any of the following apply:
Ranked scholastically in the upper 20% of his or her class.
Had a "B" grade average or better.
Had an average of at least a 3.0 for all subjects combined.
Was included in the "Dean's List", "Honor Roll" or similar list.
11
How do I cancel my Farmers policy?
If you have an agent, please contact your agent. If you have already reached out to your agent, or you do not have one, you can text us at 1-855-922-3025, or call our service line at:
1-888-327-6335
Mon-Fri 7:00 am to 11:00 pm Central Time
Sat-Sun 8:00 am to 8:00 pm Central Time