Home Insurance FAQ
Answers to the home insurance questions we hear most.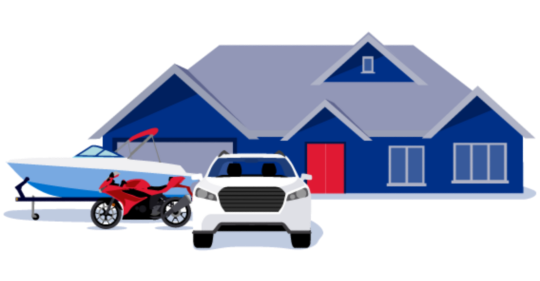 1
How does my local fire department impact my homeowner's policy?
Each fire protection agency (including your local fire department) is reviewed by the Insurance Services Office (ISO) and ranked based on their fire protection services, such as fire equipment, staffing and available water supply. The ranking is called the Public Protection Class (PPCTM) with 1 being the best score and 10 being the worst score. Many insurance companies use the P P C rating and the distance your home is from the nearest legally responding fire department to determine whether they will insure your home and how much to charge. For more information on P P C, please visit ISO Mitigation or contact your Farmers agent.
2
What is LOCATION

®

FireLine

™

and how does it affect my homeowners insurance?
Depending on the location of your home, the risk of wildfire may be a significant concern. If you live in the western United States, the number of wildfires is increasing and the exposure to damage for homes near a high risk area is substantial.

Several insurance companies use a detailed rating and eligibility tool called LOCATION® FireLine™ from Verisk Analytics. This tool helps insurers assess wildfire risk at the address level. It uses advanced remote sensing and digital mapping technology to determine the impact of three factors that contribute to wildfire risk: fuel, slope and road access. In California, FireLine also identifies risks exposed to wind-borne embers.

Your property's FireLine score can potentially impact not only your ability to obtain homeowners insurance coverage, but also the amount of premium you pay for your insurance policy.

If you live in or near an area with an increased wildfire risk, it is important to reduce the risk and improve the overall safety of your home. To learn more about your home's FireLine score and the steps you can take as a homeowner to reduce your exposure to wildfires, please visit the Verisk Analytics site or or contact your Farmers agent.
3
How much would it cost to rebuild my home at today's prices?
Your home is probably the single largest investment you'll ever make. By insuring your home, you are helping to protect your investment.

Estimating the cost to rebuild your home will help you decide the amount of insurance you'll want to purchase. The primary factors that'll determine the cost to rebuild your home include:
Local construction costs

The square footage of your home (and the number of bathrooms and other rooms)

The type of exterior wall construction – frame, masonry (brick or stone) or veneer

The type of roof

The number of floors (one to four stories, bi-level or split level)

Special features like attached garages, fireplaces, exterior trim and arched windows

Quality of materials and finishes throughout the home
4
Can you provide some tips for estimating the value of my home?
Here are some tips to help you estimate your home's value:
Every year, take the time to check the value of your insurance policy against rising local building costs. Your Farmers agent is available to assist you with your review of your coverage.
Check the latest building codes in your community. If your home is severely damaged, you might have to rebuild it to comply with new building code standards which may require a change in design or building materials.

Do not insure your home for the market value. The cost of rebuilding your house may be higher (or lower) than the price you paid for it or the price you could sell it for today.

Some banks require you to buy homeowners insurance to cover the amount of your mortgage. Make sure it's also enough to cover the cost of rebuilding.

Increase the limit of your policy if you make improvements or additions to your house. You may upgrade features in your home to fit your tastes and lifestyle. These enhancements can significantly increase the replacement cost of your home. Your Farmers agent will be available to help you in your determination as to whether additional coverage is needed.

We also have a number on online tools to help you calculate your home insurance needs. If you have questions about the amount of insurance coverage for you, consult your local Farmers agent.
5
What would it cost to replace the contents or personal belongings of my home?
If the unexpected happens, losing your home contents could be distressing as well as financially devastating. Your Farmers homeowners, Townhouse, Condo and Renters policies cover the loss of your personal belongings, subject to the policy limits and conditions.
There are two distinct ways to insure your personal possessions:
Replacement cost coverage. This coverage pays you the dollar amount needed to replace personal property without any deduction for depreciation, but is limited to a maximum dollar amount.

Actual cash value. This coverage pays you an amount equal to the replacement value of damaged property minus depreciation. Unless a homeowners policy specifies that property is covered for its replacement value, the coverage is for actual cash value.
Many people make the mistake of underestimating the value of their home contents. This mistake is easily made when you consider the amount of new items we purchase each year. Under-insurance can lead to heartache and inconvenience should the unexpected happen. Your local Farmers agent is available to assist you with insuring your home contents.
6
What is a deductible?
A deductible is the amount you're responsible for in the event of a covered loss. In most covered loss cases, you are responsible for any amounts up to your deductible level and your insurance would cover anything beyond that up to your coverage limit. For example, if you select a $1,000 deductible and have a $4,200 covered loss, you would receive a claim payment of $3,200 after deducting the $1,000.
A homeowners deductible applies to each claim. If you have more than one claim in a policy period, you will be responsible for the deductible amount for each individual claim regardless of the number of claims you have during that policy period.
7
What are the different types of home insurance deductible options?
For home policies, there are three common types of deductibles:
A flat deductible is a specific or fixed dollar amount; for example, $2,500.

A percent deductible is a percentage that it is based on the home's dwelling coverage, often called Coverage A. For example, a 1 percent deductible on a home with $150,000 dwelling coverage is $1,500, and the same 1 percent deductible for a home with $300,000 dwelling coverage is $3,000. Keep in mind that as your home's dwelling coverage increases the calculated amount of your deductible will also increase.

A split deductible means there is a specific deductible that applies to some cause(s) of loss and a different deductible that applies to other causes of loss. For example, a percent deductible may apply to wind and hail losses, and a flat deductible may apply to all other causes of loss. A split deductible can be separate flat deductibles, separate percent deductibles, or a combination of both.
8
How is my premium affected by selecting a higher or lower deductible option?
If you select a higher deductible, you will be responsible for paying more out of pocket. However, you'll typically pay a lower policy premium. The opposite is true if you select a lower deductible option: because the insurer will pay a larger portion of any loss, you'll typically pay a higher policy premium. A Farmers agent can review available deductible options with you to help you decide what option you may want.
9
How do I know what deductible applies to my policy?
The deductible you choose will be listed on your Declarations page. You can also view your policy deductible online through your Farmers.com account. For additional questions, please contact your Farmers agent.
1
What kind of protection do I need against liability claims?
Nothing is worse than the feeling you get when you are responsible for damage to someone else's property or for someone else's injuries. Your Farmers agent can assist you with your selection of coverage to help you alleviate this financial worry.
This coverage is part of your homeowners insurance policy. It protects you and your family against property damage or bodily injury claims for which you are legally responsible. Liability insurance covers you, for example, if someone slips and falls on your property or if your dog bites someone.
Today, when multimillion-dollar lawsuits are common, your homeowners policy may provide substantial liability limits, but it may not be enough. Farmers Personal Liability Umbrella is available to supplement your present policies and provides additional coverage in increments of $1 million.
2
What is Personal Liability Umbrella coverage?
Lawsuits are common today. If you accidentally injure someone or damage their property, you could be sued. And more and more, juries are awarding very large verdicts. Your homeowners, property and auto policies may provide substantial liability limits, but juries can award sums that exceed those limits.
Farmers Personal Liability Umbrella insurance acts like an umbrella, providing additional coverage on top of your auto and homeowners liability policies. It supplements your existing policies to provide additional personal liability protection.
The Umbrella policy goes into effect after the underlying liability limits on your homeowners or auto policy is exhausted. Therefore, your policy must have certain limits in order to qualify for an Umbrella policy.

Auto Insurance Liability Limits:
$250,000 bodily injury per person

$500,000 bodily injury per occurrence

$50,000 property damage per occurrence
Homeowners Insurance Liability Limits: $300,000
The policy provides:
Liability insurance that adds to the limits of your automobile, homeowners and recreational vehicle or boat liability policy limits.

Coverage for unknown or unexpected exposures that are excluded in typical auto, homeowners, recreational vehicle or boat liability policies.

Coverage for the cost of your legal defense. This includes court costs, interest on judgments and premiums on necessary bonds.
For more information, please contact a Farmers agent.
3
Does my liability coverage extend to vacant land I own or rent?
You may extend your personal liability coverage from your home and umbrella policies to vacant land you own or rent (depending on your state and product type). Contact your Farmers agent to help you find out if you qualify for this extension of coverage.
1
A neighbor slips on my sidewalk and threatens to take me to court for damages. Does my homeowner policy protect me?
Yes. Homeowners insurance will pay for damages, if the accident is the result of your negligence. It will also pay for the legal costs of defending you against a claim. Also, the medical payments part of your Homeowners policy will cover medical expenses arising from an injury to a neighbor or guest. Your local Farmers agent can periodically review your policy limits with you when you are making coverage decisions.
2
How can I make sure that I have coverage for my valuables?
There is limited coverage available for your valuables. In most cases, you may want to consider purchasing a Personal Articles Floater, which provides coverage for your personal articles, such as jewelry, furs or fine arts, when their value is higher than the limits stated in your policy.
Your local Farmers agent can help you when you are deciding if you need to purchase this coverage. Learn more about coverage for your valuable items.
3
Is my jewelry covered by my homeowners policy?
On a homeowners policy, there is limited, standard coverage available for your jewelry. In most cases, you may want to consider purchasing a Personal Articles Floater, which provides coverage for your jewelry when its value is higher than the limits stated in your homeowners policy. Your local Farmers agent can help you when you are determining if you need to purchase Floater coverage.
4
Should I consider a recent appraisal for my jewelry items (such as an engagement or anniversary ring)?
Yes. The value of precious metals and gemstones is constantly changing. So even if you've had your jewelry appraised before, it's always a good idea to have it appraised again for its current market value.
If, for example, your engagement ring was originally appraised for $3000 five years ago, its value may have increased since then. In the unfortunate event that your ring is lost or stolen, having a recent appraisal handy (with a thorough description of the item being insured) will help with the reimbursement process.
Keep in mind that recent appraisals are usually required for expensive pieces of jewelry when you purchase additional coverage, like a Personal Articles Floater. (Depending on the value of the item, you'll be required to provide a detailed sales receipt or appraisal.) Your local Farmers® agent can discuss this with you to help you decide if you want increased coverage for your valuables and if so, what documentation to provide.
5
Do I need to take an inventory and photographs of my belongings?
It is useful to create a home inventory checklist and keep it in a safe, accessible place in the event you need to file a claim.
6
Will I be reimbursed for additional living expenses if I cannot live in my home due to a covered loss?
If your home becomes uninhabitable due to a covered loss, we pay for those extra costs of housing, eating expenses, etc. up to the applicable limit.
Your local Farmers agent can help you when you are deciding if you need to purchase this coverage.
7
Does my homeowners insurance cover against losses due to fire, lightning, tornadoes, wind storms, hail, explosions, smoke, vandalism and theft?
Yes. Typically, your homeowners insurance covers a large number of perils, including all those listed. There are some limits, however, on the amount of insurance you have so you should always consult with your local Farmers agent.
8
What does a home insurance policy not cover?
Homeowners insurance policies typically do not cover but not limited to damage resulting from the following:
Earth movement

Water

Nuclear hazard

Neglect or failure to make repairs

Corrosion, deterioration, decay or rust

Wear and tear

Contamination

Fungi

Increased cost due to enforcement of any building ordinance or law

Government actions

Power failure

Animals or pests

War
Contact a Farmers agent for a complete list of policy exclusions in your state.
9
A pipe bursts and water flows all over my floors. Am I covered?
Yes. Typically, homeowners insurance covers you for accidental discharge of water from a plumbing system. Check your plumbing and heating systems once a year. While you are covered for this type of damage, who needs the mess and hassle?
10
Am I covered for earthquake damage?
No. Earthquake coverage is available as a separate coverage. To determine whether you should purchase this insurance, talk to your local Farmers agent. In earthquake prone areas, the cost of this insurance is relatively high. In other areas, it is relatively inexpensive.
In California, California Earthquake Authority (CEA) coverage is available through your Farmers agent.
11
When should I think about adding to my homeowners insurance coverage?
Generally, you should contact your agent who will assist you in a review of your coverages whenever you change something significant about your home or its contents, for example, you should review your coverage:
when you put on an addition to your home;

when you start a business from your home;

when you make a major purchase, such as jewelry or a computer;

when you purchase other residential properties either for rental or as a second home.
12
Why should I consider coverage for local building ordinances or laws?
If your home is damaged or destroyed, you may be required to remodel or rebuild your home to meet current building codes in your area that differ from when your home was built or last renovated. Many home insurance policies don't cover the necessary upgrade costs to comply with local building codes after a covered loss, leaving you with a potential gap in coverage and unexpected expenses. One customer, with a very large home built in 2007, experienced a fire that caused significant damage throughout the home. After the home was built, the city passed an ordinance that required the installation of fire suppression sprinklers in homes of a certain size, including the customer's home. The cost of upgrading the home to include the required sprinklers was approximately $20,000 and would not have been covered if the customer had not purchased adequate Building Ordinance or Law Coverage.
Keep in mind that local building codes, ordinances, or laws often change and that, upon rebuilding or remodeling you home, you may be required to make certain home upgrades, such as updating plumbing, heating, ventilation, and electrical systems. To avoid paying for those upgrades out of pocket, you may want to consider purchasing Building Ordinance or Law Coverage. You may have a greater need depending on where you live, the age of your home, and if there have been building codes changes since your home was built or last renovated. Your local Farmers® agent can discuss this with you so you can decide if you should consider purchasing this coverage.
13
Why is my home's estimated reconstruction cost different than the new construction cost?
When reconstructing a home, there are a few key areas that come into play that are not there when building a new home.
When building a new home, your builder can sometimes buy materials in bulk at a discounted price since new home construction often involves multiple home sites. During reconstruction though, materials are bought for a single home and it may not be possible to get the same bulk discount, resulting in a higher price. In addition, inflation increases the cost of materials over time.
Labor costs are also typically higher for reconstruction compared to new construction. During reconstruction, workers may need to remove debris, demolish parts of the home, and align new materials with existing home materials. These processes are more labor intensive and as a result, more expensive. Also, new construction builders–especially those building a home as part of a larger development—can sometimes take advantage of economies of scale in hiring workers at a lower rate and more efficiently schedule workers than during reconstruction of a single home.
Building a new home starts from the ground up, but reconstruction usually starts with parts of an existing home. Access to the site is harder during reconstruction because there is usually debris to remove, possible demolition, and homes and property nearby to navigate. Often special trucks and equipment are needed to reconstruct a home.
Other differences can exist between new construction and reconstruction. For current customers, you should review your policy documents, including the notice that shows what information is used to calculate your home's reconstruction cost estimate. It's important to contact your agent if anything has changed. For more information and to discuss if you have enough coverage for the estimated reconstruction cost of your home in the event of a loss, contact a local Farmers agent®.
1
How can I make my home safer and possibly save money?
Homeowners who guard against theft, accidents and other losses can often get lower insurance rates and policy discounts. Here are some things you can do to help qualify for lower premiums:
Secure your home with dead bolts and window locks.

Install a security system with an outside signal and connection to local police.

Install and maintain smoke detectors.

Install a sprinkler system for fire.

Install a fire alarm that automatically alerts the local fire department.

Stop smoking.

Keep walks and entrance ways clear of snow and ice.

You may also qualify for discounts on premiums when you buy both homeowners and auto insurance.
Please contact your Farmers agent to discuss these and other money savings options.
Insurance Risk Indicators
Questions you may have about insurance risk indicators.
When it comes to insurance, we know you want quality coverage from a solid, dependable company. You want the peace of mind that comes with knowing, in the event you need us, we'll be there to help you get your life back to where it belongs quickly, compassionately and with as little hassle as possible. And you feel, rightfully so, that if you are a good risk, you should be rewarded with lower insurance costs. We understand that you want all of the above at the best price possible. At Farmers, we are always looking for new ways to keep the cost of insurance affordable. To do this, we use a tool called the Risk Assessment Indicator.
1
What is a Farmers Risk Assessment Indicator?
A Farmers Risk Assessment Indicator is a code developed from and based upon credit report information. Depending on the kind of policy, Farmers' underwriters may use this indicator along with motor vehicle records, loss reports and/or other information to rate auto and/or homeowner insurance policies. Risk Assessment Indicators are highly predictive of future claims activities, and the use of indicators allows Farmers to charge customers a rate that is appropriate to the risk insured.
2
Where do Risk Assessment Indicators come from?
Risk Assessment Indicators are based on information from consumer credit reports from one of three institutions: LexisNexis Consumer Services, Equifax or C S C Credit Services.
Information used may include:
Length of credit history

Late payments, collections
What's not included in a Risk Assessment Indicator? Risk Assessment Indicators do not use the following information:
Ethnic group

Marital Status

Religion

Nationality

Age

Familial Status

Income

Disability

Gender
3
Who at Farmers has access to my credit information?
We believe in your right to privacy. Your agent and members of the agency staff do not have access to your credit file. You can, however, obtain a copy of your credit report from the consumer reporting agency that provided the information used to calculate your Risk Assessment Indicator.
4
Why does Farmers use Risk Assessment Indicators?
Industry experts have proven that a strong correlation exists between credit history and insurance risk. Because credit history is generally accepted to be a fair and accurate way to predict probability of future loss, Farmers Risk Assessment Indicator uses credit data to determine discount availability for applicants and customers. Please keep in mind that this is only one of several factors used in determining your premium.
5
Can I improve my RAI and, if so, how?
You can improve your indicator over time by using credit responsibly. A Risk Assessment Indicator is a snapshot of your insurance risk based on information in your credit report. It's a good idea to periodically obtain a copy of your credit report from the major credit bureaus to check for any inaccuracies.
Farmers recommends that if you need assistance with understanding your credit history or advice on using credit responsibly, you should contact a qualified credit counselor. Farmers Agents and employees are not qualified credit counselors.
6
What if I don't get the best discount as a result of my indicators?
The Federal Fair Credit Reporting Act (FCRA) requires that we tell you if we take adverse action based upon information contained in your credit report. We will give you the name of the credit bureau that provided the information and advise you of certain rights you have under the F C R A so you can address any errors that might appear on your credit report.
7
What if the information in my credit report is wrong?
If you find an error in your credit history, you should report the error to the credit bureau. The credit bureau must investigate and respond to your request. Once you are certain that your report has been updated, please contact your Farmers agent. He/she will re-order a new Risk Assessment Indicator. Farmers will apply any changes to your premium. Make sure the information in your credit report is correct by reviewing your credit report from each credit bureau at least once a year. Call these numbers to order a copy (a fee may be required):
LexisNexis Consumer Services: (800) 456-6004

Equifax and C S C Credit Services: (866) 349-5183
1
Why do insurance providers consider prior home losses and how does that impact me?
Prior losses are considered to be predictors of future losses. If you've experienced a loss before, statistics show you're more likely to have another loss in the future. Due to this correlation, Farmers and other insurance companies, use prior loss information to determine if you qualify for insurance. In addition to impacting your ability to obtain or retain insurance coverage, a history of property losses may influence the premium you'll pay for home insurance coverage if you do qualify.
2
How do you know I have prior losses?
In addition to losses you are required to disclose during the application process, we use some general information about you, such as your name, date of birth and the property address, to obtain a consumer report known as a loss history report. This report is provided by a third party and contains information on any prior claims you or a previous owner of the property filed. In some programs, we will order loss history reports on others in your household as well.
3
What if my application for insurance is denied or I don't get the best premium as a result of my prior losses?
The federal Fair Credit Reporting Act (FCRA) requires that Farmers notify you when there's a negative impact on your insurance, such as not receiving a lower available rate or not being eligible for coverage based on information found on a consumer report. Some states also have state laws that require similar notifications.
The F C R A notice will include information on the consumer reporting agency that provided the report and how to contact them, describe certain rights you have under the F C R A and let you know how to address any errors that appear on your report. Errors in your report should be directed to the consumer reporting agency for further review and potential updates to ensure your report is accurate going forward. You're also encouraged to periodically obtain a copy of the report and review it for accuracy. Call these numbers to order a copy (a fee may apply):
LexisNexis® (C. L. U. E.®report): (866) 312-8076
Verisk Analytics® (A-PLUS report): (800) 627-3487
4
I haven't filed any claims. What benefit do I receive?
To reward our loyal customers who haven't filed a claim for a qualifying period of time, we offer a claim forgiveness benefit that prevents the premium increase normally associated with a claim. Contact your Farmers agent to learn more about this benefit and if you qualify. (Please note this benefit is not available in all states or for all products).
Q: QuestionI just received my renewal notice for my homeowners insurance and I'm confused. My annual premium went up because the coverage on my home (listed under Coverage A) was increased. Why?
A: Answer I'm glad you asked because this is an important topic for homeowners. The Coverage A dwelling limit represents the total amount your insurer will pay out to replace your home if it were totally destroyed. Say a person has a $100,000 Coverage A dwelling limit; that means there is up to $100,000 available to rebuild their home in the event of a loss. 
When a homeowners policy is due for renewal, insurers may apply a rate of inflation to account for the increased costs of labor and materials.
-Russ Lee, Chief Underwriting Officer at Farmers Insurance®