Wildfire Defense Systems
Farmers® is working with Wildfire Defense Systems, Inc., (WDS) to help homeowners protect their properties from the threat of wildfires.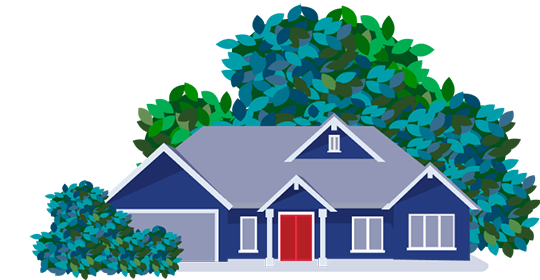 Learn about the enhanced new wildfire defense services benefit included in California customers' Farmers Smart Plan Home® and Farmers Next Generation® Homeowners policies with fire coverage. And better yet, it's provided at no additional cost!
View the endorsement
1
How much does this service cost?
Nothing. This is a new enhanced feature for customers with Farmers Smart Plan Home® and Farmers Next Generation® Homeowners policies with fire coverage. It's a no additional cost benefit.
2
Do I need to contact Wildfire Defense Systems if my home is threatened by a wildfire?
No. If a wildfire event occurs in your area, WDS maps and monitors the fire using proprietary wildfire forecasting and predictive analytic systems to identify properties that could be affected. The WDS team will decide which properties will receive fire mitigation services and deploy help automatically if resources are available.
3
Why is Farmers offering wildfire protection services?
Communities around our country have been devastated by catastrophic wildfires, and these disasters have gotten more frequent and caused more damage than ever. This reality prompted Farmers to look for smart solutions that might help reduce wildfire risk for our customers and mitigate damages. In response, Farmers is offering the services provided by Wildfire Defense Systems as an added policy enhancement.
4
How can Wildfire Defense Systems help me protect my home?
If you live in an area with an active wildfire, a WDS field team may visit your property to assess the threat and, depending on their assessment, take actions necessary to help minimize losses. Some of the steps they may take include:
Removing yard, roof, and gutter debris (think: dead leaves and pine needles, firewood) and furniture that can easily catch fire
Closure and taping over exterior vents to reduce the risk of embers entering your home
Applying fire blocking gel or fire retardant to help reduce the risk of fire spreading
Set up of temporary sprinkler systems
Extinguishing active fires or embers on your property
To learn more about WDS, visit www.wildfire-defense.com.
5
Will the WDS field team enter my home during the wildfire assessment?
No. The team conducting the assessment and mitigation procedures use tactics that address fire threats to your home from the exterior and surrounding environment intended to help prevent your home from catching fire.
6
Who decides what actions to take during an active wildfire?
WDS and their field team on the ground make all decisions regarding the protection of a home, and they only work with the explicit approval of local, state, and federal authorities on the frontline of the disaster. Their field team will only enter an area with the permission of these authorities. Farmers does not have a role in any decisions made on the ground during a wildfire event.
7
How will I know if a Wildfire Defense Systems field team has been to my home?
Chances are, you will not be home if the WDS team is assessing or servicing your property — they typically work in areas where local authorities have recommended or mandated evacuations. The WDS team will leave behind a door hanger to let you know that they were on your property, what services they provided, and what you can do moving forward to help protect your home.
8
Who qualifies for this service?
This feature is included as part of Farmers Smart Plan Home® and Farmers Next Generation® Homeowners policies with fire coverage in California. This enhancement does not extend to policies with a Fair Plan endorsement.
9
Is this feature mandatory for eligible customers?
Yes, this is an enhanced feature for eligible customers who have a Farmers Smart Plan Home® or Farmers Next Generation® Homeowner policy with fire coverage. There is no option to opt out of this policy benefit.
10
How do I know what type of policy I have?
For questions related to your policy, please contact your Farmers agent or contact us directly at 1-877-327-6392.