How Much Homeowners
Insurance Do I Need?
Learn more about what it means to be a Farmers®
customer by starting your quote today.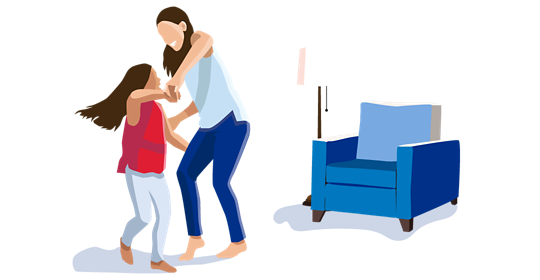 Determining How Much Homeowners Insurance You Want:
Homeowners insurance covers the costs to rebuild your home and replace personal items after a covered loss, like a fire or natural disaster. It also provides liability coverage in the event someone accidently gets hurt as a result of your negligence and sues you. How do you decide how much homeowners coverage to purchase though?
You will want to keep the following things in mind when selecting Homeowners Insurance coverage limits:
Different than your mortgage.
Additions, renovations, unique materials, etc.
Furniture, clothing, appliances…everything.
Antiques, jewelry, art, etc.
Additions, renovations, unique materials, etc.
Costs needed to live elsewhere in case your home is being repaired.
1. Estimate the cost to rebuild your home
One of the main reasons you may have homeowners insurance is to cover rebuilding costs if anything were to ever happen. That's because rebuilding your house can be your biggest expense and one of your first priorities after a covered total loss. That's why estimating rebuilding costs is so essential to consider when selecting your homeowners coverage limits.
Many people want to base the replacement costs on the price they paid for their home (or their mortgage), instead of considering what a rebuild would actually cost.
Market values fluctuate and material and labor prices are different across the country. Also, the cost of your home probably included the land it sits on, while the cost to rebuild it doesn't. In other words, the cost to rebuild your house might be very different than the price you paid for it.
When estimating rebuilding costs, among other things, take into account:
Age of your home

If your home is older, you may be required to rebuild to modern building code standards, which may add to the cost. A Farmers Homeowners policy generally includes an extra 10% above the reconstruction cost to cover added expenses required by building codes and ordinances.


Local rebuilding costs

Talk to a reputable contractor, check online, or talk to your agent about local building prices. This should give you a good idea of what labor and materials cost in your area.
Calculating rebuilding costs may prove complicated. That's why it's a smart idea to talk to your Farmers agent. They can run a "replacement cost estimator" which takes a variety of variables into consideration, to help you find the coverage you want.
2. Estimate the value of new features in your home
Have you renovated your home, remodeled your kitchen or bathroom, or added expensive materials, like a marble floor or island?
It's important to include the value of those updates and materials in your coverage estimation, since it may cost more to replace or rebuild those features made with new materials or specialized labor.
If you've made upgrades to your home, consider its potential increased value.
3. Take an inventory of your personal property
Homeowners insurance covers the costs to replace your stuff if it's stolen, damaged, or ruined (as long as it's a covered loss). That's why it's important to know what your stuff is worth, by taking a home inventory:
Make a list of everything in your home, from the furniture to the appliances. Include as much detail (estimated price, purchase date, make, model, etc.) as you can.
Take pictures or a video of everything.
Keep your personal property inventory in a safe place outside your home, like in a safe deposit box, with a friend, or online in digital cloud storage.
Update your personal property inventory after you acquire new things.
4. Estimate the value of unique or expensive property
After taking a home inventory, you may have found some unique, valuable, or expensive things in your possession, like Grandma's antique brooch, your old coin collection, that Persian rug you had stored, or any other valuable item like:
Jewelry
Record collections (vinyl)
Silverware
Artwork
Coin collections
Cameras
Musical equipment
Expensive clothing and furs
Typically your homeowners insurance can cover these types of items, but to keep premiums down and prices affordable, it may provide relatively low limits, which may not fully cover them the way you want.
If you own items like these, make sure to talk to a Farmers agent about adding personal property "floaters." These are additional pieces of coverage that insure your individual valuables with limits above and beyond what your homeowners policy can deliver.
It's important to take these possessions and any floaters you may need, into consideration when estimating your homeowners insurance needs.
5. Consider your assets
If there is an accident, and your negligence is the cause of property damage or bodily injury, your assets might be at risk. A lawsuit could threaten your investments, your home, and your financial future. Thankfully, homeowners insurance offers liability coverage in the event you're legally responsible for another's injuries and damages.
To determine how much liability coverage you want, it's important to consider your net worth and what liability coverage limits would be enough to protect you.
You may also want to consider an umbrella policy, which provides additional liability limits over and above those provided by your homeowners and auto policies.
6. Estimate additional living expenses
If ever there were damage to your home, and you couldn't live there while it was being replaced or repaired (and let's hope that never happens) would you be covered to live elsewhere?
All too often, we forget to include this consideration in our estimate of our homeowners insurance needs. But with countless floods, natural disasters, fires, and other incidents every year, people may find themselves unable to live in their homes, and stuck paying out of pocket for basic living expenses.
Think about your own needs and your family's daily expenses, and take that into account when talking to a Farmers agent and estimating your homeowners insurance needs.
When you're ready to cover your home, get a Homeowners insurance quote, or talk to a Farmers agent about coverage options available for your unique situation and budget.
This brief summary is not a policy document. Please read the actual policy documents for your state for important details on coverages, exclusions, limits, conditions, and terms. If there is any conflict between this summary and the policy documents, the policy documents will control. Not all products and discounts are available in every state.