When Atlanta residents Elisabeth Bergman and her husband, Joel Lindsey, and their two kids started to feel cramped in their three-bedroom, two-bathroom, 1,300-square-foot Craftsman, they decided to expand up — into the attic.
"There was no extra room for the kids or us to escape to," Bergman says of the 1930s bungalow where they'd lived for about 10 years. They wanted more space but couldn't afford to trade up in their Ormewood Park neighborhood.
Their idea was to convert 1,000 square feet of attic space into an office/den, bedroom and bathroom. They got multiple bids and chose a design-build firm that "drew up the most beautiful plans" and quoted $60,000 to $70,000 to finish the work, Bergman says. 
"Then, all this stuff starts popping up," she says. Structural engineers said they needed reinforcing beams. There was talk of propping up the foundation. Dormers were needed and a secondary egress became an issue. The cost quickly ballooned to $150,000. 
"The biggest cost was for things you don't see: the plumbing, the AC, the extra beams for support."

— Elisabeth Bergman
Adding space?
Talk to a Farmers agent about how renovations might affect your home insurance.
"The biggest cost was for things you don't see: the plumbing, the AC, the extra beams for support," Bergman says. And adding up-to-code attic stairs was going to eat up a lot of their existing space downstairs.
The couple realized that as much as they loved the neighborhood and their home, moving would buy them more space for less money, and they quickly found a new home outside of Atlanta.
Had Bergman and Lindsey completed the renovation and then moved, they might have recouped somewhere between 50 and 80 percent of the attic renovation's value. The National Association of Realtors 2019 Remodeling Impact Report found that an $80,000 attic renovation recovered about $45,000 at sale. A more optimistic 2015 analysis by Remodeling Magazine found that a midrange attic-to-bedroom renovation of $51,696 returned almost $40,000.
Stewart Davis, owner and principal architect at CG&S Design-Build, a family-run firm in Austin, Texas, that started as a construction company in 1957, isn't surprised by stories of abandoned attic renovations. "People see that voluminous space and they automatically assume that's the easiest, best way to gain space," he says, "and almost never is it the easiest and best way."
But it can be done — and is done more often in cities where moving is difficult because housing markets are tight and building out, a cheaper option, is limited by small lot sizes.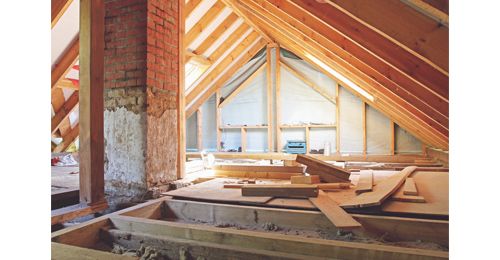 In Austin, for example, Davis has been working on converting a "huge attic — it's like a cathedral up there," on a home on a maxed-out lot. The 390-square-foot space, with ceilings ranging up to 9½ feet, allows for easy installation of mechanical equipment like a furnace and ductwork as well as uncomplicated stair placement. 
Mike Pond, architect and project manager at Berkeley Design Build in the Bay Area, urges caution on an attic renovation. Given the difficulty of shoehorning everything into a tight space, he says, adding a full story is often less expensive for the amount of space gained. In the high-priced Bay Area, he says, a high-end renovation can quickly top $500 per square foot and can go even higher for an attic. 
But sometimes an attic renovation is the only way to add space, especially in cities like San Francisco, where zoning restrictions and historic house preservation concerns can limit adding a full story, he says. 
Eying your attic potential? Look out for these details.
Davis recommends bringing in contractors at the beginning of the project to assess the "nuts and bolts," and Pond calls in an engineer whenever structural work is involved. Experienced contractors can spot problems right away and help homeowners avoid surprises that can significantly increase costs. What common issues can make attic conversions impossible or expensive? 
Structural support – Attics are almost never constructed to hold people, furniture or heavy plumbing, according to Pond. They may need shoring up with beams, posts in the basement or even a strengthened foundation – none of which are quick, inexpensive jobs. 


Headroom – "Get in your attic, poke around a little, make sure you can stand up," counsels Tess Jordan, the design manager at Gaspar's Construction in Seattle. Building codes generally require that attics, like other living spaces, contain 70 square feet where ceilings are 5 feet or higher, and at least 50 percent of that area must have ceilings of 7 feet or higher; codes may vary slightly by locale. When measuring an unfinished space, she says, keep in mind that insulation, drywall, flooring – maybe even new support beams – will use up valuable space and subtract from the finished space.


Stairs – If there's an existing staircase to the attic, chances are it's narrow and has small, steep steps that may not meet code requirements. They also may be too small to move furniture up and down. Proper staircases are expensive and take up space, both on the floor below and in the attic itself. In one project, Jordan used two downstairs closets to place a staircase in a way that minimized its lower-floor footprint and didn't disrupt the upper room's flow. 


Fire safety – A secondary escape route can be as simple as a window that opens, but the kind of egress required depends on what floor the attic is on and local code requirements.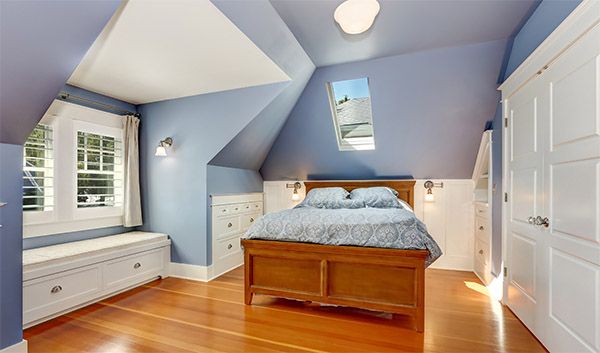 Interest in remodeling over moving has been surging, usually because homeowners like their home's character and their neighborhood, says Lauren Nemtsev, with Leader Builders, a design-build firm in Chicago that's been featured on HGTV and does about a dozen attic renovations a year. COVID-19 has intensified that trend, she adds. 
One attic conversion that Leader Builders did for a couple with kids added 600 livable square feet (plus another 600 where the ceiling was too low to be considered livable) to a 1,200-square-foot Tudor-style home. The renovation cost about $158,000, or $263 per livable square foot. When added to the home's purchase price of $240,000, renovating still was cheaper in this case than buying a bigger home in the neighborhood, where comparable homes were going for about $500,000, say homeowners David and Jennifer Hanna.
Renovating the attic also preserved the home's look. "We loved the architecture, and we loved the character. We didn't want it to be like every other house, where they chop off the top of the house and, like a UFO, here comes a second floor," says David.
For the renovation, the roof rafters were raised to create high, vaulted ceilings to make the space feel larger, but an original exposed brick wall was kept for the new bedroom, and space in the knee wall became a secret passage for the kids. 
Narrow spaces and limited headroom don't necessarily doom attic renovations. Jordan from Gaspar's recalls a client whose historic home had a steeply pitched roof that left enough headspace only right under the center ridge — not a great candidate for conversion to living space. But "the homeowner wanted a little secret getaway space" for a guest sleeping nook, and Jordan was able to make it work, using a skylight that adds headroom plus a small, shallow Juliet balcony. The finished space was insulated and looked out on a nearby lake. 
Attic Conversions
Adding living space in an attic can return 50 to 80 percent of a renovation's cost when a home is sold, according to surveys by the National Association of Realtors and Remodeling Magazine.

They love the upstairs bathroom, but it wasn't an easy renovation
Often, despite the quirks of expanding into an attic, it's just what the homeowners want. Colette and Eric Romero loved their two-bedroom, one-bathroom, circa 1924 Craftsman in Portland, Oregon, with one caveat — their only bathroom, outfitted with a clawfoot tub and add-on shower, was downstairs and so tiny that "your knees touch the tub when you are on the toilet," says Colette. The master bedroom was upstairs in a previously converted attic space. With a baby on the way, a second bathroom took priority.
They decided to add a bathroom upstairs but had to add beams to support the extra weight. To create space for the beams and also for shower drainage, the ceiling in the bedroom below was lowered. Along with decisions to pop for fancy fixtures and tile, the $20,000 project cost shot up to $30,000. "That's how it always snowballs," Colette says.
When they were done, leaks into the bedroom below revealed that the shower wasn't draining properly and triggered a complete plumbing redo; fortunately, the plumber covered the cost. Then beams in the porch under part of the attic started bowing and cracking. 
"The extra weight from the bathroom may have pushed the porch down," Eric says. 
Yet, despite the bumps in the renovation, the Romeros say they're happy they did it. Collette is especially thrilled that going to the bathroom in the middle of the night no longer involves a steep set of stairs.


Adding two bedrooms and a bath in the attic didn't solve their problem
Mark J. Farrell, principal broker and owner of Farrell Realty in Oregon, decided to expand into his attic to create a little more space for his family of six. They liked their North Portland location and their river view. 
Turning the 300-square-foot attic into two bedrooms and a bath gave their 1920s bungalow plenty of space — 2,300 square feet, including the attic and finished basement. But one detail didn't dawn on Farrell until afterward: "We still had a small dining room and a small living room." 
Buying a giant TV wall unit that dwarfed the living room made the room size issue impossible to ignore. "It sounds crazy," he says, "but that was probably the biggest reason we decided to look for another home." The family now refers to the entertainment center purchase as "Farrell's Folly."
They sold and bought a 3,500-square-foot 1980s colonial in nearby Vancouver, Washington, and Farrell says they made back about $40,000 of the $65,000 they spent on the attic. In retrospect, he says, he should have listened to his mom, also a realtor. "She told us not to do it, but we did it anyway," he says.
Still, Farrell says converting an attic can be a good choice, "if you like the neighborhood, you like the schools, and you're going to be there for five or 10 years."

Written by
Erin Behan
The information contained in this page is provided for general informational purposes only. The information is provided by Farmers® and while we endeavor to keep the information up to date and correct, we make no representations or warranties of any kind, express or implied, about the completeness, accuracy, reliability, suitability or availability with respect to this article or the information, products, services or related graphics, if any, contained in this article for any purpose. The information is not meant as professional or expert advice, and any reliance you place on such information is therefore strictly at your own risk.