Marla Torrado and her husband, Adam Keeling, wanted to build a small house behind their Austin, Texas, home, thinking they would rent out the new dwelling. But they liked its high ceilings and open floor plan so much, they moved in themselves.
In city development speak, Torrado's mini-house is an ADU, or accessory dwelling unit, the modern-day take on the granny flat or in-law apartment.
Kol Peterson, who started teaching an online course on ADUs after building his own in Portland, Oregon, in 2010, calls it a "housing phenomenon" that fulfills what the market needs: more housing that aligns with single-family zoning and maintains community character in a way bigger developments might not.  
Peterson and others who have done it warn that the process can be arduous, because ADUs are subject to permit, zoning and other regulations that vary from locale to locale and frequently change.
Here, homeowners from three states delve into their expectations and experience in building ADUs and offer advice for those considering it. The process took a lot of work, money and time, they say — but it was worth it in the end. 

Style: Modern, mini-house
Size: 882 square feet
Cost: $175 per square foot
Potential rental income: $1,800/month
KEY INSIGHT: An equity line of credit to finance an ADU is set after the bank appraises a home. If the amount required, plus the current mortgage, is more than the appraisal amount, homeowners may not qualify for a loan.
Like many people thinking about building an ADU, Marla Torrado and her husband, Adam Keeling, initially considered theirs "an investment in our future and a good way to get some extra cash, as property taxes in Austin keep increasing."  
Their plan accelerated in September 2017, after Hurricane Maria hit Puerto Rico, where her parents and grandfather lived. Torrado's family came to stay with them. But their two-bedroom, one-bath, 820-square-foot house was too small for five adults, so Torrado and her husband moved in with friends until her family returned to Puerto Rico in January 2018. 
That's when it clicked.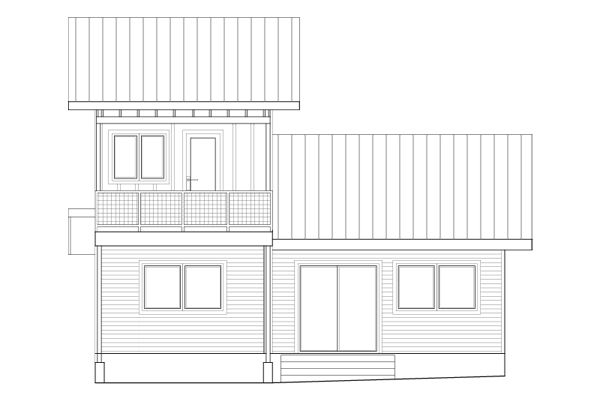 "We already had a rough design for the rental house, and we both really wanted a bigger, more open living area," says Torrado.
The layout of their one-story home made entertaining difficult, but it suited her elderly parents perfectly. Their 6,200-square-foot lot is located in a part of the city zoned to allow accessory dwelling units, and it met Austin's minimum lot requirement of 5,750 square feet.
"Each city has its own quirky laws. For example, in Austin, you're not allowed to build an attached ADU unless the person who will be living there is over 62 years old and the entrance cannot be visible from the street," says Torrado. "We opted for a separate house."
They designed a two-story ADU that clocks in at just under 900 square feet, with extra-high ceilings that give the space a bigger feel. An alley along the back of the property makes coming and going more private.
Keeling, who has a master's degree in architectural engineering, contributed to the plans and did some of the construction — installing wood flooring, for example — to reduce costs. Construction costs rose quickly while they worked, from about $150 per square foot in 2017 to at least $180 two years later.
With the ADU almost done, and her parents settling into the old house, everyone is coming to terms with their new living arrangement.
"It's a bit weird to go into the front house and my mom's arranging things. I have to keep reminding myself that it's not my house anymore!" Torrado says.
While the couple's original financial goals have become more long-term, they've embraced their new reality. They even built a 30-foot shared space between the houses for barbecues and gatherings.
"We're family, so it works great."

Style: Two-story live/workshop space
Size: 960-square-foot workshop; 800-square-foot apartment
Cost: $200 per square foot
Potential rental income: $1,800/month
KEY INSIGHT: Hiring licensed professionals who have a good working relationship — for example, an engineer and builder — can make the design/build process easier, particularly if plan changes are required, such as moving a window, or if city inspectors find questionable elements in the design or construction.
"I wanted to retire and build a workshop with an attic space in my backyard because, like every other homeowner, I needed more room," says Craig Achatz, a machinist in Bend, Oregon, who lives in a 1,200-square-foot home with his wife, Barbara.
Designing, permitting and building has taken over two years (and there's still a deck to go) — but thanks to a few changes in city codes along the way, Achatz was able to expand his project to include a second story with a studio. 
"Initially, the rules were that you couldn't build higher than your existing roofline, which meant the attic couldn't happen," says Achatz. But the city of Bend changed its rules in 2018 to allow a height of 25 feet, standard for a two-story. At the same time, his daughter and her husband were moving back from California but not having much luck finding a rental in a tight market where many smaller units have been turned into short-term vacation rentals.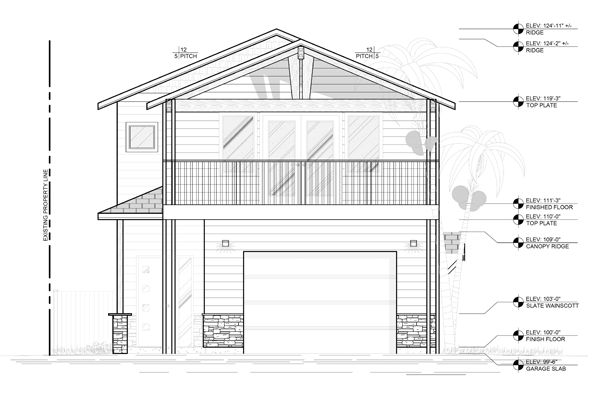 The young couple offered to pay for some of the construction so they could move in until they (and their two dogs) were ready for something bigger. "It was great because their contribution helped us up the budget — basically I paid for the foundation, exterior walls and the roof, and they paid for the interior things like walls and flooring, as well as the deck," says Achatz. "My wife is also very happy to have her daughter home."
Achatz points to several decisions that have made the building process a little easier. He hired a licensed engineer and builder, and although he made sure to get an exact quote from the builder, he knew enough about construction to be flexible when unexpected expenses cropped up.
So when the city required a driveway upgrade before construction could start, and it took a year and half and cost nearly $7,000, it didn't derail the entire project. To avoid snafus and ease the way for subcontractors and inspectors, he invested in a site plan — a detailed drawing of the plans and property that must be prepared by a licensed architect or other professional — that ran $1,200.
His daughter and son-in-law are handling most of the interior apartment work themselves, including installing a kitchen that arrived in 128 boxes. Achatz has served as his own general contractor and estimates this saved more than $110,000.
But building an ADU isn't a novice do-it-yourselfer's job, he says.
"It's not for everyone. It's a lengthy experience."
The upside? "I've heard you can make your money back in about 10 years if you rent out your ADU," he says. "And I'm super pleased — the deck has views of the Cascade Mountains." 

Style: High-design small apartment
Size: 400 square feet
Cost: $375 per square foot
Potential rental income: $2,000 per month
KEY INSIGHT: Expect the project to take longer and cost more. And it's not always the contractor's fault. Costs of materials fluctuate; unforeseen problems crop up.
Like a lot of Los Angeles homes, Shannon Curren's house sits on an upslope. So when she and her husband, Yossi Langer, built out the lower level into a 400-square-foot one-bedroom apartment, the trickiest part was getting all of the plumbing and electrical together in a very tight space.
"The contractor called our ADU 'the little big job' because it's tiny, hillside, and on the street level next to our garage," Curren says of the new, space-efficient unit.  
"I'm grateful we had a great general contractor who had long-term relationships with his subcontractors so they could figure out the niggling details," she says.
Curren and Langer had crunched the numbers on building an ADU and had one important thing going for them. "Our space was already permitted. When we bought the house four years ago, the basement had already been turned into a bedroom and bathroom by the previous owner," she says. This reduced a lot of the paperwork and permit costs; they only needed to squeeze in a kitchen.
Still, construction took eight months.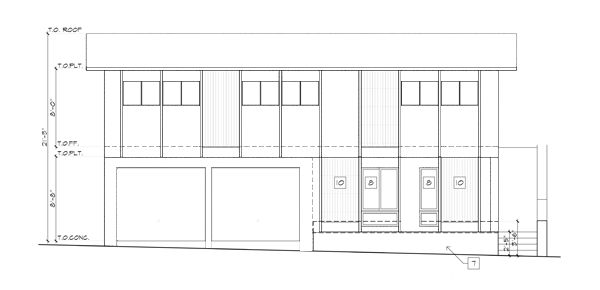 Skyrocketing home prices in Los Angeles eased some of the pain: "We were able to pull out equity immediately to get the job started."
With Curren's background in interior design, she made the best use of the space by configuring it on her own. "I worked with a draftsman who could do the permitting, and I put together the rest."
She designed with two uses in mind. The first residents would be Yossi's parents, who were relocating from Philadelphia, so she went for a clean look that would work with their belongings. She also wanted a place where she would be happy living years from now.
"I did splurge on some items, but when you're working with a tiny space, it doesn't make a huge difference in the overall price because you don't need that much of any material."
She put hickory tongue-and-groove sides on the kitchen cabinets and installed triple sliding doors so the sleeping space can be opened up or closed off. She also added a dressing area and large closet off the bedroom.
"It's really a space that's best for one person, so we fixed up the adjoining garage as a bit of a man cave for Yossi's dad," adds Curren. Although they still park on one side of the garage, they gave the floor a coat of epoxy and cut a door through to the apartment. "It's got a desk, a TV, a recliner and additional storage, so it makes their whole space about 500 square feet in total."
Even though their ADU is tiny, Curren says building it was worth the time, effort and cost.  "Once we officially rent it out, I think it will take us about 10 years to make the money back."
And after that: "I'm totally planning on living in mine in about 40 years!" 
Rising Costs
The cost of residential construction materials rose 10 percent nationally from July 2016 to July 2019, and residential labor costs rose 14 percent in the same time. — Bureau of Labor Statistics
Written by
Maria Neuman
The information contained in this page is provided for general informational purposes only. The information is provided by Farmers® and while we endeavor to keep the information up to date and correct, we make no representations or warranties of any kind, express or implied, about the completeness, accuracy, reliability, suitability or availability with respect to this article or the information, products, services or related graphics, if any, contained in this article for any purpose. The information is not meant as professional or expert advice, and any reliance you place on such information is therefore strictly at your own risk.