Realtor Wendy Furth remembers the thrill she felt when a homeowner contracted her to sell a mint-condition 1950s-era ranch house located in a prominent Los Angeles suburb.
The home was filled with dreamy midcentury furniture and custom architectural details. She knew photos of the home's interior would help sell the place in a snap.
But one week after listing the home, zero buyers had walked through the front door.

Furth suspected the property's withered, brown lawn was the reason. California was on the tail end of a five-year drought, and although everyone's lawn was in the same condition, Furth believed buyers looking at the property only saw evidence of neglect. So she recommended laying sod or rock in the front yard — a relatively inexpensive update that would pay for itself if the house sold quickly.

One week after the lawn update, Furth fielded multiple offers and the home sold for the full asking price.
"Showing your house is like getting ready for a first date."

—Jill Furtado, realtor
"If a buyer is choosing from three of their favorite houses, they're going to go with the one that feels right," says Jill Furtado, a realtor with 15 years of experience selling homes in Santa Clarita and Antelope Valley in California. "A lot of what goes into creating that feeling is subliminal."
Her advice: "Showing your house is like getting ready for a first date — you should try harder to make a good first impression."

For many buyers, that first date starts online — 42 percent of buyers said they check out photos of a property online first, according to a 2017 survey conducted by the National Association of Realtors
. That means buyers start filtering out homes based on those photos. Furtado says it's easy for homeowners to overlook details that stand out to a potential buyer viewing photos online or driving by.

"Minor aesthetic issues can scare buyers into thinking that there could be major issues," says Furtado. Even if buyers don't give an immediate no, they may cite these problems as a reason to offer thousands of dollars less than the asking price.


---
"I'd make an offer — but the roof looks like it's got some problems."

Roof inspection*: $200 to $700 (or free)


Most homeowners know roofs have an expiration, lasting an average of 10 to 15 years. But even if the roof is relatively new and structurally sound, minor and superficial issues such as missing shingles could sway a potential buyer's feelings about a home, says Furth. Buyers also tend to overestimate the cost of roof repairs, which can factor into a lowball offer.
Furth recommends getting a professional licensed roofer to inspect the roof and write a report. "It makes the seller appear honest by being transparent."

* The cost of a roof inspection varies widely based on roof type and material and services requested by homeowner, and some roofers offer "free" inspections by deducting the cost from the price of a repair or roofing job. This range is based on national average, according to Improvenet.com.

---
"How old are these white windows? Is that dent in the garage door?"
White windows and garage doors

Average cost: $15,282 (vinyl) to $18,759 (wood)
Estimated R O I: 73 percent


Average cost: $1,749 (midrange) to $3,304 (upscale)
Estimated R O I: 77 percent (midrange) to 85 percent (upscale)

Darren and Lucy Walker, who have flipped more than 15 homes and renovated more than 35 rental units in Louisiana, say out-of-style screens and storm windows can dramatically degrade the look of a home. If you decide to replace windows, keep in mind that windows with grids can make the home look short and squatty, says Darren. "Open, elongated windows make the exterior of the home look open and inviting."
The Walkers also avoid windows with white trim. When Darren started in real estate in 2005, windows with white trim were the only option. Today, with so many colors available for around the same price, stark white can look cheap or dated to a savvy buyer. "We almost always choose a taupe or gray, or even clay or black — it adds a wow factor for the same cost."

White garage doors are also on their hit list because white shows dents and age more clearly and can look out of style, says Lucy. A street-facing two-car garage can take up as much as 40 percent of a home's facade, which can magnify those flaws to a potential buyer. "Taupe or gray doors can give a home a much more custom look."

---
"The topiary certainly is ... interesting."
Elaborate landscaping and foliage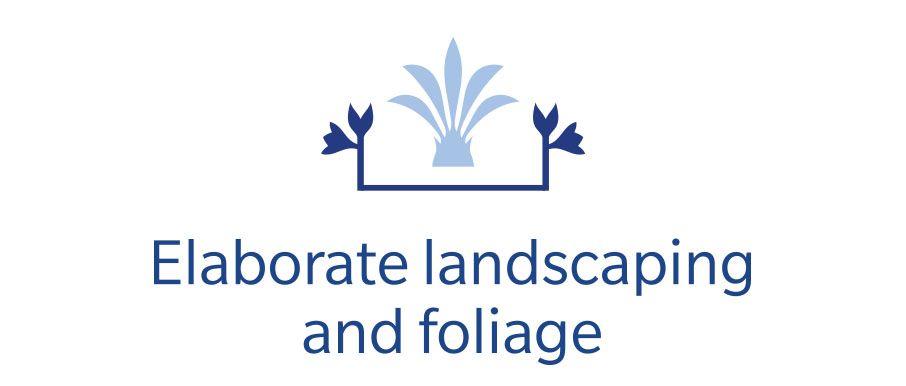 Landscaping average cost: $100s to $10,000s

Estimated R O I*: 105 percent
New to the Neighborhood?
Before you close, get personal service from a Farmers agent.
In another high-profile sale Furth worked on (a Los Angeles mansion owned by a celebrity's sister), the house stayed on the market because wild, natural landscaping and lawn decor obscured the home's views, inside and out. "This place had a view to die for out of every window, but you could hardly see it from the street." Furth knew it was the kind of house buyers had to see from the inside to appreciate — but getting them in the front door required 16 steps past a collection of planters and rambunctious landscaping.
Landscaping that seems functional or aesthetically pleasing to the seller — irrigation systems, a tangle of shrubs protecting windows, trees with major foliage — can feel expensive and high maintenance or appear to be hiding problems, Furth explains. It could also be covering up the home's best features. "It's too much hair in the face. When buyers have a half-dozen listings to look at in a day and they can't immediately see what's there, they often won't take the time to come in."

One recommendation she makes to clients: remove overgrown plants, show clean, fresh soil and add inexpensive, brightly colored flowers in planters.

For sellers in drought-prone areas looking for low-cost, low-water, low-maintenance options, the American Society of Landscape Architects (ASLA) recommends installing "xeriscape", landscaping that uses hardscape (stone, pavers, concrete), composted soil, mulch and native plants and grasses that require no or low irrigation. Xeriscaping can reduce the expense of watering and maintenance, which can be a positive for interested buyers. Although the initial cost of xeriscaping may be more expensive than traditional landscaping, some cities, like Mesa, Arizona
, offer incentives or rebates to homeowners who remove grass or replace landscaping with approved xeriscaping.

In the case of Furth's client, the value showed immediately: It took three weeks for the seller to clean up the yard, and when it was relisted, the home sold immediately with competing offers.
* R O I estimate according to the National Association of Realtors
---
"The driveway looks a little worn out."


Brick or cobblestone pavers: $10 to $70 per square foot
Concrete pavers: $5 to $20 per square foot
Concrete: $3 to $10 per square foot
Asphalt: $3 to $5 per square foot
Resurfacing: $1 to $3 per square foot


Buyers look for signs of age and disrepair that will cost them in the long run, even in the driveway, says Furth. Cracks are inevitable over time. Minor splits that are less than a 1/4-inch wide can be repaired with liquid crack fillers. However, patching asphalt creates discoloration, which can be an eyesore or call attention to something a buyer may eventually need to replace, Furth says.
Experienced contractors can also resurface a driveway by removing and replacing the top layer. A resurfaced driveway can look completely new and — unless there are issues with the foundation — may help slow the development of new cracks.

Well-maintained concrete driveways can last 50 years, and asphalt driveways have an average life-span of 15 to 20 years (or 10 to 15 years if you live in Florida or nearby coastal regions), according to the International Association of Certified Home Inspectors
. Brick or cobblestone paver driveways can last up to 25 years. The actual cost of replacing or resurfacing a driveway is based on the dimensions, slope, depth and condition of the existing driveway, installation requirements and the cost of materials.

---
"How often is the front door used?"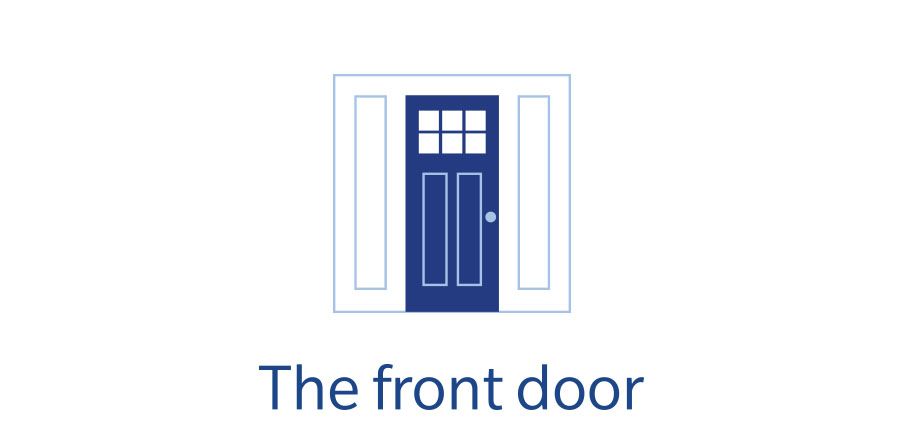 Entry door: $1,471 (steel) to $3,276 (fiberglass)
Grand entrance (includes dual, decorative half-glass sidelights): $8,591

Entry door: 90.7% (steel) to 77.8% (fiberglass)
Grand entrance (with fiberglass door): about 70%


When prospective buyers see a house by appointment, they can spend up to a minute on the front steps waiting for someone to answer the door, says Furth. "In that time, the buyer is taking a close look at the details around the entrance."
Furtado's rule of thumb: Spend 20 minutes assessing every detail around the front entry.

The door: Do you see dirt, scratches or cobwebs? If the door is in bad shape, replace it. Otherwise, give it a good cleaning or a fresh coat of paint.
The area flanking the front door: Is there too much personal decor — a flag or wreath, a sign or a tired welcome mat? The more universal the look, the better.
Light fixtures and house numbers: Do you see peeling paint or dull, weathered metal? Polish all metal; if it's rusted, buy new fixtures in brushed nickel or oiled bronze. Try to match the material to the finish on exterior light fixtures. (Solid brass numbers in a stylish, modern font start around $15 each.)
Railings and steps: If they're old, loose or broken, replace them with quality materials (think: wood, metal, or stone) compatible with the color, scale and design of the home's primary features.
* Cost and R O I estimates according to Remodeling Magazine's Cost vs. Value 2018 report
---
The house looks a little dark and empty from the street.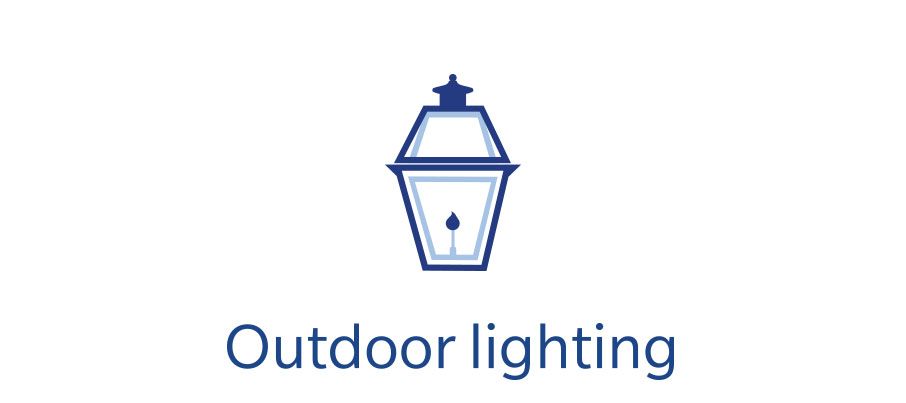 Estimated cost: Starting at $20

"If you're showing your house, people are going to drive by at night," says Furth. A house without outdoor lighting may look uninviting and may feel less safe. If you install lighting, consider "smart" features that let you control a timer and the brightness of the lighting remotely through your smartphone.
One of the biggest challenges getting a home ready for sale, according to Furtado: Homeowners may have spent years living in (and overlooking) minor or purely aesthetic repairs. Sometimes it takes an unbiased observer — someone coming in with fresh eyes — to spot small home improvements or repairs that dissuade a buyer. "People forget a lot about a house, but they don't forget the first impression."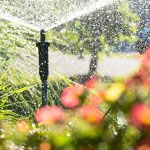 One-third of the water used by a typical household goes to landscape maintenance.
Get a quote
Includes personal service from a Farmers agent.

Written by
The information contained in this page is provided for general informational purposes only. The information is provided by Farmers® and while we endeavor to keep the information up to date and correct, we make no representations or warranties of any kind, express or implied, about the completeness, accuracy, reliability, suitability or availability with respect to this article or the information, products, services or related graphics, if any, contained in this article for any purpose. The information is not meant as professional or expert advice, and any reliance you place on such information is therefore strictly at your own risk.