The Cleburne Cafeteria, one of Houston's oldest restaurants, burned to the ground on April 26, 2016.
The first person on the scene, owner George Mickelis, talks about the loss — and recovery — of the family business and local landmark.
I fell asleep that night at around 11:30 and the phone rang a little after midnight. It was the security company. An alarm had gone off at the Cleburne, and they suspected a break-in. I could see all 18 of our security cameras on my cellphone. Everything looked fine at first — a completely empty 6,000-square-foot restaurant, just as I had left it a few hours before. Then I saw what looked like smoke on one of the cameras. I tore out the door.

A few minutes later, I was standing in the parking lot, watching smoke billow from the back of the building. Sirens started to wail in the distance.

I didn't want the firefighters to chop down the front door, so I opened it with my key. A plume of smoke hit me in the face. As they rushed in, I felt a sense of relief. I didn't see any flames, so I figured the fire was confined to a small area in the back. These brave men would put it out, and then I'd set out some fans. When the smoke cleared, we'd be back in business. Or so I thought.

Reality set in when I overheard a firefighter describe the blaze as 'spreading like wildfire.'
As the firefighters ran in and out, they gave me brief updates. At first, they were encouraging: "Everything will be okay, George. We'll get a handle on it." But the fire seemed to have a mind of its own. Every time it looked to be out, it popped up somewhere else.
By 2 a.m., I was surrounded by family and friends, including about 30 Cleburne regulars. TV crews showed up, and reporters started asking questions. Reality set in when I overheard a firefighter describe the blaze as "spreading like wildfire."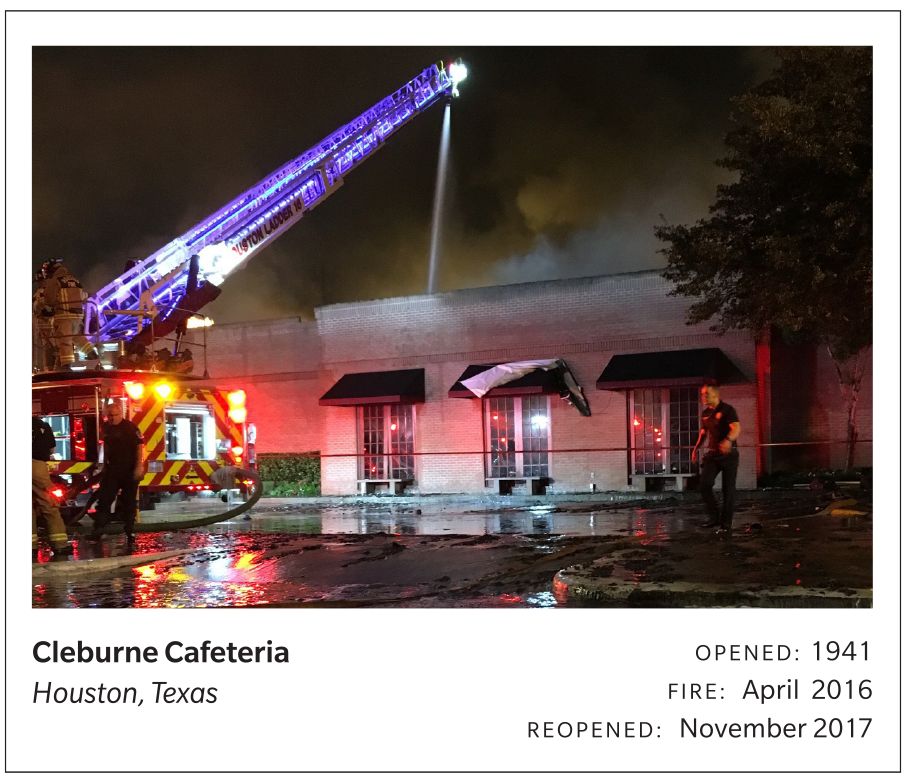 Soon after that, there was a piercing alarm, followed by lots of shouting. I didn't know what it meant, but the firefighters sure did. Every one of them came running out of the building. Moments later, when the roof collapsed, I knew our 64-year-old family business was gone.
Seeing that smoldering roof fall into the dining room, right where our customers were sitting with their families that evening, was a punch to the gut I will never forget.

It took five hours to put out the fire. By that time, we had made the front page of the Houston Chronicle. I walked to the church across the street and laid down on a bench for a few hours of sleep. The Cleburne was declared a total loss.

I started working at the Cleburne as a teenager. It's the only job I've ever known.
Until that night, the Cleburne Cafeteria had been in continuous operation since 1941. My parents, Nick and Patricia, purchased it from the original owners in 1952. My father was a Greek immigrant who spoke very little English, and my mother was a professional photographer from North Dakota who had moved to Houston for the warm weather. I started working at the Cleburne as a teenager. It's the only job I've ever known. I was there in 1969, when we made the big move from the original spot on Cleburne Street to our current location.
I received more than 2,500 calls and emails in the weeks after the fire. Customers wanted to tell me how much the Cleburne meant to them. I never realized we were so loved. Of course, they also wanted to know when we were going to reopen so they could have some meatloaf or turkey and dressing with their friends.

The Cleburne had become a familiar gathering spot for locals, especially seniors. It was part of their daily routine, for decades in some cases. That's the beauty of a cafeteria. You can get something different every time you come. They really missed their place, and so did I.

My 94-year-old mother has returned to her post at the family table . . . greeting customers . . . just as she's done every day since 1952.
The fire department concluded that the fire started in a dry storage room. Probably electrical, they said. Luckily, we had business interruption insurance. It was something I bought to help me sleep at night. I never thought I would actually use it. The fire occurred on a Tuesday, and I was still able to make payroll that Friday.
After 19 months of rebuilding, the Cleburne reopened in November 2017. Our first day back was a trial run to make sure all of our old recipes tasted right prepared in the new equipment. We opened the doors to anyone who walked by and invited folks from the churches across the street. We were back in business.

The mayonnaise and everything else is still made from scratch, but we had a chance to make a few improvements during the rebuild, including a private dining room for family gatherings. The lobby has a small museum dedicated to the history of the Cleburne, with artifacts going all the way back to 1941. My father, who passed in 1989, created 70 oil paintings to decorate the walls of the Cleburne. The 10 that survived the fire are on display.

My 94-year-old mother Patricia, has returned to her post at the family table. She's still greeting customers and asking about their families, just as she's done every day since 1952.
Written by
John Diether

The information contained in this page is provided for general informational purposes only. The information is provided by Farmers and while we endeavor to keep the information up to date and correct, we make no representations or warranties of any kind, express or implied, about the completeness, accuracy, reliability, suitability or availability with respect to this article or the information, products, services or related graphics, if any, contained in this article for any purpose. The information is not meant as professional or expert advice, and any reliance you place on such information is therefore strictly at your own risk.