When a fast-moving wildfire ripped through Middletown, California, on Sept. 13, 2015, it prompted more than 20,000 to evacuate, destroyed more than 1,000 homes and took the lives of four people.
Middletown resident Linda Diehl-Darms shares her story from that day:

My parents moved to Middletown in 1955, owned several businesses, and were active in the community. I grew up here, and stayed to raise my family.

My husband Tom was out of town the day of the fire, so it wasn't until my son called mid-afternoon that I heard a fire was coming toward Middletown. He, his wife and my 3-year-old granddaughter picked me up, and together we explored the neighborhood to see what information we could find out.
Within two miles, we saw the fire. Realizing it was very close to my sister's home, we rushed over to help pack up family heirlooms and supplies. The wind was howling like a hurricane, but instead of rain, embers were falling from the sky. The heat was so strong, we had no choice but to leave.

We were told that the fire was moving north, which meant my house would be the safest place to wait out the fire. A few of us went there, including my granddaughter.

I'll never forget cooking dinner later that night like nothing was wrong, then looking through the kitchen window and seeing fire along the ridge, just a few miles away from all of us.

I called to my daughter-in-law, 'The fire is changing,' just as my son ran into the house screaming, 'What are you doing? The fire is coming! I raced it here!'
…The fire was moving unusually fast — a mile per second, we found out later — bouncing all over the place and changing direction because the winds were so strong.
We knew the fire was moving unusually fast — a mile per second, we found out later — bouncing all over the place and changing direction because the winds were so strong.

I grabbed my homeowner's insurance file and some boxes in the top of a closet that I knew had pictures in it. On the way out, a sheriff pulled up and yelled, 'Ma'am, you need to leave now!' through a bullhorn. It was surreal.

We raced to my daughter-in-law's father's house six miles away, because we thought we'd be safe there. We were wrong. The fire had changed direction again. As soon as the electricity went out, we hopped in our cars and went to another family member's house, 45 miles away in Napa, where my husband met us. Just go ahead and picture 13 of us on air mattresses in the living room, and no one could sleep. Somewhere in the wee hours, I realized that, 18 years ago on this day, I'd married Tom. 'Happy anniversary,' I said, and everyone laughed. We were grateful to be safe, but none of us knew what if anything would be left of our homes.

The next day, we found out. Among the group of us at the house that night, five out of 10 of us found our homes burned to the ground: my son, my brother, my aunt, my cousin and me.

Nothing prepares you for the shock of seeing a smoldering pile of ashes, concrete and twisted metal where your house once stood. All I can say is, it was a strange feeling, sitting in my burned backyard, talking through what I'd lost with my insurance agent. We lost everything.
Thankfully, my sister's house survived. Tom and I stayed there for a while so we could figure out our next steps and sort through all of the work that comes after something as unimaginable as this happens.

Today we're in the engineering phase of the plans for our new home. We're torn about where to situate it on our lot. I don't want to build in the exact same spot. I worry that I'd remember what I lost every time I drive home. A number of my friends who are rebuilding are struggling with that same choice. I even know one lady who says every room in her new house will have a door that leads outside. Running from a fire will do that to you.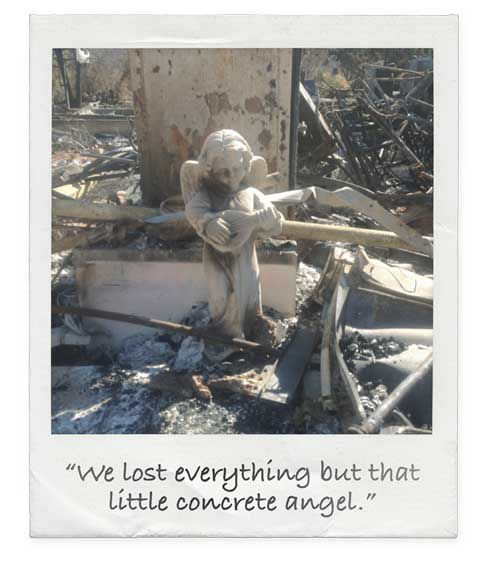 Loss is a hard thing, and we lost so much. We lost our home. Tom and I also had to close our once-thriving auto repair shop in town. On Mother's Day this year, I burst into tears when I remembered an ice cream cone ornament my son made me when he was in preschool. The memory of things we lost hits like that, but not a day goes by when I don't stop and think: I'm thankful for all we didn't lose.

Yes, we lost nearly all our belongings, and some of that stuff was very meaningful to us. Some of it was passed down for generations, and some were reminders of people very precious to us. I had a little concrete angel, a keepsake from my parent's front yard that I placed in front of my own home when my mom died. When I got back to my house, after the fire had been contained, everything had burned to the ground except that little angel. Scorched, but perfectly intact. I've learned that my stuff doesn't define me. While all of my belongings were lost, that little angel is a daily reminder that the people I love the most in this world were still by my side.

Written by
Linda Diehl-Darms, as told to Meghan Rabbitt

The information contained in this page is provided for general informational purposes only. The information is provided by Farmers® and while we endeavor to keep the information up to date and correct, we make no representations or warranties of any kind, express or implied, about the completeness, accuracy, reliability, suitability or availability with respect to this article or the information, products, services or related graphics, if any, contained in this article for any purpose. The information is not meant as professional or expert advice, and any reliance you place on such information is therefore strictly at your own risk.