Shane and Nancy Cashman, a couple in their early 30s, had been looking for a home to buy for nearly a year when, in February 2020, their offer on a six-bedroom house on 2.5 acres in Cornwall, New York, was accepted.
Weeks later, when the Cashmans were in the middle of escrow on a home and Nancy was newly pregnant with their second child, coronavirus lockdown orders were issued across the country, all but essential businesses closed, and life came to a grinding halt. "In a way it made sense [for the shutdown to happen during the closing]," Shane says. "This whole process has been crazy for us." 
They saved for a down payment the hard way
By the time they made the offer on the Cornwall house, there were rumblings about the coronavirus, but not enough to make them want to walk away. The 3,000-square-foot colonial home was listed at $200,000 — more than they had originally budgeted — but it included a one-bedroom rental unit they planned to renovate for Shane's grandmother to live in and later to rent to offset their mortgage payments. "We were told we could get about $1,500 to $2,000 a month when it was fixed up because the rental market is strong here," he says.
Shane and Nancy had started saving early on when they were living in a rent-controlled apartment in Brooklyn that had been in Nancy's family for more than 60 years. The cozy one-bedroom had no stove, but they were able to save most of their down payment while paying rent well below market value.
Shane, a freelance writer and adjunct college professor, and Nancy, an event planner and self-employed florist, lived in the apartment for five years, even after the birth of their son. In 2018, they moved into Shane's parents' home in Highland Falls, New York, to continue saving for a down payment and to search for their first home. Initially, they focused on off-the-beaten-path major fixer-uppers in the $40,000 to $80,000 range.
"The first house we put an offer on hardly had a roof, hadn't been lived in for 10 years and was home to squatters," says Shane. A contractor friend who checked out the house talked them out of it, which also saved them from having to pay for an official inspection.
3 Simple Steps to Smarter Homebuying
If you're considering buying a home for the first time, start with these easy suggestions from Melinda Opperman, president of credit.org, a nonprofit financial counseling agency.
Research credit scores through a trusted organization, such as consumerfinance.gov.
Take a first-time homebuyers class, which may be available online.
When comparing rates, assess the annual percentage yield (APY) over annual percentage rate (APR). The APR but does not include compound interest (i.e., the interest levied on the interest). APY is the effective annual rate, which includes how often interest is applied to the balance.

The inspection cost $400 but spared them from making a huge mistake
Their second offer, right before the 2019 holidays, was on a 1,500-square-foot New England farmhouse situated on four acres. It wasn't perfect, either. The basement leaked, and the gutters and window panes needed replacing. "We thought the repair work was mainly cosmetic," says Shane, who was surprised — but relieved — when the home passed inspection.
During the 30-day escrow, they asked several contractors to assess the structure and provide estimates for the repair work. "After going over the house with a fine-tooth comb, one contractor told us, 'This is a total teardown. They've hidden structural damage with sloppy construction work,'" recalls Shane. "He refused to take our money and said, 'Get out of this.'" Their offer paperwork already stipulated that if anything was deemed suspect during the inspection, they could easily walk away from the purchase. "We paid about $400 for the inspection and $500 to a lawyer, but that was it."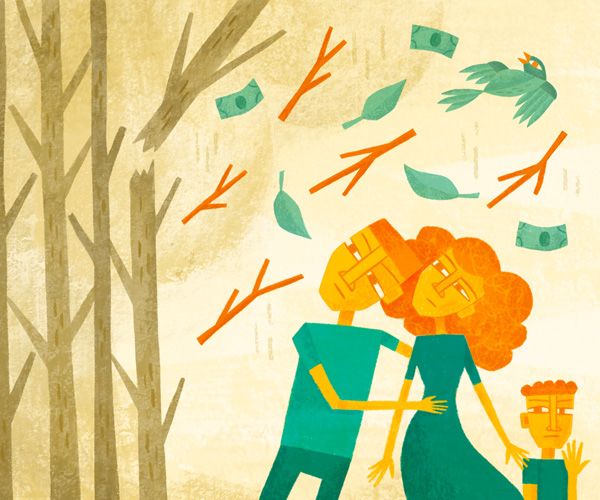 A credit union and an FHA loan made it work
The Cornwall house was listed above their budget, but the rental unit made it feasible and, securing the loan was relatively painless, Shane says, because they qualified through a military credit union.
"My parents are equestrian coaches for a military academy [and are members of the academy's credit union], so we were grandfathered into this bank," he says. "They have a great approval system of mortgages, and we were able to put down 4 percent. The only scary thing was having to pay a lot of taxes upfront for the year, which get rolled into the mortgage [since it's an FHA loan]. Our closing costs with taxes ran about $17,000." 
Credit Union Mortgage Pros and Cons
Considering a mortgage through a credit union? Melinda Opperman, president of credit.org, a nonprofit financial counseling agency, recommends weighing the following pros and cons — and comparing it to several types of lenders, such as brick-and-mortar banks or online banks and lenders.
PROS
Potentially lower cost. Credit unions are member-owned, nonprofit organizations that don't pay federal income taxes, which means they may pass on savings in the form of lower fees, closing costs and interest rates.
They may have more flexibility with loan qualifications for borrowers with lower credit scores, non-traditional employment or few assets.
CONS
Must meet eligibility guidelines to become a member before applying for a mortgage.
Limited service. Credit unions tend to be small outfits, which means they may offer fewer products, have limited online banking capabilities and other conveniences compared to traditional banks.

According to credit.org, credit unions are not covered by the FDIC, but may be covered by another organization such as the National Credit Union Administration or a state agency. Buyers considering a credit union over a bank may want to research how a credit union's accounts are insured.

By the time COVID-19 shut everything down, they were already through inspections. But the experience of closing on their home during the coronavirus pandemic bordered on the surreal, Shane says.
"We closed escrow on April Fool's Day," he recounts. "It was slightly delayed because the seller, who had lived here alone, was in a nursing home, and with COVID-19, our lawyers extended the closing date to give everyone more time."
"I didn't really believe it until I had the keys," he says. "To be honest, I feel like I hadn't even really looked that closely at the house because I was afraid to fall in love with it." Social distancing rules also meant their parents couldn't attend the celebratory signing of the loan documents and key hand-off.
They thought COVID-19 was their biggest challenge — then they opened the ceiling
In hindsight, Shane now says, closing during the pandemic may have been the easiest part of the process. The real challenges started with the renovations on the home, when New York state was in lockdown.  
The couple had put all of their savings into the down payment and funds for renovations. Shane calls the house, which was built in 1850,  "liveable-ish" at purchase, but outdated wiring and outlets needed repairs, as did crumbling plaster in some rooms.
But coronavirus lockdown meant that both of their jobs shrank or disappeared. Nancy, three months pregnant, was laid off from her event-planning job; florist gigs booked for the summer vanished. Shane finished out the spring semester video-conferencing with students from an empty room in their new home. His adjunct job hours were cut in half because enrollment dropped. But their mortgage held steady at just under $3,000 per month. They relied on unemployment and had a low day-to-day overhead because they were living with his parents during the repairs. 
The shutdown also made working on the house a challenge. Friends who'd signed on to help out were no longer available. A trip to the hardware store took hours, and finding the right supplies became a treasure hunt. "When we were sanding, there was no sandpaper anywhere, and forget about trying to find masks," he says.
Luckily, with four generations of Cashmans living under one roof at his parents' house, Shane was able to pull 10- to 12-hour days working on the house, mostly alone or with his mother-in-law, who taught him how to sand floors. "Doing the floors ourselves saved a lot of money."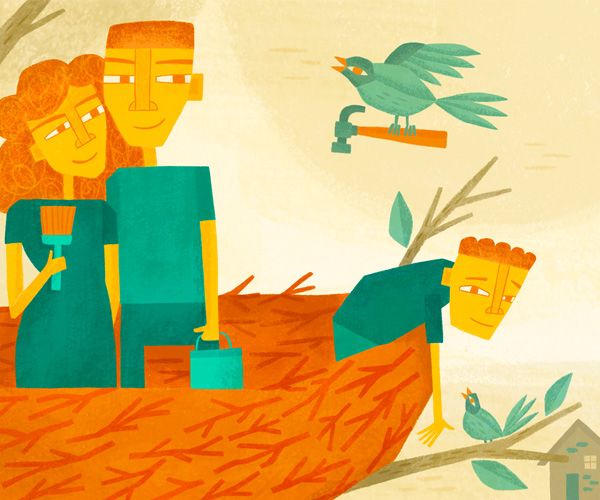 Although they thought their savings would cover most of the renovations (which they estimated at around $6,000), they ran into unforeseen expenses. The rental unit had been added in the 1950s, and construction turned out to be dicey. Removing the dropped ceilings and insulation was like "opening a can of worms," says Shane. The support beams had been installed incorrectly so the room was structurally unsound and the roof was sagging — and could eventually collapse. "It was a disaster," says Shane. "I think I breathed in 200 years of dust —  at a time when it was impossible to find any mask in New York," he adds.
In the rental's bathroom, they swapped out an awkward tub for a walk-in shower to make it more accessible for his grandmother. "Aside from hooking up a washer and dryer, our side of the house doesn't need as much work," he says. "But that ceiling ate up a lot of our budget." Their insurance company also flagged a few things that needed fixing, including the deck's cinder block supports and cedar tree limbs hanging over the house.
Will they stay or sell? The future is unclear, and that's okay
While Shane is a self-confessed glass-half-full kind of guy, buying a home during a pandemic has definitely forced the couple to have some tough conversations. "The worst case scenario is that we finish fixing it up and just put it back on the market," he says. They also discussed having his grandmother live on their side of the house and renting the one-bedroom to help with their mortgage and insurance payments. 
"This whole process has felt absolutely crazy, and even though I sound Zen, [the anxiety] comes in waves," he says. "But it also feels awesome, and at this point we expect anything to happen." 
Update
"It took a few months of doing all projects at once during the pandemic to realize that I had to calm down and enjoy the place. I knew very little about home renovation going into this. YouTube and friends taught me a lot. I also feel good about learning how capable I can be. It's been a great experience, even if it shaves whole years off of my life. We're finally at a place now where it's livable, and I can do one project at a time and not feel totally stressed. In the beginning, I was going mad from stress. My wife's family is immunocompromised. My grandma has leukemia. My wife was pregnant. The pandemic. An old, decaying house. But now we're in and good and just sleepless with our new baby girl." — Shane Cashman 

Illustrations by Denise Gallagher
First or forever home?
Learn about home insurance with personal service from a Farmers® agent.

Written by
Maria Neuman

The information contained in this page is provided for general informational purposes only. The information is provided by Farmers® and while we endeavor to keep the information up to date and correct, we make no representations or warranties of any kind, express or implied, about the completeness, accuracy, reliability, suitability or availability with respect to this article or the information, products, services or related graphics, if any, contained in this article for any purpose. The information is not meant as professional or expert advice, and any reliance you place on such information is therefore strictly at your own risk.