Through a thick blanket of smoke, all Jeffrey Smith could do was watch and hope.
Flames and an eerie red glow enveloped the peak of a nearby mountain as a wildfire raged. If the wind shifted, the wildfire could engulf his business — a large animal and equine hospital set on 5 sprawling acres.

It was a painfully familiar scene for Smith. Just two years earlier, a wildfire ripped through his town, burning more than 115 square miles and forcing more than 20,000 residents to evacuate.

"In 2015, there was no time — it was a run-for-your-life evacuation," he recalls. "We closed up the building, crammed the animals into cars and trailers, and fled."

The 2017 fire was different for Smith. He was more prepared. Although the town was under an "advisory evacuation," which meant residents needed to be ready to leave if the wildfire worsened, Smith didn't take any chances. He and his staff evacuated with all the animals.

His veterinary hospital escaped the second fire, but neighboring towns to the south burned to the ground.

"It's overwhelming to see the scale and totality of destruction repeat itself in such a short period of time," says Smith, who was able to provide emergency animal services after the start of the 2017 fire. "We had a chance to help out a community that helped us out during the 2015 fire, which felt great."
---
This buffer zone can help protect a business or home in a wildfire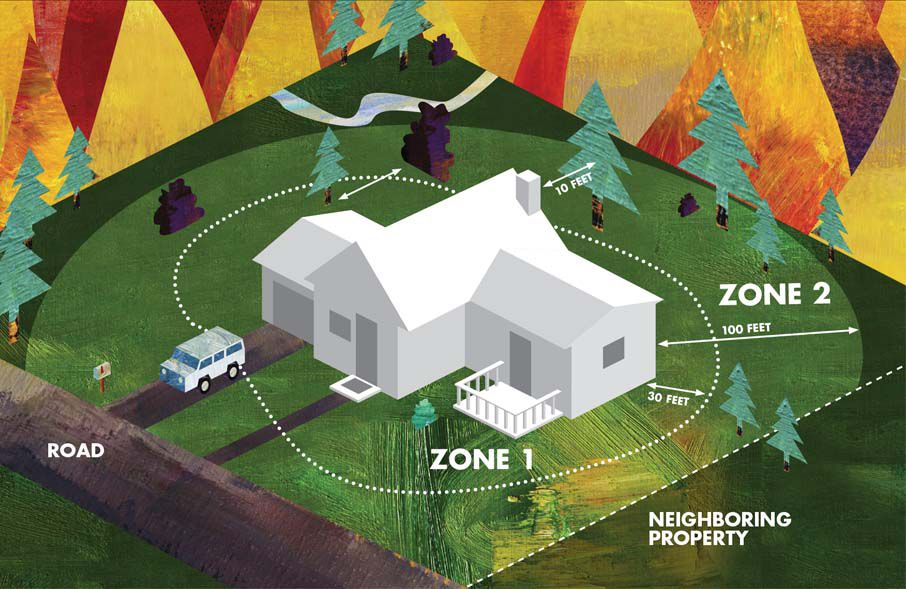 Transcript[TXT]

"Our buildings survived based on the merits of our fire preparedness. Many of our close neighbors' structures did not," Smith says of the 2015 fire. He credits a strong "defensible space" around the property for saving his buildings and the business.

Think of defensible space as a series of buffer zones between the buildings on a property and grass, trees and other flammable material that can feed a fire. With proactive maintenance and planning, these zones can help property owners create layers of protection around a building, says Steve Quarles, chief scientist for wildfire and durability at the Insurance Institute for Business and Home Safety (IBHS).

To develop a defensible space, Quarles recommends starting with a thorough survey of vegetation, landscaping and objects within 200 feet of a building. "Don't forget about things like mulch and a wood pile. It's important to look at the placement of everything on your property that could provide a path for the fire to burn directly to the building," says Quarles.

A perfect defensible space won't stop windblown embers from starting a fire, Quarles says, but maintaining these zones around businesses and homes in wildfire-prone communities can help slow the spread.
Zone 3: The first line of defense
Range: 100+ feet (to property line)
What you can do:
Remove dead plants and trees.

Trim and space out trees and shrubs. Keep branches a minimum of 10 feet from other trees.

Extend the maintenance zone to 150 to 200 feet if the building is located on a slope, where fast-moving fires with longer flames can develop.
Zone 2: Preventative damage control
Range: 30 to 100 feet
What you can do:
Remove dead vegetation, prune trees and shrubs (up to 10 feet from the ground), remove hanging branches, keep groupings of trees and shrubs well spaced (leaving 30 feet between clusters of trees, or 20 feet between individual trees).

Keep grass to a maximum height of 4 inches.

Eliminate "ladder fuels," such as tall grasses that allow fire to climb trees.

Smaller, combustible items, including storage sheds, trailers and benches should be moved to Zone 3. If these items cannot be moved, create a defensible zone around them.
Zone 1: The last line of defense
Range: 0 to 30 feet
What you can do:
Clear away all dry and dead vegetation (e.g., brush, pine needles, dry leaves).

Use noncombustible materials, such as gravel or rock "mulch," around landscaping and be selective about the vegetation planted closest to the building (e.g., high-moisture-content annuals and perennials).

Do not store combustible materials (think: firewood, storage files) near the building.

Remove branches hanging over roof.

Relocate wood piles to Zones 2 or 3 and create defensible space around them.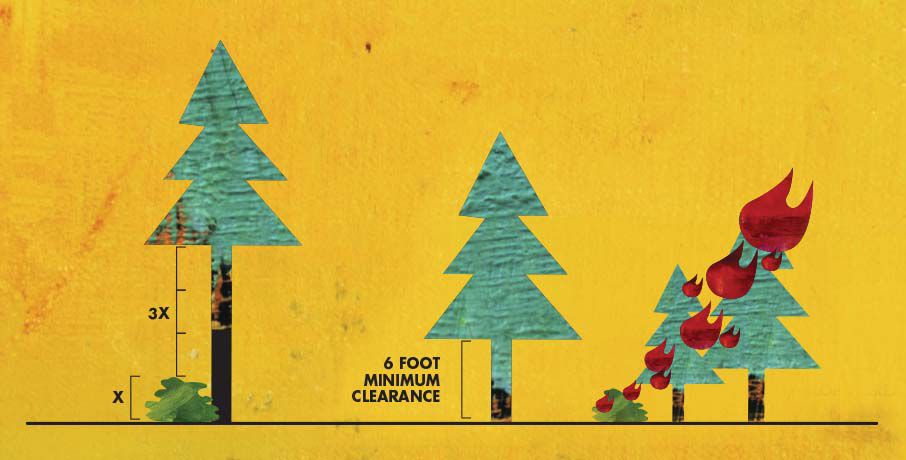 "People just do not take the time to plan and prepare."
Retired Cal Fire division chief Gregory Scott has witnessed the devastating effects of wildfires for more than 35 years — and the inexplicable lack of preparation in wildfire-prone communities. "People just do not take the time to plan and prepare. I've seen so many fires destroy commercial property."
To take your defensible space a step further, Scott recommends taking a thorough survey of the building and surrounding landscape. To help business and homeowners better prepare for wildfires, IBHS recommendations include assessing the following materials and features.

Roof
A roof is often the most vulnerable feature of a building — a wide-open space where burning embers can land and ignite. A local fire marshal can tell you if your business is covered by a Class A-rated roof, the most effective in severe fire test exposures. This rating varies by type and material based on requirements set by local building ordinances.

If there is an opening at the eave end and ridge of the roof, it should be covered with a noncombustible screen to reduce the risk of embers getting inside.
If you share a roof with other businesses, Quarles recommends working together to keep the roof and gutters clear of combustible debris.
Windows
Double-pane windows with tempered glass offer increased protection against radiant heat, which can break single-pane windows.
Vents
Attic and crawl space vents can be covered with 1/8 inch to 1/4-inch metal mesh screens to help reduce the risk of burning embers entering a building.  
Exterior walls
Noncombustible siding such as brick and concrete are the best protection against wildfires. If siding is combustible, defensible space is important to keep the flames from reaching the structure.
When it's time to get up and go
The first rule of evacuating in a wildfire: Prepare to evacuate before the order is issued. "Businesses cannot effectively prepare to evacuate while they're evacuating," says Quarles. "If you're asked to evacuate, go."
IBHS also recommends business owners review and update their evacuation plan every six months.
Review information technology data and back up important information often.
Keep critical business documents (employee contact numbers, licenses, insurance information) up to date and easily accessible. Smith recommends storing digital copies of important documents in the cloud or a remote server, as he did before the Valley fire.
Develop a business continuity plan. "Planning, preparation, storage of supplies, setting up outside record storage and arranging a location that can receive a phone call of information from the affected area will make recovery much better," says Scott.
Train management and other key employees in evacuation plans. For example, schedule a power outage test evacuation.
Prepare an emergency kit with cash, portable radio, flashlights and batteries.
"It would be great if one disaster prevented the next one, but I think the best we can hope for is to decrease the impact of the next disaster," says veterinarian Smith. "The way the fire crossed the six lanes of a highway and burned into urban neighborhoods illustrates how hard it is to predict, manage or prevent these fires. As a former Boy Scout and Boy Scout leader, I firmly believe in the motto 'Be prepared.' "


Written by
Eric Grossman
The information contained in this page is provided for general informational purposes only. The information is provided by Farmers® and while we endeavor to keep the information up to date and correct, we make no representations or warranties of any kind, express or implied, about the completeness, accuracy, reliability, suitability or availability with respect to this article or the information, products, services or related graphics, if any, contained in this article for any purpose. The information is not meant as professional or expert advice, and any reliance you place on such information is therefore strictly at your own risk.