Kristin Sancken nursed her two-month-old baby in the freezing darkness and counted the minutes until dawn. Sunrise wouldn't bring warmth, but it would at least bring light to the old farmhouse where Sancken, her husband and their newborn daughter were snowed in with no power and no means of communication.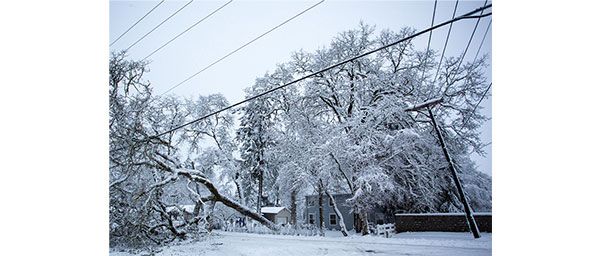 "I needed the sun to come," Sancken recalls.
The family had moved to rural Virginia two days before a storm dropped five feet of snow, downing power lines, blocking roads and leaving them entirely isolated.
"It was really grim," she says. "It felt so scary to be alone with this little baby in the middle of nowhere."
The house had a generator but no fuel to run it, so the family hunkered by the fireplace. They lived on questionable beans and peanut butter stashed at least 10 years earlier in the basement by Sancken's late grandfather, who had prided himself on being prepared for the worst. 
After two days, the Sanckens hiked a mile to their nearest neighbor, who plowed them out so they could get food and fuel. Still, the terror of being isolated and unprepared stuck with them. When the family moved four years later, they made installing a generator in their new home — and keeping fuel on hand — a priority. 

"It's a pain to prepare for emergencies that seldom happen," Sancken says. But "it relieves a lot of stress when a crisis does happen."
Outages are a common experience for many and can run the gamut from inconvenient (when people can't charge their phones) to dangerous (for people who rely on life-sustaining medical devices).
The U.S. Energy Information Administration data for 2016 and 2017 — the only years available — shows that, on average, Americans experienced about 1.4 outages a year. In 2017, Americans lost power for an average of 7.8 hours, nearly double the year before.
The big storms of 2017 may make that year an outlier, says Maya Prica, assistant professor of electrical engineering and computer science and energy system researcher at Case Western Reserve University. However, with climate change causing more large storms that interrupt power, widespread and long-lasting outages could become more common, she says.

When Harvey Hit, She Thought She Was Prepared
 
Dana Alsop was ready for Hurricane Harvey. As a home and business owner on the Gulf Coast, in the small Texas town of Refugio, she had weathered many storms. Although residents were urged to evacuate, Alsop and her husband stayed, hoping to help minimize damage to the 6,560-square-foot building that houses their home and their four businesses: a salon, an event space, a flower shop and a construction company. Before Harvey hit, they stockpiled food and water, filled prescriptions and took out cash in case ATMs were down.
"We did all the normal stuff," Alsop says.
Alsop picked up plenty of batteries, anticipating that the power would be out for a day or so. But Harvey hit hard and left her family without reliable power for two weeks.
Roads were unpassable, and it took three days before the family could make the 35-minute drive to Corpus Christi to purchase a $700 portable generator. Alsop's husband also bought nine gas cans, and each morning he would drive a half hour to the nearest working gas station to fill them up. The generator supplied limited electricity, but "it was a life saver," Alsop says —
enough to run the refrigerator and an air conditioner in 100-degree heat and oppressive humidity brought by standing floodwaters.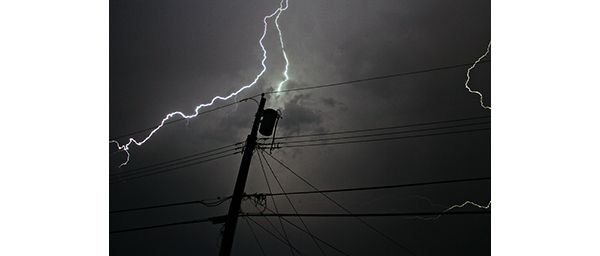 Almost everyone she knew bought a generator after Harvey, a first-line option for homeowners who have enough outdoor space (rules about how much space vary by locale). Portable generators cost $500 to $2,000 and can supply three to 10 kilowatts of electricity, enough to power appliances like a refrigerator or an air conditioner. 

They Thought It Was the Storm of the Century. Until the Next One Hit.
For Lorna Ness, after getting hit by long, back-to-back blackouts in Summit, New Jersey, a standby generator made sense.
In October 2011, an early snowstorm left Ness and her husband, Stephen Coffin, without power for eight days. They had to deal with the normal inconveniences, but their main concern was the three electric sump pumps, which kept the basement from flooding. They spent days bailing and switching out backup batteries on the pumps.
"We said, 'Well, that's the storm of the century,'" she recalls. But it wasn't.
A year later, Hurricane Sandy left them without power for 14 days. Ness and her husband had batteries on hand for the sump pumps, but they still scrambled to keep the house dry.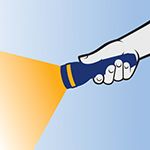 U.S. Biggest Blackouts

8 million customers across the Northeast and Mid-Atlantic lost power in Superstorm Sandy in 2012; three days later, 43 percent still had no electricity; full power restoration took one month.
A record 50 million went dark in August 2003 when a cascade of grid failures swept the Northeastern U.S. and Canada. Most power was back two days later, but some people waited two weeks.
After 22 days without power in just two years, Ness had a standby generator installed, for about $20,000. (Full-home generators — called standby generators — supply more power than portables and are more expensive.) If she ever sells the house, she doesn't expect to recoup the expense. But that wasn't a factor in her decision.
Although most of her neighbors opted for cheaper portable generators, Ness felt the standby generator was worth the extra cost. It's connected to her home's natural gas line, so Ness doesn't have to worry about securing fuel. It will kick on automatically whenever the power goes out, so she can travel without worrying. And it will be easy to use as she and her husband age.

Since Ness had her generator installed, she estimates she's been without power for about 10 minutes. Still, she likes the peace of mind it brings. And when her elderly mother moved in, Ness was assured of a steady supply of electricity for her oxygen machine.
Getting the generator wasn't easy. Municipal regulations govern how far a generator needs to be from windows and neighbors, and the layout of Ness's small suburban plot meant she almost couldn't install one at all.
"We were inches from failure," Ness says.
Prica, the energy system researcher, recommends that people investing in a generator consider three questions:
How likely is an outage?
How much discomfort are they willing to endure without power?
How much will it cost?
She hasn't bought a generator for her suburban Ohio home because blackouts are rare. But Kristin Sancken experienced frequent outages and says she easily recouped the $1,100 expense by saving food that would have otherwise spoiled. 

THE MINIMALIST

Wants to power: Refrigerator, microwave, window air conditioner, phone charger, three light bulbs

Watts needed: 6,800, or 6.8 kilowatts

Generator choice: Portable

Fuel needed: 18 gallons of gas per 24 hours

Cost: $600-$1,000

Installation: Heavy-duty extension cords; possible connection to propane tank or to natural gas line

Upsides: Inexpensive, quick to set up

Downsides: Can be heavy and hard to move, needs to be set up outside, uses a lot of fuel


Upgrade options: Carbon monoxide detector with automatic shutoff. An inverter generator, which is designed to be lighter, quieter and more fuel-efficient; it converts the "noisy," or variable, current produced by the generator to "clean," or stable, energy and can speed up or slow down to meet demand, instead of always running at full power. 

THE MAXIMALIST

Wants to power: The whole house, or at least most home appliances, including refrigerator, electric stove and dishwasher, furnace or central AC, lights, sump pumps, TV and computers

Watts needed: 15,000-30,000, depending on which appliances will be used

Generator choice: Standby

Cost (purchase plus installation): $5,000-$20,000

Fuel needed: Often permanently connected to home's natural gas line or propane tank

Upsides: Comfort, ease of use

Downsides: Cost, outdoor space requirements

Upgrade option: Solar-powered home battery ($3,500-$13,000 plus installation). Existing solar panels required

Generator Safety Basics
After Hurricane Harvey, Dana Alsop saw many people in her community hurt by generators. One neighbor refueled his generator while it was running and suffered major burns; others ran generators too close to their home and breathed carbon monoxide. "People who are desperate aren't always safety smart," Alsop says.
At least 67 people died from generator-related injuries in the U.S. in 2017. The U.S. Department of Energy recommends these precautions when operating a generator:
Never use a generator indoors. It should be run at least 15 feet away from the home and away from open windows to avoid carbon monoxide poisoning.
Unplug and cool down a generator before refueling, to reduce fire risk.
Never plug a generator into an outlet. Use high-capacity, exterior-rated extension cords to plug appliances directly into the generator.
Keep a generator as dry as possible. Generator tents can fend off rain.
A standby generator hardwired into a home needs a transfer switch to prevent generator power from leaking back into the grid, which could endanger power line workers. 

Powering up When a Generator Isn't an Option: Portable Batteries, Solar Chargers
 
Generators aren't an option for people who live in apartments, condos and other urban dwellings with no outdoor space, says Megan Pribram, assistant commissioner for planning and preparedness at New York City Emergency Management. 
Portable batteries and power banks are a partial solution, but they can charge only a phone or maybe a laptop, not a refrigerator or air conditioner. A good $50 power bank can charge a phone five to eight times; a $150 one will charge a laptop or tablet; larger batteries are more expensive. A solar-powered phone charger (roughly $40 to $80) can also keep communication running.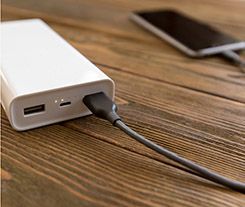 Portable batteries and power banks are a partial solution, but they can charge only a phone or maybe a laptop, not a refrigerator or air conditioner. A good $50 power bank can charge a phone five to eight times; a $150 one will charge a laptop or tablet; larger batteries are more expensive. A solar-powered phone charger (roughly $40 to $80) can also keep communication running.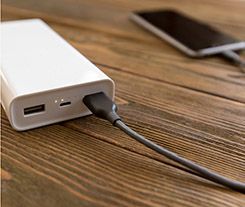 Pribram recommends that high-rise dwellers talk to their building management about full-building generators and other emergency equipment, like evacuation chairs, designed to help people who cannot navigate stairs exit top floors if the elevators are down.
People who rely on life-sustaining medical equipment powered by electricity, like a home dialysis machine, should register with their utilities, she says. When possible, the utility companies will give them extra warning about blackouts and will prioritize getting their power restored.
While bigger storms with blackout potential are predicted as the climate warms, technological advancements (like smart grid technology) and increased regulation (like requiring utilities to keep trees away from power lines) have helped the U.S. power grid become more reliable, according to Chris Farnell, managing director and test engineer at the National Center for Reliable Electric Power Transmission at the University of Arkansas's High Power Test Lab.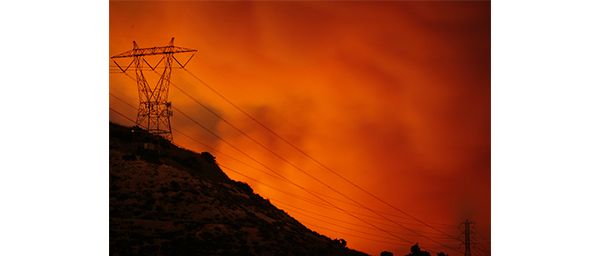 "We can't control the weather, but over the past decade, electrical utilities and grid operators have significantly improved their ability to respond quickly and decisively to widespread loss off service," Farnell says. "They're better equipped to get people back online quicker than historically." 
Still, Farnell himself recently installed a portable generator. During a 2009 ice storm, he lost power and found himself scrambling to find places to take a warm shower or cook a meal. He is expecting his first child this year and wants to avoid that experience with a baby.
He hasn't had to use the generator yet. But, he says, "it's nice to know it's there if needed. We feel more prepared as a family."
 
Who Gets Power Restored First?
According to Maya Prica, utility companies prioritize restoring power by location and need.
Priority #1: High-voltage lines that carry power to circuits feeding many people and places where there is immediate danger
Priority #2: Hospitals, fire and police stations, sewage systems and other critical services
Priority #3: Business districts
Priority #4: Circuits with the most customers (multifamily residential buildings, densely populated areas), then circuits with fewer customers (small neighborhoods, rural roads) and then individually affected homes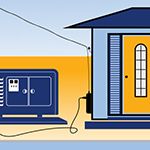 The average estimated ROI for a whole-house generator: 54 to 67.5 percent. Source: Remodeling magazine's annual Cost vs. Value survey (2007-2017) 
Written by
Kelly Burch
The information contained in this page is provided for general informational purposes only. The information is provided by Farmers® and while we endeavor to keep the information up to date and correct, we make no representations or warranties of any kind, express or implied, about the completeness, accuracy, reliability, suitability or availability with respect to this article or the information, products, services or related graphics, if any, contained in this article for any purpose. The information is not meant as professional or expert advice, and any reliance you place on such information is therefore strictly at your own risk.