David Dayton and his wife, Cindy, were looking forward to a long weekend away. Cindy had just retired from teaching kindergarten, and they were headed to an annual get-together at Lake Tahoe with old college friends. They locked the door of their home of 25 years in Northern California and drove away, leaving a set of keys with the cat sitter.
Four days later, the cat sitter called.
"I have bad news" she said, and described a scene that may be every homeowner's nightmare. That sunny morning, she found the door to the ground-floor garage open. Inside, it was raining. Upstairs, a ruptured hose to a toilet was shooting water high into the air.
Disaster relief specialists later determined that water had been inundating the split-level house for about 22 hours. It carved a path of damage from the top-floor bathroom down to the living room and garage, soaking carpets and floors and seeping deep into the walls. And it destroyed or damaged a lifetime's worth of furniture, books, pictures and heirlooms.
The Daytons rushed home and "spent three hours at the house, cursing the sky," says David. Repairs will take almost six months. Repairing their home and replacing their possessions will cost well over $100,000, he says.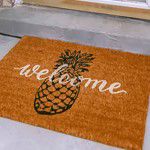 Welcome Home
Learn more about
homeowners insurance with
personal service from a
Farmers agent.
KEEP A CLOSER EYE ON THE
PLUMBING THAN THE WEATHER
 
Homeowners may think hurricanes, floods and other natural disasters are to blame for most water damage to homes and businesses in the U.S., but that's not the case, says Jeff Stone, state director of a national fire and water cleanup.
"Weather-related damage only accounts for 5 to 8 percent," says Stone, citing company data. "Ninety-five percent of water damage is due to random things that happen in your house." 
"Ninety-five percent of water damage is due to random things that happen in your house."

— Jeff Stone, state director of a national fire and water cleanup company
Consider spending a few hundred dollars to have a plumber conduct an annual maintenance check, says Tommy Webber, a 30-year plumbing industry veteran with a plumbing, HVAC and electric company in New York's Hudson Valley. (He charges $300 for an annual inspection.)
"You want to be proactive instead of reactive," says Webber. "You're looking at a few hundred dollars in maintenance versus tens of thousands of dollars in repair."  
HOME WATER LEAK DETECTORS
Leak detectors can signal early warning alarms when water appears where it shouldn't.
Battery-powered water-sensing alarms can be placed anywhere a leak might happen — under the hot water heater or washing machine, in a sink cabinet, at the basement's low point. Like smoke alarms, they send out a loud screech when sensors are triggered.
"Smart" leak detectors connect to a wireless network and can alert homeowners instantly by cell phone when water is detected. Most cost around $50.
A whole-house water shutoff system uses a motorized valve to turn off the water main when sensors signal a leak. Some systems place a water-flow detector on a home's water intake pipe to track flow patterns and detect unusual upticks, which trigger the main valve to turn off. These can cost hundreds of dollars and may require professional installation.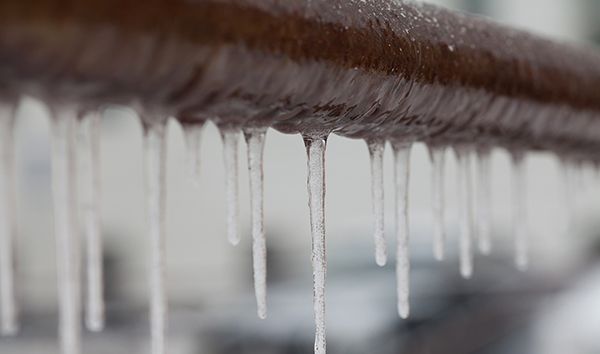 ONE FROZEN PIPE,
$70,000 IN DAMAGE
 
On a chilly day in January, Webber got an urgent call from a renter in Port Chester, New York, who said the water heater was leaking. When Webber investigated, he discovered three feet of water in the basement — and identified a different culprit: a pipe that had frozen and burst.
"Water was just gushing and gushing and gushing," says Webber, "pouring out of the basement window and flooding an adjacent building, then freezing up." A burst pipe can spill hundreds of gallons of water per hour, he says.
The fire department had to turn off the water supply at the street. Because the sheer volume of standing water was deemed to be dangerous, police red-taped the house, and tenants evacuated. Damage amounted to $70,000, says Webber.
Webber recommends these steps for reducing the risk of frozen pipes when temperatures drop below 20 degrees Fahrenheit.
Run a slow drip through faucets located on the inside of exterior walls, to keep water moving through them. "Running water will not freeze," he says.
Keep the heat on at all times, even in little-used areas: "Don't be cheap with the heat." A minimum of 55 degrees is recommended even if a home is vacant.
Double-check windows and seal drafts, especially in rarely visited areas like an unfinished basement. "I was at an elderly gentleman's home, and his basement window was left open. A cold draft would blow through, and it froze the pipes," recalls Webber.
If the heating system warms the house by circulating hot water through pipes (think: old boilers and radiators, new hydronic system), talk to a professional plumber about adding special antifreeze to the system.
Shut off the main water valve leading to the house when leaving the home for more than several days.
THE WATER HEATER WORKED
JUST FINE - UNTIL IT DIDN'T
 
Cleanup company director Jeff Stone's parents had been away from their home near Dallas for over a week when their son checked on it. In the living room, he found himself standing in three inches of water. The water heater had sprung a leak.
"It was spraying water everywhere," says Stone.
The water flooded much of their home — the bedroom, living room, kitchen, utility room, hallway and dining room — and seeped into the hardwood floors. Total damage: around $60,000. Stone's parents lived out of a suitcase in a duplex a couple of miles away while their son's company cleaned up. Restoration took six months.
"It was stressful," says Stone. "It's a long process." 
"... everything happens when you're not home. The hose breaks; then the next thing your house is flooded."

— Paul Harte, manager at a San Diego–based water-damage restoration company
Condensation from an appliance — when warm air hit the cold coils of an air conditioner or from cooling combustion gases in a furnace — can also cause disastrous leaks when the pipes designed to drain excess moisture get clogged or wear out over time.
Stone says the cost in time and money might have been prevented if his parents had spent $2,000 to replace their water heater when its seven-year life was up.
"It's hard to make the decision to spend money on something that's still working but could give out," says Stone. "It's a game of risk."
Stone and Paul Harte, a manager at a San Diego–based water-damage restoration company, recommend these steps: 
Schedule a regular maintenance check every one to two years. 
Check appliances and fixtures in rooms that aren't used often, like the basement or guest bathroom. 
MURPHY'S LAW: THE WORST-
CASE SCENARIO HAPPENS WHEN
YOU'RE NOT HOME
 
Every appliance that uses water — the most common are dishwashers and washing machines — needs a supply line to bring water in and one to take it back out. After repeated use, those pipes or hoses and their connections can develop small fractures and holes, says Harte, a 30-year industry veteran.
"Eventually they will give out," he says. "And everything happens when you're not home. The hose breaks; then the next thing your house is flooded."
An overcautious plumber may have contributed to the Daytons' disaster. They asked a different plumber to diagnose what went wrong. He told them the connector between the plastic braided water intake hose and the toilet was likely screwed on too tightly during their bathroom remodel 16 years earlier, putting strain on the plastic, weakening it and eventually causing it to burst. 
"Nobody tells you these little bits and pieces of plumbing need to be replaced."

— David Dayton, homeowner
Simple preventive measures can address aging or faulty pipes, hoses and connectors.
Check for signs of damage. If a pipe has white or green corrosion along its sides — what looks like grimy buildup – or small bubbles start to appear, it might be time to replace it, says Webber. Other signs: a puddle under the dishwasher or a damp kitchen sink cabinet after the dishwasher runs.
A professional maintenance check every one or two years should include evaluation of all hoses and pipes and, if needed, replacement. Connectors, fittings and fixtures can be checked for wear, too. "If the pipe has been there for 10 years, you may want to replace it," says Harte.  
DRYING OUT AND TRYING TO
GET BACK TO NORMAL
 
While water still dripped from the beams of their home, the Daytons kicked into high gear.
For eight days, eight workers ripped up carpet, tore down drywall, cut inch-and-a-half-diameter holes in the walls just above the floorboards and placed high-powered fans in every room to increase airflow. They turned furniture on its side or, if it was too wet to be saved, tossed it. The Daytons worked alongside them. 
"I feel like my time has been stolen, as well as all of my possessions."

— David Dayton, homeowner
The workers moved virtually everything of value that hadn't been destroyed — except for the family piano — into storage. The family moved into a hotel and then an apartment.
Stress levels ran high. "You start to question everything," David says. "Why did they take my cane? The stepstool? My wife handled that better than I did."
Months later, the family is still reeling. David worries that their house has been permanently damaged, that its structural integrity has been compromised and that if they ever go to sell, this water damage will come back to haunt them.

"I feel like my time has been stolen, as well as all of my possessions," David says, "I can never expect to get all of those books back. I just hope I'm able to forget my anger."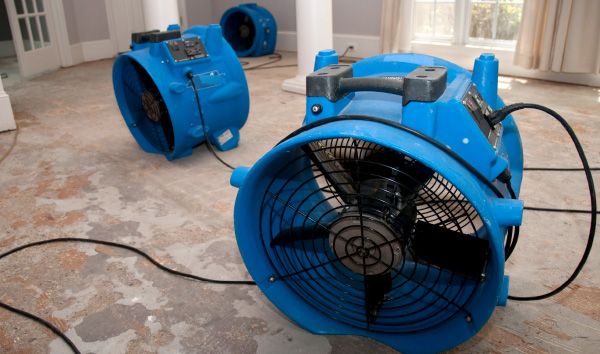 Written by
Alison Moodie
The information contained in this page is provided for general informational purposes only. The information is provided by Farmers® and while we endeavor to keep the information up to date and correct, we make no representations or warranties of any kind, express or implied, about the completeness, accuracy, reliability, suitability or availability with respect to this article or the information, products, services or related graphics, if any, contained in this article for any purpose. The information is not meant as professional or expert advice, and any reliance you place on such information is therefore strictly at your own risk.