John Herrera's life changed in less than two seconds. One February evening, the Miami lawyer was doing what most homeowners north of the Mason-Dixon only dream of in the middle of winter: lighting his gas grill to cook a few steaks.
It was something he'd done hundreds of times before. What Herrera didn't realize was that his wife had attempted to light the grill an hour earlier and left the valve of the 80-gallon propane tank wide open, with all five grill burners turned on high without actually lighting it.
"She closed the lid because she thought it would speed up the process. The wind was blowing, so I couldn't smell the gas," recalls Herrera.
When he hit the ignition switch to light the grill, the accumulated gas exploded in a ball of fire. Herrera suffered second- and third-degree burns over 20 percent of his body.
"I can't tell you how many times I've lived through the accident," he says. 
What happened to Herrera is one example of incidents involving gas or charcoal grills every year in the U.S. — an average of 10,600 per year, according to the National Fire Protection Association. American pitmasters and grill experts have seen these extreme conditions — and experienced a few disasters of their own. Here, they share their tips for keeping a grill in top shape and help reduce the risk of a backyard fire.
Stop oiling your grates (and veggies)
Chef McNiel Magdaong, resident grill master at the Kaanapali Alii resort on Maui, has seen his share of grilling disasters and what can cause them. Vegetables soaked in oily marinades. Bacon-wrapped foods parked on a grate over a high, direct flame. "Seasoned" grates encrusted with the grease and debris of barbecues past.
He oversees eight propane grills from a beachfront patio where guests are given free rein to cook. Watching amateurs and self-proclaimed backyard grill masters cook over an open flame has given him a keen sense of how grill infernos can get started by one, simple ingredient: fat. It's the most delicious and can be one of the most destructive ingredients because a grease fire can be harder to kill than a regular fire, he says. Plain water and certain types of fire extinguishers will not extinguish a grease fire (and dousing it with water can also spread the fire). It's important to take precautions to not only prevent a grease fire, but to know how to fight it properly to help reduce the risk of damage or injury. 
Magdaong's tips for reducing the risk of flare-ups
Sugar starts to burn at around 350 degrees Fahrenheit and, yes, it can catch on fire. Apply sweet sauces one to two minutes before removing food from the grill to avoid burning.

Use direct heat (food placed directly over flame) to sear, quick-roast or crisp/brown food. Use indirect heat (no flames directly under food) to finish cooking. To create indirect heat (also called a "two-zone" fire) in a gas grill, turn off one gas burner. On a charcoal grill, bank the charcoal pile against one side of the grate before lighting. When food is seared or browned, move it to the "indirect" side of the grate.
In case of a grease flare-up
Never use water. Grease fires must be "smothered" by depriving them of oxygen. A blast of water can also spread ashes and embers, creating a bigger fire.
Turn off main heat source (gas) or return the lid to a charcoal grill and close the top.

If the flames do not die out, douse the fire with a fire extinguisher designed to fight Class B (flammable gas or oil) or Class K (grease) fires.

"Burp" your charcoal grill.
Mike Peters, a grand champion pitmaster and past president of the Kansas City BBQ Society, often sees backyard cooks make the mistake of thinking a bigger, hotter fire gets food to the table faster. High temperatures and smoldering-hot charcoal inside a closed grill are the perfect environment for a backdraft — a type of flare-up that happens when air is blasted into an oxygen-deprived environment. Ceramic cookers can be particularly susceptible to these flare-ups because the heavy lids can create a tight seal and restrict the amount of air flowing into the grill (i.e. create an oxygen-deprived, smoldering fire).
To reduce the risk of a backdraft, pitmasters like Peters recommend "burping" the cooker when grilling at temperatures higher than 300°F to help prevent or minimize the risk of flare-ups and backdrafts, which are more likely to happen at higher temps.
Gently lift the lid of the grill an inch or two.
Pause for a count of three to let a small amount of air into the cooker.
Open the lid completely.

Do you have the right fire extinguisher handy?
The type of fuel causing the fire determines the type of fire extinguisher that should be used, according to the Occupational Safety and Health Administration.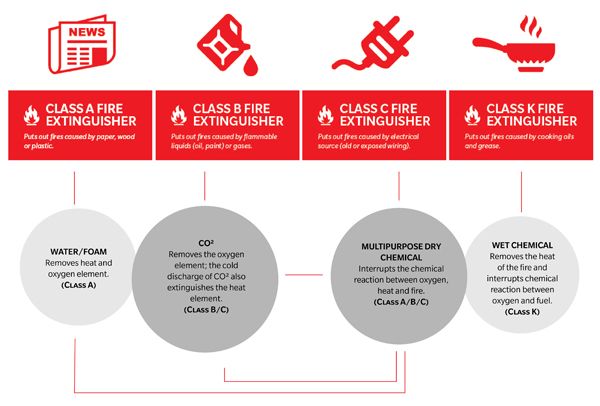 Transcript[TXT]
One single factor causes more than 1,400 home fires every year.


Failing to keep grills clean is the top cause of grill fires that ignite homes or other structures (29 percent), according to the NFPA. But another significant cause is using a grill too close to something flammable, NFPA data shows. That causes about 16 percent of the estimated 4,900 grill fires that damage homes or other structures every year, according to the data. Things like deck rails, patio furniture or those fun citronella tiki torches can catch fire if not kept at a safe distance from the grill. Peters recalls a neighbor who had to replace the siding on his house (and buy a new grill) because of a greasy burger flare-up on a grill set too close to the home. "If I had a small deck and a gas grill, I'd purchase a 4' x 8' cement backing board to put against the wall closest the grill."
The NFPA and the International Code Council (ICC), organizations responsible for developing building codes and standards for fire safety, recommend a distance of at least 10 feet between a grill and any combustible material. Gas and charcoal grills are strictly prohibited on balconies and decks, unless they are connected to a one- or two-family home.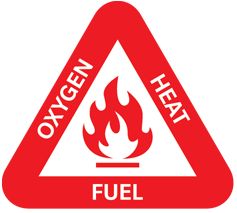 Fire extinguishers are designed to remove any one of the elements to extinguish a fire: oxygen, heat, fuel
Get a quote
Includes personal service from a Farmers agent.

Written by
Eric Grossman
The information contained in this page is provided for general informational purposes only. The information is provided by Farmers® and while we endeavor to keep the information up to date and correct, we make no representations or warranties of any kind, express or implied, about the completeness, accuracy, reliability, suitability or availability with respect to this article or the information, products, services or related graphics, if any, contained in this article for any purpose. The information is not meant as professional or expert advice, and any reliance you place on such information is therefore strictly at your own risk.

Produced on behalf of the following specific insurers and seeking to obtain business for insurance underwritten by Farmers Insurance Exchange, Fire Insurance Exchange, Truck Insurance Exchange, Mid-Century Insurance Company, Civic Property and Casualty Company, Exact Property and Casualty Company, Neighborhood Property and Casualty Company, and their affiliates. In Texas, insurance is underwritten by Farmers Insurance Exchange, Fire Insurance Exchange, Truck Insurance Exchange, Mid-Century Insurance Company, Texas County Mutual Insurance Company, Mid-Century Insurance Company of Texas, and Texas Farmers Insurance Company. In New York, insurance is underwritten by Farmers Insurance Exchange, Truck Insurance Exchange, Mid-Century Insurance Company, and Farmers New Century Insurance Company, home office Los Angeles, California.    Life insurance is issued by Farmers New World Life Insurance Company, 3003 77th Ave. SE, Mercer Island, WA 98040.    Each insurer has sole financial responsibility for its own insurance products.  Visit farmers.com for a complete list of companies. Not all insurers are authorized to provide insurance in all states.  Not all products, coverages and discounts are available in every state. Restrictions, exclusions, limits, and conditions apply. See agents for details.