More than 19 years have passed since homeowner Dan Bawden completed a two-story addition to his rancher in suburban Houston, but he can recall details of the project as if it happened yesterday.
His favorite least-favorite memory? The unplanned indoor water feature caused by a sudden rainstorm that flooded his home.
"We had plastic tarp for walls, so the slightest rumble of thunder made my wife and I jumpy," Bawden says. "We heard thunder one day while we were in church, so we grabbed the kids and raced home to find a wet, soaking mess in what had been our den."
Other highlights of the major renovation included mosquitoes breeding in the house, his children scaling scaffolding, and weeks of grilled cheese family dinners eaten on lawn chairs in the driveway.
Bawden's remodeling horror story is particularly telling, given his career — he's the CEO of Legal Eagle Contractors, a company that specializes in major remodels. While his six-month project was well planned, he says nothing prepared him for the day-to-day reality of the massive build-out. "This project taught me so much about what our clients go through," he says. He offers these critical takeaways for any homeowner planning a significant home addition.
YOU MIGHT ALSO LIKE: Home improvements for the truly pet-obsessed
Farmers Home Insurance
Find out why home
insurance from
Farmers is a smart
choice.
Start construction during a two-month window of good camping weather — because that's what your home will feel like.
"You're most vulnerable and exposed during the first two months of an addition project," says Bawden. This is the demolition stage, when all mechanical systems (electric, plumbing, air conditioning) are disassembled and moved and interrupted for weeks. Your new surroundings are exposed framework with no drywall, no roofing and plastic tarps for walls.
Answer one question when considering a major addition: How long do we plan to live in this house?

"Reserve 15 percent of your total budget — and bury it in a coffee can 20 feet deep in your backyard."
This reserve is not for heated towel bars or new decor; it covers the unexpected, which you need to expect.
Example? The $1,000 to $2,000 spent repairing landscaping damaged during construction. Or another common overage: paying for an engineer to review last-minute changes to plans or materials. Because additions can fundamentally change the structure of your house, this expert eye can assess where and how much new weight will sit on the existing slab foundation and other structural pressure points, says Bawden. Cut this corner and you could spend another $4,000 to $8,000 on repairs when unplanned weight causes beams to sag and your drywall to crack. You'll spend even more if the roof or structure falls in.

"Build out instead of up."
A ground-floor addition can cost significantly less per square foot compared with a second-story addition because it doesn't require the invasive removal or relocation of major mechanical and structural elements, says Bawden. Where he works in Houston, a ground addition ranges from $140 to $180 per square foot, but a second-story addition is $180 to $250 per square foot.

"Earmark a set percentage of your budget for furniture and decor."
For a 600-square-foot $100,000 addition, Bawden recommends adding 8 to 10 percent of the total for furnishing the new space. For every additional $100,000, that rate goes down 1 to 2 percent.

"Do you know the ballpark cost and value a renovation can add (or subtract) from your home? It might change your plan or budget."
Whether it's a two-story addition, a master suite or an extra bathroom, adding square footage to your home can add value at resale. According to Remodeling magazine's 2017 to 2019 Cost vs. Value Reports, this is the average cost of four common home additions (mid-range price), plus the estimated return on investment (ROI) based on resale value.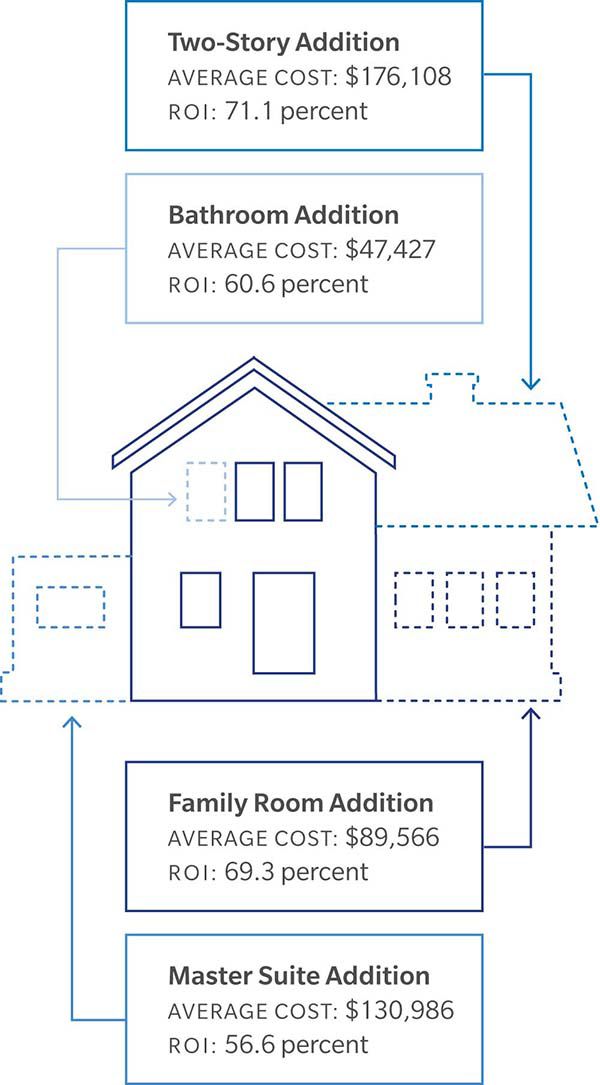 Get a quote
Includes personal service from a Farmers agent.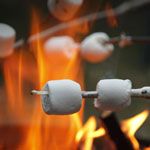 The first two months of an addition project — during demolition and moving mechanical systems — might feel like you're camping in your own home. 
Written by
Colleen Rush
The information contained in this page is provided for general informational purposes only. The information is provided by Farmers® and while we endeavor to keep the information up to date and correct, we make no representations or warranties of any kind, express or implied, about the completeness, accuracy, reliability, suitability or availability with respect to this article or the information, products, services or related graphics, if any, contained in this article for any purpose. The information is not meant as professional or expert advice, and any reliance you place on such information is therefore strictly at your own risk.