Kent Crabtree owns an electric vehicle (EV), and relishes a recent memory of his college-age son calling him from a gas station. "Mid-February, his teeth are chattering, and he says, 'You can't believe how easy you have it. Your car is always ready in the morning, and I'm out here freezing my tail off,'" recalls Crabtree.
"I think that's the biggest advantage of owning any electric car," says Crabtree, a software developer from suburban Dayton, Ohio. "It charges while you sleep, just like my phone. It's ready when you are." Wryly alluding to his vehicle's more obvious benefit, Crabtree notes, "my son was feeling only half of the effect of pumping gas when it's 10 below zero. He was using my credit card to pay for the gas."
Crabtree isn't the only E V driver happy to crow about the benefits of ownership. Here, E V experts and drivers break down what they think are the key perks of owning an electric vehicle.
E V technology keeps getting better
Crabtree's electric car can travel up to 295 miles on a single charge and hustle from zero to 60 mph in under four seconds. A high-priced luxury sedan, his E V represents what's possible in a class where buyers aren't too sensitive about price. But that level of technology has started to flow down market.

One new E V on the market in 2019 delivers 243 miles of range and starts at $35,000 — before applying the available $7,500 federal tax credit. "Ranges are increasing all the time, and it's happening faster and more cheaply than we expected," says attorney and self-described car guy Max Baumhefner, who leads the Clean Vehicles and Fuels program at the Natural Resources Defense Council.
These gains are apparent even among lower-priced electric vehicles. According to the EPA's fueleconomy.com website, the standard range is increasing year after year, with higher-priced models pushing into the 300-mile range. 
2019 Average travel range of EVs: 194 miles

The E P A offers an online efficiency and range estimating tool for every electric vehicle on the market. Keep in mind: the reality of a car's efficiency is based heavily on how and where you drive. The E P A cautions that its estimates are based on "typical driving conditions and driver behavior." Things like extreme temperatures and aggressive driving can lower ratings significantly. The E P A provides several tips on how to get the most range from your battery.
Cons? E Vs generally provide enough range for most drivers most of the time, but there may be little room for spontaneity in your travels. That means no unplanned or lengthy diversions from your daily routine and remembering to recharge faithfully. Buyers used to refilling their tanks on any street corner in a matter of minutes might find E Vs restrictive, as well. If this is a concern, there are a handful of E V models that are able to provide extended range through a gas engine that kicks in when the battery is depleted; another option for drivers with range anxiety and short commutes is a plug-in hybrid that can operate in electric-only mode for limited distances.
Federal and state tax credits, rebates and assorted perks mean business
As of April 2016, buyers of electric vehicles anywhere in the U.S. are eligible for a federal income tax credit of up to $7,500. This credit can be combined with various state incentives, ranging from $2,500 rebates in California and Rhode Island to feel-good measures like half-price vehicle registration in the District of Columbia (a benefit worth $36). Crabtree didn't get any perks from Ohio when he bought his electric vehicle, but when he travels an hour south to downtown Cincinnati, he gets free parking at city-owned meters and garages.
Buyers are eligible for income tax credit up to $7,500

Baumhefner expects to see more robust incentives in the future because 12 additional states and Washington D.C.­ have adopted California's stringent clean air standards. The Department of Energy keeps tabs on all federal and state incentives. Visit the D O E's website to find out what's available where you live.
The raft of incentives helps compensate for the fact that E Vs can be more expensive than comparable gas-powered cars. Automakers have attempted to justify the price gap by adding standard luxury and convenience features that typically cost extra. But after all the dust settles, consumers may still pay more for an E V.
E Vs are immune to common car diseases
Crabtree is now on his third electric vehicle and has used the factory warranty only once to have the headlights realigned on his first E V, which (at the time of publication) had more than 70,000 miles on the odometer. The car also had its original brake pads thanks to a feature called regenerative braking, which uses the motor combined with traditional friction braking to slow the car. This type of braking system is used to some extent on most E Vs, as well as hybrid vehicles.
Baumhefner believes E Vs are inherently more reliable because they're simpler than conventional cars. "There's no oil to leak, no head gasket to fail, no clutch to replace. Currently, E Vs use a single-speed transmission, so there are no gears either," says Baumhefner.
One downside? E Vs are not suited for regular garage tinkerers or DIY repairs because they're so advanced, says Baumhefner. "You can change the wiper blades and keep the tires inflated — that's about it. Most people don't work on their own vehicles these days, and doing so could void the factory warranty," he notes.
Of course, all of this so-called simplicity means you don't have much of a choice when it comes to equipment. Like to shift yourself? Forget it. Want to tow a boat or camper? Not recommended for most E V models on the market — smallish hatchbacks and sedans. That's understandable from an efficiency perspective, but it could leave most families and driving enthusiasts out of the picture.
Chargers are convenient, but not necessary
Home chargers (also called Level 2 chargers) are available through most car dealers, usually at a discount when you buy an electric vehicle. They're unobtrusive, wall-mounted affairs (think 1980s landline with a long cord), but they also require a 240-volt outlet — the type used for large appliances like dryers or ovens. A dedicated charger should return a fully depleted battery to full charge in as few as four hours. According to Consumer Reports, most home chargers fall in the $500–$700 range. A survey from HomeAdvisor.com puts the average cost of professional installation at $600.
Home chargers range from $500 to $700

Although Baumhefner believes the market will eventually migrate to home chargers, he believes most E V owners plug into a regular household outlet using the charging cable that comes standard with every E V. This is known as Level 1 or "trickle" charging and provides about five miles of range for each hour of charging. "You only need 240 volts if you come home close to empty and need to go far the next day," says Baumhefner.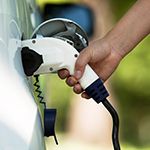 Research state and local E V incentives or rebates — some buyers may get more than the $7,500 max. federal income tax credit in return.
The reality of a gas-free future
Coal-fired power plants provide about 33 percent of the country's electricity, according to the U.S. Energy Information Administration. The rest comes from a mix of cleaner sources like natural gas, nuclear and renewables like wind and solar. "When you take electricity generation into account, environmental assessments and air quality modeling indicate that E Vs currently produce half the pollutants of gas-powered cars," says Baumhefner. He also notes that the grid is getting cleaner all the time as new technologies come online. That means today's E V will pollute less down the road, unlike conventional cars, which tend to use more fuel and emit more pollutants as they age.
At least one fact of life isn't likely to change as transportation goes green. Even the most technically advanced cars will get handed down to the kids. Crabtree's son no longer freezes at gas stations, because today he's driving dad's first E V.
CO2C O 2 Emissions
E V annual average: 4,815 pounds Gas-powered annual average: 11,435 pounds
Source: US Department of Energy Vehicle Technologies Office 

Written by
John Diether
The information contained in this page is provided for general informational purposes only. The information is provided by Farmers® and while we endeavor to keep the information up to date and correct, we make no representations or warranties of any kind, express or implied, about the completeness, accuracy, reliability, suitability or availability with respect to this article or the information, products, services or related graphics, if any, contained in this article for any purpose. The information is not meant as professional or expert advice, and any reliance you place on such information is therefore strictly at your own risk.