Gil Weiss' fascination with cars started long before he bought his first one at age 16 in 1973 (a 1973 sports car with a rumbling V-8 under the hood and a four-speed manual transmission). He started saving money and planning his purchase at the tender age of 5.
During his 35-year career in the motor vehicle industry, Weiss has operated a chain of tire and auto service stores and a motorcycle dealership; he spent years recruiting and training the sales force of a large dealership. Today, Weiss trains sales teams at dealerships for nearly every major automaker in North America. It's safe to say this man may have had a hand in selling you (or someone you know) a car or other automotive service.

We interviewed Weiss to seek out tips on how to negotiate with a car dealer to achieve maximum savings. He set the record straight, pointing out that in the transparent world of the internet, there are no secrets left to tell—only sound auto-buying strategies. Here, in his own words, are a few tactics car buyers should consider (or reconsider) before heading to the dealership.
Tactic: The walkout tactic, estimated value $0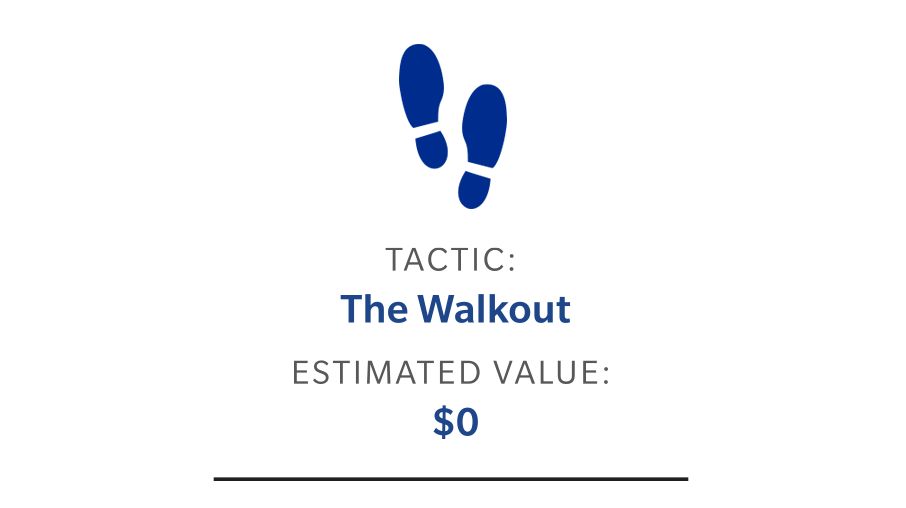 When I started in the business, there were all kinds of negotiating techniques customers tried, like walking out, making ridiculous offers or pretending they didn't really want the car. That might have worked when car pricing wasn't transparent. Today, every car for sale is listed on a dealership's website, along with the manufacturer's suggested retail price (MSRP) and the dealer's price, which is usually heavily discounted.
Dealers know customers aren't coming in to browse anymore. They're coming in to see the exact car they found online at the lowest price within a drivable distance. The dealership with the best price is the one customers are going to visit in person. For some reason, new car buyers might not believe me when I tell them this, but this is why many dealers are listing their best price from the start.

Buyers can (and should) compare pricing before ever setting foot in a dealership. Keep in mind: You might have to fill out a form with your contact information to see the dealer's price online.

Tactic: The dealership discount tactic, estimated value $100s to maybe $1,000s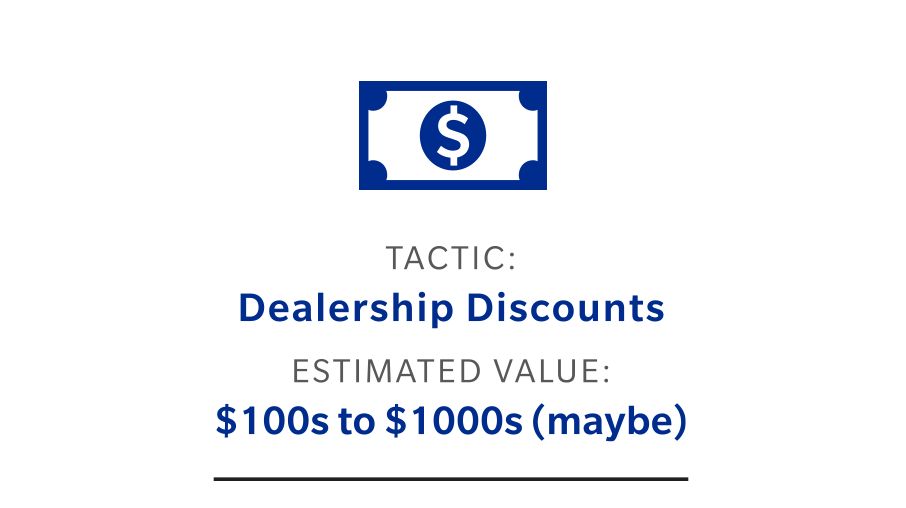 What kind of dealership discount can you expect? It depends entirely on the model. On entry-level cars, the MSRP might only be $200 more than what the dealer paid, which is why I tell car buyers there's very little room for discounting in this scenario. In other cases, like with some full-size trucks, there might be a difference of $5,000 or more. Comparing the online price of the same vehicle at different dealerships is the best way to determine how much (or little) of a discount is customary where you live.
After you've done your homework and find the dealership with the best price on the car you want, you may still get the dealer to come down from an advertised price. However, at this point, the dealer really doesn't need to do that because it has already won the price war with other same-make dealers. So please understand: Any wiggle room will likely be in the hundreds of dollars, not thousands.

Keep in mind that pricing is better when there are several dealers in your area that want to sell you the same car. That's certainly the case for buyers in metro areas. But if you live in an area where the next dealership is 70 miles away, the dealer may not need to discount as much.

Tactic: The repeat customer tactic, estimated value $100s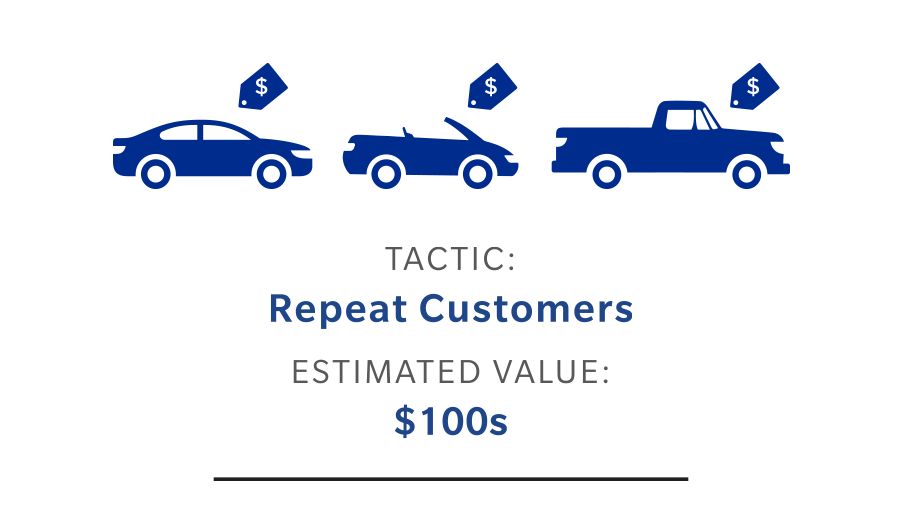 Listen: dealerships don't want to sell you one car. They want to sell you several cars and service for them over your lifetime. In today's car business, dealers know that focusing strictly on the sale is extremely shortsighted. They make more money with long-term customers who buy service, parts and subsequent cars or trucks. And people tend to want nicer cars as they progress through life. Dealers also make money on trade-ins, and about half of all buyers have a vehicle to trade. They aren't about to put those more profitable future transactions at risk by haggling over a few hundred bucks on one car. This lowers the dealer's profit expectation on a sale, which of course aligns with the buyer's interests.
Repeat customers can definitely leverage past purchases to their advantage. If you've bought other cars and services over the years, the dealership certainly doesn't want to lose you as a customer. A dealership will do everything it can to keep a repeat buyer happy, including offering the best price possible.

Tactic: The commission squeeze tactic, estimated value $0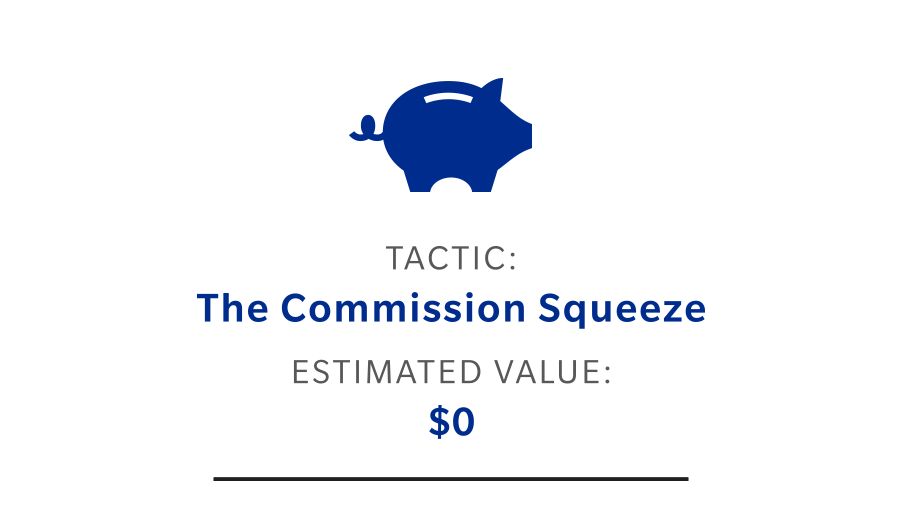 If you think a salesperson is holding back discounts so they get a better commission on the sale, you're probably wrong. Dealers once had a self-imposed minimum profit they had to make on each car, but that approach is long gone. The battle cry now is volume—selling more cars and creating new customers. Most salespeople today are paid a flat commission per car, a straight salary or some combination of the two. What the customer pays for a car rarely affects the salesperson's compensation. Buyers who go into the dealership assuming otherwise sometimes adopt a defensive posture that isn't necessary. The salesperson's goal is to put together a deal that the customer is happy with. Like the dealer they work for, they rely on volume.
Tactic: The destination fee showdown tactic, estimated value about $800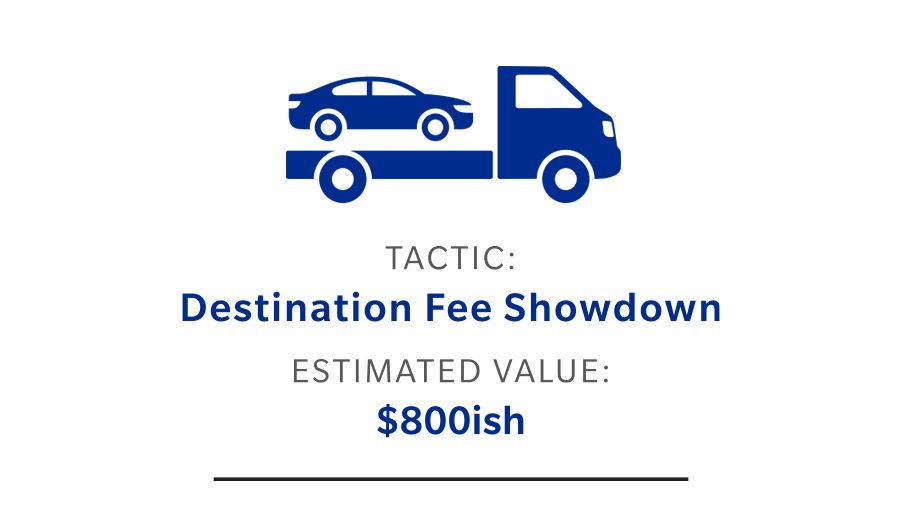 The destination fee is the nonnegotiable fixed fee the manufacturer charges to deliver the car to the dealer. There is no profit in it for the dealer, and the amount is cost-averaged so that all dealers pay the same no matter how far they are from the factory or port. Every buyer pays the destination fee, about $800 for the average vehicle.
What you need to know is whether the fee is included in a price quote. After all, you need to know the total cost of the car so you can compare apples to apples online. If you don't see the destination fee as a line item on an online listing or personalized quote, call the dealer to ask. Otherwise, the lowest quote could look like the highest one.

Tactic: The doc fee discount tactic, estimated value $50 to $200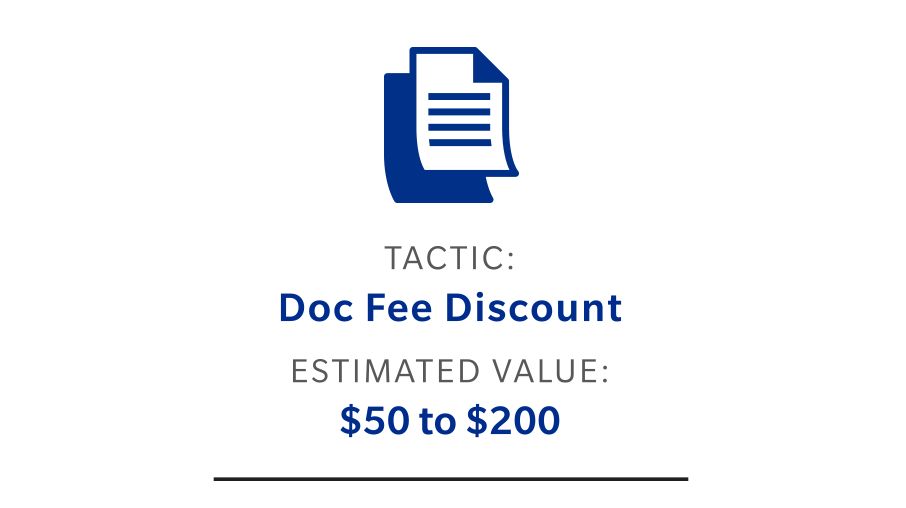 Also known as a processing fee, the dealer documentation fee covers the cost to prepare and file the documents required by state and federal law to sell you a car—such as lien registrations, reports and disclosures—as well as associated mailing, courier and fund-transfer fees. These tasks are performed by a workforce at every dealership, so most states allow dealers to recoup their costs. (Note that this is sometimes referred to as the doc fee, but it has nothing to do with an imported car arriving at a dock.)
First, find out if your state regulates dealer documentation fees 
. In some states, the amount is set or limited by law—usually $50 to $200. In other states, it's up to the individual dealer, and the fee is typically much higher. States usually require that documentation fees be charged without prejudice, meaning every customer at that dealership pays the exact same amount. In fact, the fee is usually preprinted on the sales contract so no one can change it or fail to collect it.

So let's say you live in a state that doesn't regulate documentation fees, and a dealer charges you $900. You know from shopping around online that the going rate in your area is $400. While the dealership is obligated by law to live with the amount they decided to charge, they can give you a discount on the sale price to offset the difference. But you've got to do the research on the front end to ask about the fee, find out if it's regulated by the state and request a discount if there's a difference between the going rate and the dealer's fee.

Tactic: The factory rebate versus sweet financing deal tactic, estimated value $100s
Before you sign up for special low-rate financing, ask "Will this affect any factory cash-back offers?" Or read the offer details on the manufacturer's website. A factory rebate may be reduced or eliminated when you accept promotional financing. If you're offered zero percent, but have to pass up a $3,000 rebate to get it, the credit is hardly free. In effect, it costs $3,000. On the other hand, the last time I bought a car for my wife, I happily gave up the $500 rebate to get no-interest financing. If given a choice between a cash rebate and a sweet financing deal, study the numbers to see which will save you more in the long run.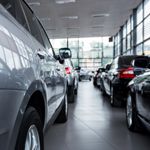 New Car Help
Get personal service from a Farmers agent.
Get a quote
Includes personal service from a Farmers agent.

Written by
John Diether
The information contained in this page is provided for general informational purposes only. The information is provided by Farmers and while we endeavor to keep the information up to date and correct, we make no representations or warranties of any kind, express or implied, about the completeness, accuracy, reliability, suitability or availability with respect to this article or the information, products, services or related graphics, if any, contained in this article for any purpose. The information is not meant as professional or expert advice, and any reliance you place on such information is therefore strictly at your own risk.