Leecy Fink lived in Elon, Virginia, for 20 years without the real threat of a tornado. That changed on April 15, 2018, when news reports warned of a dangerous line of storms, including a potential tornado, headed toward her neighborhood
Erring on the side of caution, Fink and her husband shuffled their children — ages 16, 8 and 7 — to the basement, where they sat for about 20 minutes. When the alert was called off, the family went back to their usual nighttime routine.

Twenty minutes later, Fink's husband, a police officer, got a text message from a colleague across town: a tornado was headed straight for their neighborhood.

"We started yelling for our kids to get back downstairs."

As the family raced down the basement steps, the electricity went out. "It looked like someone was painting over my windows with a gray paintbrush," Fink recalls.
We started yelling for our kids to get back downstairs.

-Leecy Fink
The family was huddled under the staircase when the tornado hit. "My two youngest daughters were crying; my 16-year-old was screaming. We could hear the house above us literally ripping apart." The situation turned even more dangerous when overhead pipes burst, and fallen wires began shocking them as they stood in five inches of water.

In the aftermath, Fink's husband told her he thought he was watching his family die. "He was thinking, 'It's over.'"
The experience changed her family profoundly, she says. Her kids are in counseling, and Fink knows the impact of the trauma is lingering. Anxiety ripples through their questions. "Can it happen again? Will the next house be safer?" Months later, the family is still working out a new sense of normal, as they wait for their new home to be built.
Helping kids cope during (and after) a disaster starts here

"If you want to know how a community is doing after a disaster, look to the children," says Jeffrey Schlegelmilch, deputy director of the National Center for Disaster Preparedness at Columbia University. Schlegelmilch is also the project director of the Resilient Children/Resilient Communities initiative, which developed a toolbox for child-focused disaster planning for parents, teachers, caretakers and policymakers.
"Planning for an entire family is overwhelming when you think of the full scope of a disaster," says Schlegelmilch. "But if you look at things you have control over, it becomes much more manageable."
Develop a family emergency plan with your children to give them a sense of control and empowerment.
The first step: Develop a family emergency and communication plan together, says Schlegelmilch. Including children gives them a sense of control and empowerment. "It allows them to express what is important to them in a crisis."
Fink says her family's disaster plan was simple: "We always thought we would drive the kids somewhere safer. We never considered the possibility that we wouldn't have cars." The tornado blew through too suddenly for them to evacuate, and when their house was ripped from its foundation, it crushed both of their cars.

It also didn't occur to them that the entire family wouldn't be in one place — together. Fink's 20-year-old daughter had recently moved to a nearby city. Her 18-year-old son was supposed to leave work minutes before the storm hit, and his route home was directly in the tornado's path.
For 45 frantic minutes after the tornado hit, she couldn't get in touch with either of them. "Reaching them became my only priority," says Fink. Fortunately, both had sheltered in place and eventually reached Fink by phone.
Making the decision: do we stay or go?
Sheltering in place may sound like a choice — to weather a disaster from the familiar safety of home instead of evacuating. But for Alisha Dodds and her family, it was the only option. An alert sounded shortly before a tornado blew through their home in Clarksville, Tennessee — and they got lucky. Dodds' 10-year-old daughter insisted they seek shelter in the small bathroom at the center of the house, instead of the larger master bathroom at the back that Dodds thought would be more comfortable.
After the tornado, Dodds opened the bathroom door to find her home filled with water and dangerous debris. Beams had fallen from the ceiling, rendering the bedroom and living room impassable. "If we hadn't listened, we would have been trapped," says Dodds.
Another memory that stands out clearly for Dodds: the moment she noticed that one of her two daughters hadn't put shoes on. Dodds had to carry her daughter to safety, through their crumbling home and outside in the dark through piles of debris.

"[During the storm], my only thought was to keep the kids calm," says Dodds. Once it was over, she and her children evacuated immediately. The next day, Dodds realized she'd left behind her 7-year-old's security blanket, a source of deep comfort.

"I got her that blanket when she was a few months old and she sleeps with it nightly — it was really important for us to get it back." Eventually, a friend was able to retrieve the blanket from their condemned home, but the night without it made a traumatic experience even worse for Dodds' daughter.

---

If the family rides out an emergency at home, include children in checking supplies, charging batteries and other age-appropriate tasks. These questions can help families plan together.
Depending on the type of disaster (flood, tornado, earthquake, wildfire, etc.), what is the safest place in the house?
Does everyone know the evacuation plan in case the family needs to leave quickly?
Does everyone have a go-bag packed with clothing, sturdy shoes and comfort items?
Are cell phone and emergency device batteries charged?
Are vital records, important documents and family contact information in a portable fire- and waterproof container?
Who is the primary point of contact outside the disaster zone who will relay updates and information?
Is there enough nonperishable food and bottled water to last everyone for three days (1 gallon per person, per day)?
Are all prescriptions and first aid supplies stocked?
When sheltering in place isn't an option

As Hurricane Harvey approached in August 2017, Jackie Woolridge refused to evacuate with her husband and 5-year-old daughter. She bought $100 worth of last-minute supplies and planned to shelter in place. But when weather reports predicted the Category 4 storm would make landfall 20 miles from their Port Aransas, Texas, home, the town declared a mandatory evacuation. Woolridge scrambled to pack up and evacuate with her family.
"I remember being very stressed and unprepared. I didn't know where to start, what to do. I just looked at what was in front of my face. It was August in Texas. I packed like I would for a weekend — I brought my daughter's medicine, a bathing suit and some clothes," says Woolridge. "I had no intention of bringing anything warmer." When they learned their house had been destroyed, she and her husband took their daughter to her grandparents in Michigan, where it was colder, and their daughter needed enough clothing and toys for several weeks.

Woolridge looks back on her family's frantic evacuation and knows, in hindsight, she contributed to the chaos. Early on, she and her husband argued about whether to stay or go. She says they were "stuck" staying with extended family for five days, which led to more arguments and tension. Wanting to go home — but knowing there may be no home to return to — amplified the stress. "I wasn't kind to my husband. I was mad and couldn't let it go." Eventually, she and her husband sat in a room and talked through their post-disaster plan, but Woolridge admits she made it harder on everyone. "Not acting calm made it harder to deal with evacuating a child and [detracted from] our strong family unit."

---

If you plan to relocate before the disaster or an evacuation is ordered, explain the options (shelter, hotel, a home outside the disaster zone) to children and discuss what they need to pack.

In Their Go-Bag
Changes of clothes to last three to five days and sturdy shoes
Nonperishable snacks (crackers, dried fruit, nuts)
Travel-size games, books and devices
Comfort item, such as a security blanket or stuffed animal
In Your Go-Bag
Important medication in original bottles
Digital or print copies of vital records, such as birth certificates and marriage license
Changes of clothes to last three to five days and sturdy shoes
Cash for three to five days, in case ATMs are down
Basic first aid kit
For young children, wipes, formula and diapers for at least three days

Meet the Heroes
Ask a local firehouse to host kid-friendly emergency demonstrations to help kids recognize emergency signals (exit signs, smoke alarms) and neighborhood helpers, such as firefighters and emergency responders.
When a disaster hits during school hours, there's a plan in place

Hurricane Katrina displaced more than 400,000 children, and many were resettled without knowing the destination. It took seven months to reunite one 4-year-old with her family after Katrina because of incorrect name spellings and changing contact information as the family moved from shelter to shelter.
Most parents believe they'll be reunited with their children within hours of a major disaster, but it can take days or even weeks. One of the reasons? Parents may not know the school's disaster plan. Request a copy of the school's emergency response plan, says Schlegelmilch. Save the Children's checklist covers additional details parents should ask child care providers in case of an emergency.
The new normal: routine and reassurance

"We lost our house, two cars and an RV," says Leecy Fink. "We had four different claims going and had to find a place to live. It was a lot to manage. It was almost a full-time job the first month."
Recovery can take a long time and is very complex, says Schlegelmilch. Familiar routines and faces play an important part.
"It's the simple, seemingly forgettable acts — reading a bedtime story or eating dinner together — that can make a big difference."

The Woolridge's daughter lived with her grandparents in Michigan for weeks because, "it was a second home to her. We knew she would be comfortable." They also enrolled her in a neighborhood school. "Her grandmother wanted her to have a routine and to give her something to look forward to."
On a trip to Baton Rouge in 2016 after major flooding, Schlegelmilch visited shelters with safe areas where kids could run around and play while their parents dealt with paperwork.
"Those spaces provided an opportunity for kids to be kids, and for parents to recognize and address a very stressful situation for themselves," Schlegelmilch explains. "It's difficult for adults to advocate for [their kids' needs] while managing F E M A, insurance, paperwork and their own mental health."
Talk with kids about the disaster, in their own language

"The trauma was real," says Fink. "Now, [my kids] are always thinking, always worrying. We continuously reassure them, and we encourage them to tell us what scares them.
"I have said this hundreds of times since April 15th: Our job is to keep you safe. Mommy and Daddy will always keep you safe."
Months after the tornado hit, Dodds says her children still need constant shoring up. "I keep telling my girls that, mathematically speaking, the odds of us getting hit again are so slim."

Another strategy recommended by Schlegelmilch: Avoid news coverage and images of the damage when younger children are around. (For more information about post-disaster recovery strategies with children, review the RCRC Toolbox.)

I have said this hundreds of times: Our job is to keep you safe. Mommy and Daddy will always keep you safe.

-Leecy Fink
For Fink, getting her kids involved in planning and building their new home has been part of the recovery process.
"We visit our new home almost daily and celebrate every new thing. New dirt! Concrete! Plumbing!" she says. "I want to show them that not only are we in a safe place now, but we are making choices to be safer in the future."

If there's an upside to the trauma, it's that they're stronger as a family now, says Fink. "We faced something scarier than most people ever will, and we faced it together — we are resilient."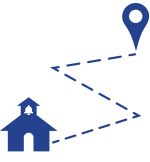 Written by
Christina Garofalo

The information contained in this page is provided for general informational purposes only. The information is provided by Farmers® and while we endeavor to keep the information up to date and correct, we make no representations or warranties of any kind, express or implied, about the completeness, accuracy, reliability, suitability or availability with respect to this article or the information, products, services or related graphics, if any, contained in this article for any purpose. The information is not meant as professional or expert advice, and any reliance you place on such information is therefore strictly at your own risk.