When Hurricane Harvey hit Houston, Kristine Ray huddled in her home with her four kids, ages 4 to 11, and three dogs. Water inside her home was a foot deep and rising, with nearly 5 feet lapping at the front door. Ray was strapping life vests onto her children when a volunteer rescuer opened the door. That's when things went from scary to terrifying.
One of the dogs, Maverick, swam out.

"We knew that if we lost him, we weren't going to get him back," says Ray. "Luckily we were faster swimmers than Maverick, and we caught him."

The group pressed on together, swimming through neighbors' yards and across a golf course, trying to avoid deep lakes, debris and huge nests of fire ants floating by.

They made it to safety. But then what? When disaster strikes, the best-laid evacuation plans can fall apart if they don't include the family pets.

---
Know where you'll go when you have to leave home


Cathy Munch and her family — and their Australian Lab Sophie — had two days to evacuate their home in Tampa before Hurricane Irma struck. "People were left scrambling for reservations, and most places were already booked."
Fortunately, Munch's son works at a pet-friendly hotel in Orlando and snagged them a last-minute room.

Ray and her family weren't as lucky.

"I called around for days trying to find a place that would take us with our dogs," she says. "F E M A has a voucher program to stay for free, but all of those hotels were booked." Eventually, Ray found a furnished short-term rental 20 miles outside of Houston that would accept the three dogs. She didn't know it at the time, but that "short-term" rental would be their home for more than eight months after the storm.

Because many evacuation shelters don't accept pets, veterinarians and animal welfare advocates advise pet owners to locate pet-friendly shelters (see the American Kennel Club's list
) and hotels as part of their pre-evacuation planning. Dr. Erick Mears, the Florida medical director for a network of pet hospitals in the U. S., tells pet owners to reserve a room even if they're not sure they'll evacuate because pet-friendly hotels sell out first in a disaster.

"I've never seen that kind of panic." — Ashtyn Rivet, Houston Bureau of Animal Regulation and Care (BARC) shelter
"Shelters should be the last resort," Mears says. They fill up quickly, and the sudden increase in the number of animals and people in an unfamiliar place can amp up pets' anxious behavior.
The best option, according to Dr. Mears, is to stay with friends or relatives. Make arrangements ahead of time and consider taking pets for a night as a test run.

Without a plan or a pet-friendly place to go, some pet owners face a choice they don't want to make: leave pets behind, or stay with them and risk their own lives.

During Hurricane Katrina, about 44 percent of the people who chose not to evacuate did so because they didn't want to leave their pets and couldn't take them to a shelter, according to one study. By the time floodwaters receded, more than 100,000 pets had been abandoned, and as many as 70,000 died in the Gulf Coast, according to estimates from the Louisiana SPCA.

Since then, more than 30 states — including Texas and Florida — have adopted a law or plan that accounts for pets during disasters. Even so, in the days before Hurricane Irma hit in 2017, Palm Beach County Animal Care and Control recovered 40 abandoned dogs that had been tied up or left in enclosed yards.

As Harvey made landfall, Houston's two largest evacuation shelters, George R. Brown Convention Center and NRG Stadium, didn't permit pets. But a few days into the disaster — with a line of people huddled outside refusing to leave their pets — they opened their doors to animals for the first time.

"I've never seen that kind of panic," says Ashtyn Rivet, deputy assistant director for the Houston Bureau of Animal Regulation and Care, who helped evacuees and their pets get settled in the two shelters.

Don't make lists — pack the essentials ahead of time

Christina Uticone woke up to White Oak Bayou — normally 50 yards from her Houston home — splashing over her porch steps. The night before, with Harvey in full force, Christina and her husband had gathered important papers, mementos and valuables. But they still spent an hour scrambling to collect essentials the next morning — for themselves and for their skinny black Lab mix, Milo.
"You think you know where everything is," says Uticone. "But when you're going from just fine to flooded in a minute, you need to be ready to go."

When packing to evacuate, people also assume they'll be able to get back into their homes quickly, but it can take days, weeks or even months. Dr. Mears recommends having the following ready in a go-bag for each pet.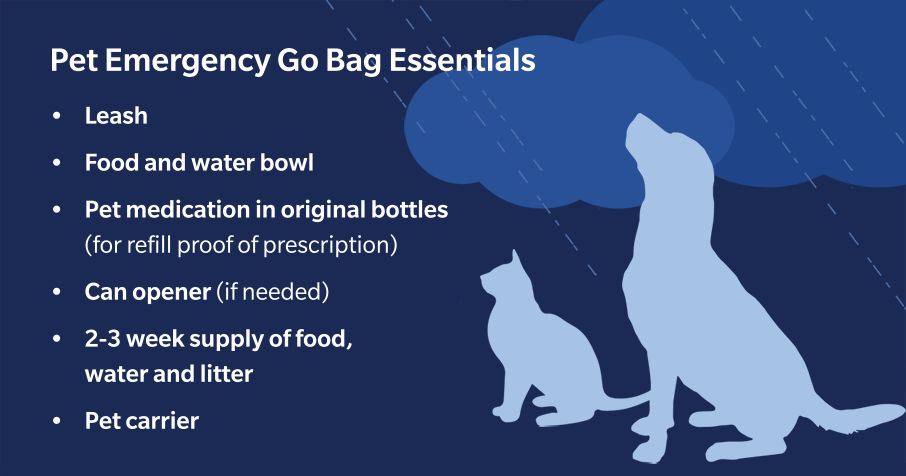 Transcript[TXT]
Creature comforts can keep your pet calm before, during and after a storm
Milo, Uticone's dog, has severe anxiety; he doesn't like loud noises, storms or thunder. "I have strategies in place for when there's chaos — and a hurricane is the definition of chaos."
To keep him calm during the hurricane, Uticone prepared treats that would distract him for long periods of time, including bully sticks and frozen peanut butter–stuffed toys. She also bought Milo a specialty shirt that's designed to calm pets by hugging their midsection, like swaddling a baby.

Dr. Mears recommends packing your pet's favorite blanket, bed and toys. Pets also need a safe place to retreat. At the Houston shelters, volunteers provided blankets to cover cat kennels and make them cozy.

In a home, a pet will appreciate a spare bedroom or any quiet room, and soothing music to block the sounds of rain and wind. For Milo, Uticone found an online playlist designed to reduce anxiety in dogs.

Pack a pet first aid kit with important veterinary documents

The Tampa pet hospital Dr. Mears oversees stayed open 24/7 during Irma, and he treated many dogs and cats for dog bites. Evacuees often settled in with other pet owners, but pet-friendly shelters don't necessarily house friendly pets. "It doesn't take much for snarling and biting to occur."

Bandages and wraps, antibiotic cream and tweezers are indispensable, he says. And bring proof of rabies and other vaccinations, along with your veterinarian's phone number, microchip registration and records detailing chronic illnesses.

When you can't walk your pet outside

While a litter box is transportable, managing a pet's bathroom habits in an emergency can be tricky. High winds, standing water, debris, and possible downed electrical lines can make a walk outside too dangerous. The A S P C A advises against allowing dogs off-leash in a yard, even a fenced one, as they may get spooked and take off.

"At the convention center, there was a huge problem with having enough space for animals to go to the bathroom," says Rivet. Using some donated turf, they patched together an area for dogs to use.

If you're at home, at someone else's house or in a hotel and you can't take your pet outside, you'll need to create a designated section indoors. And even then, it may be hard for a dog to feel safe enough to relieve himself.

"When it started to get really windy, the hotel wouldn't even allow us to open the doors because they would blow off," says Cathy Munch. "Sophie just wouldn't go during that time — she was too nervous."

Dr. Mears recommends packing training pads; however, if your dog will not use them, fake grass or sod laid inside a kiddie pool in the garage might just do the trick.

Another reason pets might strain to urinate, or refuse to: they're not drinking enough water.

"Make sure your environment is as conducive as possible to having your pet eat and drink normally," says Dr. Mears.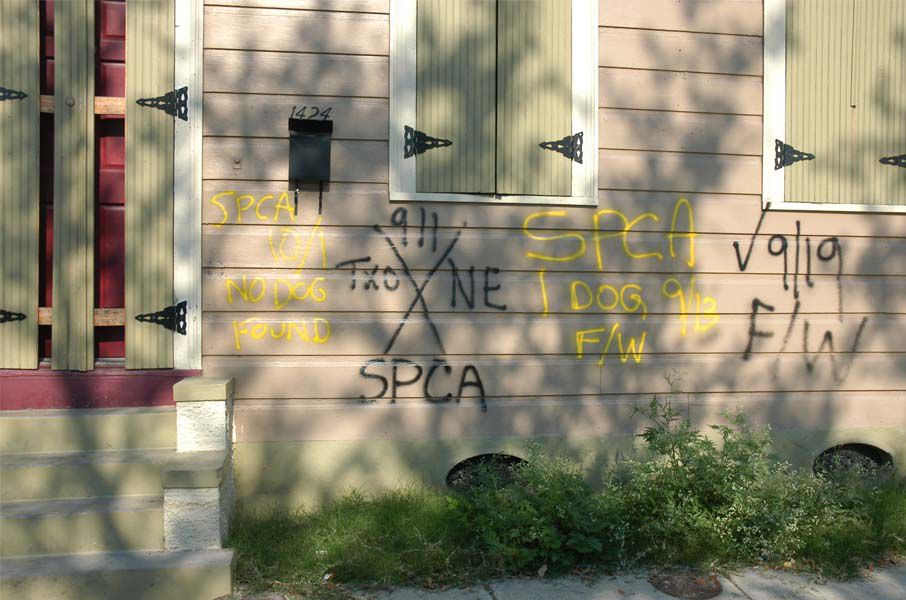 The worst-case scenario: your pet disappears in the chaos

If your pet takes off, a microchip implant improves its chances of finding its way home. One study
by the Department of Veterinary Preventive Medicine at Ohio State University found the median return-to-owner rate was 2.4 times higher for dogs with a microchip than for all stray dogs, and 21.4 times higher for cats with a microchip.
But microchips only work if the chip's information is up to date, says Dr. Mears. Even with a microchip, pets should wear collars and tags with easy-to-read contact information. Keeping a photo of your pet on your phone is a good idea too.

At the height of the storm, Cathy Munch sat in the Orlando hotel room with her family — her son, daughter, husband and Sophie. As they watched C N N footage of Irma ravaging their hometown, they were petrified. But there was also comfort knowing they were together — including Sophie. "We rode it out together, and that's all that mattered."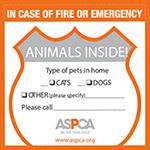 Pet rescue alert stickers tell emergency responders the number and type of pets inside your home. If you evacuate, write EVACUATED on it. —
A S P C A
Get a quote
Includes personal service from a Farmers agent.

Written by
Christina Garofalo
The information contained in this page is provided for general informational purposes only. The information is provided by Farmers® and while we endeavor to keep the information up to date and correct, we make no representations or warranties of any kind, express or implied, about the completeness, accuracy, reliability, suitability or availability with respect to this article or the information, products, services or related graphics, if any, contained in this article for any purpose. The information is not meant as professional or expert advice, and any reliance you place on such information is therefore strictly at your own risk.