When the voluntary evacuation order was issued before Hurricane Harvey, Liana George and her husband discussed their options before deciding to ride out the storm in their home 20 miles southwest of Houston.

"There wasn't any flooding around our house," George says. "As long as we had the supplies we needed, we assumed we'd be fine at home during the storm."
The couple drove to a local grocery store for supplies and found a line "about a mile long" out the door, which George says only confirmed their choice — it appeared plenty of other residents decided to stay, too. But after filling a cart, she recalls the sudden, uneasy feeling she experienced at the checkout. "I turned around and there was nobody in line behind me. It was a ghost town."
A mandatory evacuation order had been issued.
When there's no time to lose

After racing home from the grocery store, the Georges had less than an hour to grab essentials and get out of the house. By the time they drove away, the water was so deep, they were forced to drive to higher ground on the wrong side of the road.
"We'd had so many false alarms, we were lax about preparing for this one," George says. "I only had time to pack a few sets of clothes, medicine, important documents and things I would need to run my business."
"You always think, 'It won't happen to me, it won't happen to my house,'" says Julie Rochman, president and CEO of the Insurance Institute for Business & Home Safety. "Everybody says it."
When you have less than 24 hours to prepare for an emergency evacuation, experts and survivors say these steps may help reduce damage to your home and help you evacuate with the essentials.
Find these documents first.

George knew to grab important papers first, and that helped her file insurance claims and get disaster relief quickly. "There was so much confusion about getting help with hotels and food during displacement and which insurance, if any, would cover those expenses. Having the right documents in hand was a lifesaver."
The Federal Emergency Management Agency recommends storing copies of vital paperwork in a watertight, fireproof box that's easy to grab on the run. Consider storing paper originals or digital copies on an encrypted USB thumb drive in an off-site safety deposit box.
Vital records are records you may need within 24 hours of evacuating to file claims or receive disaster assistance. If you evacuate without these records or they're lost in a flood, it can take a week or more to request and receive records. You may also pay processing fees for duplicates — from $5 to $20 per record, or more if you need to expedite the request.
Driver license
Birth certificate
Marriage record or divorce certificate
Adoption paperwork
Social Security card and Passport
Important documents aren't considered "vital," but F E M A recommends evacuating with these records to keep them safe and help the claims and disaster relief process.
Insurance (homeowners, renters, flood, auto, health)
Property records
Medical information (immunizations, prescriptions, living will)Estate planning documents
Financial records (page 1 and 2 of most recent tax returns, stock and bond certificates, investment records, brokerage/retirement account information, credit card and banking account numbers)


George is a professional organizer, and her experience with Harvey inspired her to beef up her emergency disaster kit. In her bag: blankets, flashlights, candles, medication, food and a battery-powered radio.
If the power fails, A T Ms may not work. Gary Snyder and his wife, who evacuated their West Houston home before Hurricane Harvey, had a "bug-out pack" ready for emergencies. "We keep $1,500 in cash in our go-packs just in case A T Ms go down," he says. "It never hurts to have cash on hand for tips, water, fuel and food."

Round up pets and pack their go-bags.

Robyn Lanci evacuated her New Jersey home before Superstorm Sandy with her cat and dog, Chloe and Owen, and enough food to last a few days. After leaving, she remembered one essential: a litter box. Instead of settling into a hotel with her pets, she was forced to search for a pet store as soon as she drove outside of the flood danger zone. Pet essentials include leashes, carriers, food and medication.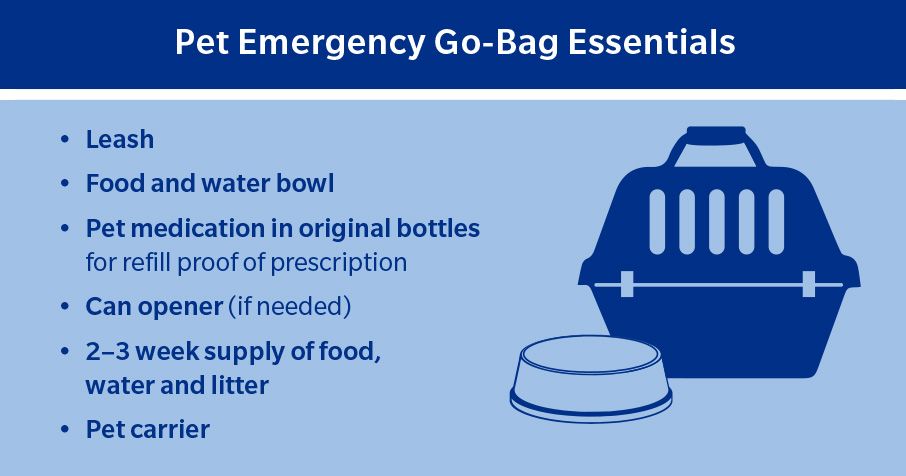 Transcript[TXT]
Turn off, unplug, and shut down the nonessentials.

The Georges had time to turn off their H V A C system and unplug unnecessary electronics and appliances. According to F E M A, residents in flood-watch areas may also be asked to shut off utilities to prevent fires, gas leaks and electrocution, and to avoid a strain on the power grid when electricity is restored. If an order is issued, you'll need to know how to flip off the main switch in the home's electrical breaker box and turn off the main valve at the gas meter. (You may need a 12-inch or larger adjustable wrench to turn the gas valve.)
If you have a day or two to get ready.

Depending on the type of flood, warnings and watches are often issued by the National Weather Service or the National Hurricane Center 36 to 48 hours before the weather hits — enough time to pack for an evacuation and get your home and property ready for flooding.
Tune up the car like you're going on a long road trip.

Gas up, check tire pressure and double-check roadside emergency supplies, including the spare tire and first aid kit. After Superstorm Sandy, residents in New York and New Jersey scrambled to get fuel, leading to a major shortage. "There were lines around the corner," Lanci recalls. Filling up her four-wheel-drive car days before the storm hit gave her fuel to escape the flooding and travel to and from work afterward.

Reserve a hotel room or locate the nearest shelter.

Even if you're on the fence about evacuating, Lanci recommends booking a hotel room beyond the flood risk zone (consult F E M A's flood map here) before an evacuation is ordered. She snagged one of the last rooms in a pet-friendly hotel and now reserves a room at the first sign of a hurricane. "Worst-case scenario, I spend a couple hundred dollars on a hotel I didn't really need," she says.
Pack (quickly) for a 7 day trip.

Think: casual Friday with limited access to laundry facilities for one full week. Pack full sets (outer- and underwear) of wash-and-wear clothing and sensible shoes — items that are comfortable, versatile and season/weather appropriate.
Lanci wishes she'd packed more than just a few sets of workout clothing when she evacuated for Superstorm Sandy. Everything inside her South Long Island, New Jersey, home was destroyed after a nearby sewage treatment facility exploded during the storm. "There was five feet of raw sewage on my floor. My living room was literally in my kitchen."

Elevate furniture, appliances and other valuables.

Consider unplugging and moving electronics, furniture, appliances and valuables to the highest floor. The Georges were lucky — while they were grabbing groceries, their daughter moved all of their electronics to safety on the second floor of their home, which was surrounded by more than three feet of water after the storm.
If you're in a single-story residence, Rochman, of the Insurance Institute for Business & Home Safety, suggests placing items on blocks, shelves or tables. Roll and store area rugs, which act like sponges and can worsen the damage to floors once floodwaters recede, she notes.

Think: priceless keepsakes and comfort items.

Consider packing the most meaningful keepsakes — family photo albums, videos and heirlooms — because there's no replacement for items with sentimental value, Lanci says. "I ended up taking a pin my grandpa gave me right before he died. It might look like a piece of junk to someone else, but it meant so much to me."
Simple creature comforts can be invaluable, too, during a stressful evacuation. If you have pets or kids, pack items that can make their daily routine easier, help pass the time or provide a little extra comfort. For pets, think food bowl, treats and toys. For kids, consider favorite snacks, books, toys or games.
Things your can do before trouble is on the horizon.

As Harvey approached, the Georges witnessed their community scrambling to shore up homes and find emergency supplies, and faced long lines or supply shortages. "Most lumberyards were completely out of lumber because people were stocking up to protect the windows," she says.
Even if your region has a low or moderate risk for flooding, homes are five times more likely to experience flooding than a fire over the next 30 years, according to F E M A. These recommendations can be tackled long before a flood watch or warning, and may offer an extra measure of protection for your home and property for other types of unexpected flooding.
Research your home's flood risk.

Search your address on the local flood map in F E M A's Flood Map Service Center and determine the property's Base Flood Elevation (BFE). This is the height of flooding that might happen in a 100-year flood. Knowing the B F E can help you determine whether raising your home might offer protection. The Insurance Institute for Business & Home Safety recommends elevating homes at least 3 feet above the B F E.
Seal cracks in the foundation

Use a filler material that expands to fills gaps and cracks, such as mortar and masonry caulk or hydraulic cement. (Plain mortar or cement alone may fix cracks temporarily, but can crack again.)

Tsunami warnings and flooding are common around Rob and Judi McCarthy's beachfront vacation residence in Puako Bay, Hawaii. To help prevent flooding, they're working to minimize erosion. "We've relandscaped with rocks and plants to shore up the sand," she says.
Other solutions include creating a slight slope or swale in your yard, which the Insurance Institute for Business & Home Safety recommends for redirecting water away from a home.
Consider installing a battery-powered sump pump.

A battery-powered submersible or pedestal pump will keep pumping even if the power goes out. A pump might've helped Rochman when the basement of her Maryland home flooded. Water ruined a few rugs and boxes of family photos, and after the damage, she recalled a conversation with a next-door neighbor. "She told us that, from time to time, she had a 'spring' running through her basement," she says. "I guess we shouldn't have been surprised."
Get to know your neighbors.

Neighbors were a steady source of support and critical information for Snyder and the Georges after the storm.
"For the first two to three days, most help came from the community — neighbors, family, churches," Snyder recalls.
George found updates about road conditions and their neighborhood on social media. Neighbors who rode out the storm posted photos and videos and shared lists about items needed for cleanup and recovery, or items they could spare for those in need.
"Neighbors posted, 'If you have this, somebody lost this' or 'I've got this, how can I get it to you?'" George says. "It was great to see our neighborhood come together and support each other."
Get a quote
Includes personal service from a Farmers agent.

Written by
Katie McCarthy

The information contained in this page is provided for general informational purposes only. The information is provided by Farmers® and while we endeavor to keep the information up to date and correct, we make no representations or warranties of any kind, express or implied, about the completeness, accuracy, reliability, suitability or availability with respect to this article or the information, products, services or related graphics, if any, contained in this article for any purpose. The information is not meant as professional or expert advice, and any reliance you place on such information is therefore strictly at your own risk.