Our Beginning
Although many companies have grown from small beginnings to become giants in their industries, Farmers is one of the very few to start in business only one year before the greatest economic depression in American history and still survive to become a household name. Innovative business thinking and our commitment to doing what's right for the communities we're privileged to serve have been a hallmark of Farmers since 1928, and have propelled us from a tiny one-room office in downtown Los Angeles to offices and homes all across America.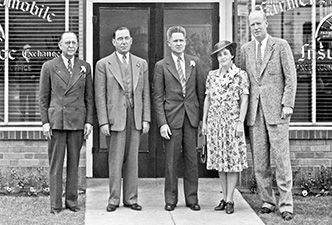 Our Founders
John C. Tyler and Thomas E. Leavey knew from personal experience that farmers and ranchers experienced fewer risks with their vehicles and were entitled to preferred rates. Tyler and Leavey put up their own money and went farm to farm to gain their first policies. By 1928, they were ready to open for business out of a one-room office in downtown Los Angeles.
John C. "Jack" Tyler was born in a sod hut on the banks of the James River in South Dakota. His father was a farmer-turned-insurance-salesman. Once successful as a paint contractor after completing his service in WWI, Tyler partnered with Thomas Leavey to create the Farmers Automobile Inter-Insurance Exchange. Upon his death, at his bequest his widow established The Tyler Prize for Environmental Achievement.
Thomas E. Leavey came from a dairy farm in Humboldt County, California. Leavey shared his own funds with universities, 4H clubs and hospitals—many of which now bear the Leavey name. The Thomas and Dorothy Leavey Foundation, which he co-founded with his wife, has given more than $100 million to support educational, medical, and religious institutions.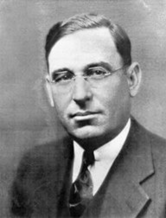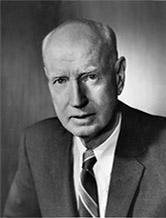 30's
During the Great Depression, Farmers was one of the few companies able to pay customers' claims in cash instead of IOUs. Farmers agents and district managers were among the many who marched in parades across the nation in support of the National Recovery Act. When a devastating earthquake hit Los Angeles a few years after the Depression began, the call from our L. A. Home Office went out immediately: "Pay them. Pay them all." And when we paid for the damage to customers' cars, Farmers became the first insurance company to offer comprehensive auto coverage.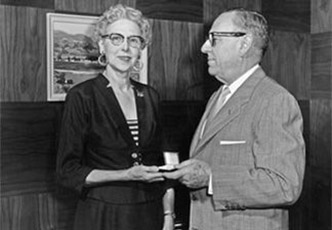 40's
Always a strong supporter of our men and women in uniform, Farmers employees volunteered for service both at home and abroad during World War II. Some planted Victory Gardens, some served with Gen. James Doolittle, and some even hand-stitched customers' policy files to avoid using metal staples when metal was in short supply. When the war was over, agents scrambled to find parts for many of our customers' vehicles, and our "fast, fair, and friendly" reputation helped the company continue to grow.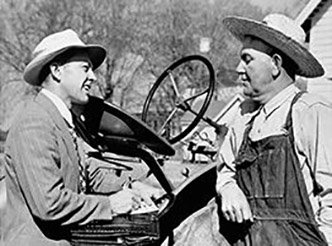 50's
A decade of great grown and expansion for Farmers, in particular with the acquisition of the New World Life Company of Seattle. Farmers became the first company to use I B M 705 computers for data storage and retrieval, west of the Mississippi. That same decade we became and would remain official participants of the Rose Parade, which later led to Farmers' role as the Official Insurance Sponsor of the Pasadena Tournament of Roses. Our ads appeared in national magazines for the first time, and on television in the Tournament of Roses. From the Home Office in Los Angeles, celebrities such as Roy Rogers, Bob Hope, Jane Powell, Art Linkletter, and Tyrone Power participated in Farmers sponsored radio programs and community activities.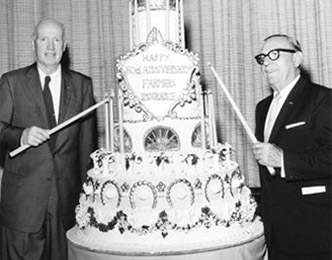 60's
Farmers became the first major insurance organization to offer a monthly payment plan that wasn't a finance plan and that didn't charge customers any interest. We started drive-in claims service and offered Uninsured Motorist coverage as well as policies providing discounts to drivers between the ages of 30 and 60.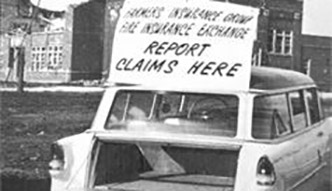 70's
Keeping pace with a growing focus on pro-health issues, Farmers became the first major insurer to offer a non-smoker discount. Meanwhile, at the Home Office in Los Angeles, innovations in remote data backup helped us withstand the damage to our computer systems from a major 1971 earthquake.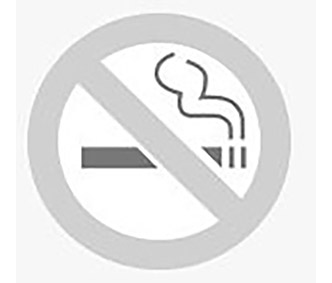 80's
Farmers' strong brand and creative thinking attracted the attention of the British American Tobacco Company, which acquired 100 percent of Farmers Group, Inc. in 1988. That year, a small but passionate group of employees formed a team and participated in a local March of Dimes walk. Since then, Farmers has raised more than $40 million in donations for breakthroughs in health research, vaccines, and education.
90's
Immediately following major disasters such as the 1994 Northridge earthquake and the 1999 Midwest tornados, Farmers hit the ground with the latest technology to help affected customers. Our employees formed Partners in Pride, an organization that provides Farmers employees opportunities to serve their communities through neighborhood rebuilding projects, adopt-a-family programs, toy donations and other activities. In 1998, Farmers Group, Inc. was acquired by Zurich Financial Services.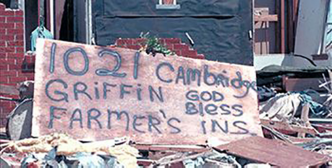 2000's
We are leaders in catastrophe response, often the first Mobile Catastrophe fleet on the ground to serve communities affected by disasters. As part of our commitment to the environment, we became the first major insurer to offer a discount for alternative-fuel vehicles. We opened the University of Farmers, voted No. 1 corporate training center in the country by Training magazine, to provide our agents and employees with best of the best in insurance education.

We continue to serve our communities, contributing to community-centered organizations. In 2010, we became the title sponsor of the Farmers Insurance Open P G A Tournament at Torrey Pines. Since then, Farmers has partnered with the P G A Tournament and the Century Club of San Diego to raise more than $24 million for San Diego area charities. We've also proudly sponsored Rickie Fowler since 2013. Fowler has partnered with Farmers ® in numerous natural disaster recovery efforts. He made a special effort for the residents of Moore, Oklahoma, when a 2013 tornado devastated their city. As we look forward, we are determined to continue serving our communities and helping people protect what matters most to them.