It was Azenet and Benjamin Arellanos' first home and it was perfect.
Four bedrooms, two cozy porches shaded by pecan trees and a separate workshop for Benjamin's welding equipment. Bought just weeks after the arrival of their third child, Eva, in 2008, the cheerful home was situated on a stretch of land 650 feet from the placid San Marcos River, safely beyond the estimated line of a major flood event. At points during the 2008 Texas drought, the San Marcos River was a slow-moving ribbon of green water that dwindled to a muddy trickle.
Seven years later, over Memorial Day weekend of 2015, the San Marcos became an altogether different river. After an unusually wet spring, a series of hotspot thunderstorms pummeled the Texas Hill Country with more than 10 inches of rain. The limestone bedrock beneath the region's thin layer of soil simply couldn't absorb it, according to Ronald Kaiser, a water expert at Texas A&M University in College Station.
"I didn't want to scare the kids or leave the house and risk driving into something worse."

- Azenet
By 8:23 p.m., the swollen river had overflowed its banks by five feet, and the National Weather Service issued a severe flash flood warning with a "do not travel" advisory. Residents were told to seek higher ground or stay put unless it was an emergency, says Azenet. With Benjamin out of town working, Azenet says she and a neighbor decided to stay put and keep an eye on the river. "I didn't want to scare the kids or leave the house and risk driving into something worse," says Azenet. "We couldn't imagine the river getting higher than what we could see."
By 12:45 p.m., the river had risen more than 40 feet — closer, but Azenet assumed still far enough from her home. She and her neighbor stood in the darkened neighborhood park and surveyed the dwindling patch of dry land that stood between the river and their homes below. It was a moonless, pitch-black night. They could hear the ominous sound of the river rushing by, but as the tide of water and debris crawled closer, Azenet says they strained to see its spreading surface. They decided to wait it out. At 3 a.m., Azenet says another neighbor began banging on the door of her home — a neighbor who has lived on the Blanco River for more than 30 years and seen the fury of the river at work in Central Texas' "flash flood alley."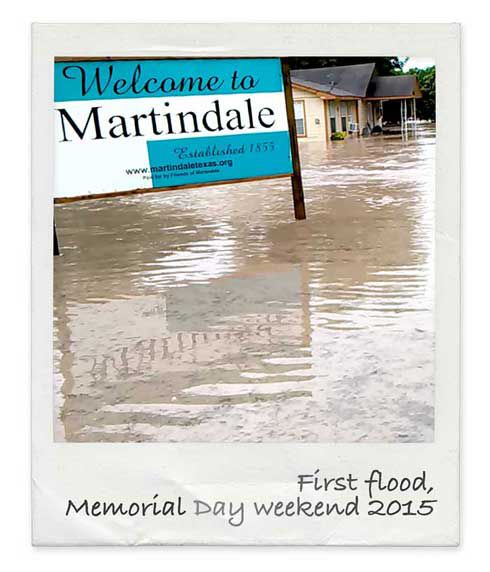 "Our neighbor just said, 'Grab as much as you can. A week's worth of clothing. Get in your truck. Go. Now!,'" recalls Azenet.
"You want to do everything, and you can't find anything," Azenet says, recalling the panic she felt in the moment. She remembers waking her children, Aimee, Adan, and Eva, then 14, 12 and 7 years old, and telling them to quickly pack their clothes. Then, she froze.

"What else should I take? Where are we going? Should I move our pictures to a higher place? What about the TV?"

For a few brief seconds, Azenet says she couldn't think of what to do next. "At that moment, my daughter Aimee looked at me, so serious and calm, and said, 'I got this, mom', says Azenet. Seeing Aimee calmly help her brother and sister pack emergency clothes snapped her back into focus, she says.

The Arellanos ended up staying in a roadside motel in Lockhart, 12 miles east of their now flooded home, with dozens of other displaced families. Azenet says she doesn't remember too many details immediately after the family fled—whether or not she slept, speaking to her husband on the phone, soothing her kids as they settled in at the motel—because it all felt surreal. She assumed they'd go back the next day and find the home just the way they left it. But when they returned to Martindale, the Arellanos' home was in ruins. Four feet of debris-filled river water had run through every room of their house, leaving a muddy path of destruction in its wake.

"It was so overwhelming and unbelievable, none of it seemed real," Azenet says. "It felt like a nightmare."

Shock. Tears. Disbelief. More than a year after the flood, Azenetstruggles to find the words to describe how it felt to see her home for the first time. She talks about the years of hard work, planning and saving, then searching for and finding the perfect first home for her growing family. She can recall her youngest child's first steps in the home, and other milestones in her kids' lives, the memories held in every room. Everything under the four-foot waterline mark in her home, covered in a slick, smelly layer of mud. "It was so overwhelming and unbelievable, none of it seemed real," says Azenet.
Azenet admits she thought about walking away from it all—just packing up her family and moving back to Palacios, Texas, where she and her husband are from. But two things stopped them. "We worked so hard to buy this place and what are the chances of a flood like that happening again?" says Azenet. The bigger factor: "Who's going to buy a ruined home in a flood zone if we put it on the market?" she asks. "We couldn't walk away from our biggest investment. So, we didn't."

A busy summer of hard work and recovery followed their decision to stay. The Arellanos cleaned the debris and connected with local groups helping families clean and rebuild. They focused on clearing, repairing and cleaning out one small back room and bathroom in their house, which they moved into after spending two weeks in a nearby motel. By late October, some sense of normalcy returned. In the Arellanos' house, new drywall had been installed and stood waiting to be painted, the floors were ready for resurfacing and new furniture was on the way.

Nobody expected another flood. On October 30, 2015, it came.
It was raining that afternoon, but the Arellanos' dog, Star, insisted on going outside. When Azenet opened the door, she heard it.

"It sounded like a train coming. It sounded like a million trains coming," she says.

After the experience of the first flood, the Arellanos didn't waste time. Azenet, Benjamin and their children loaded their pickup with a week's worth of clothes, important papers and the welding machine Benjamin had just finished repairing. They drove away, leaving new beds, new furniture, new clothes and new renovation projects behind.

The severe weather over Halloween weekend hit the Blanco and San Marcos River and surrounding areas even harder than the Memorial floods. Storms, flooding and more than a dozen tornados devastated parts of Austin, San Antonio and Houston. Six people in the San Marcos area were reported dead, homes and schools and entire neighborhoods were flattened, and 32,000 people were left without power. For the second time in six months, a Major Disaster Declaration had been issued for the flood-ravaged Central Texas counties.

The second time around, the Arellanos' foundation, electrical, plumbing and drywall (much of it recently repaired or installed after the last flood) were totaled. The structure was uninhabitable. Star, the family's dog, never returned. "It felt like a nightmare," says Azenet.

But the Arellanos never gave up — they dug in. After eight years, the home was a member of her family, one Azenet refused to abandon. Her family needed it and she loved it. Loves it. She says they understand the risk involved living near the river, and are prepared to evacuate again, but they're staying and rebuilding. Again.

"Now even more," Azenet says. "This is our home. I can't see myself somewhere else."

The Arellanos' home filled with water after the May 2015 flood. A second flood hit in October. 

Written by
Sarah Fisch
The information contained in this page is provided for general informational purposes only. The information is provided by Farmers® and while we endeavor to keep the information up to date and correct, we make no representations or warranties of any kind, express or implied, about the completeness, accuracy, reliability, suitability or availability with respect to this article or the information, products, services or related graphics, if any, contained in this article for any purpose. The information is not meant as professional or expert advice, and any reliance you place on such information is therefore strictly at your own risk.