When Superstorm Sandy destroyed his family's home in October 2012, Wamley Amoako thought it was the worst thing that could ever happen — until he hired a contractor who ran out on the job after demolishing part of his home. "It was like being hit with a second, harder hurricane," he says. Here, Amoako  talks about contractor fraud, getting justice and the process of recovering from the damage of not one, but two disasters — one natural, one man-made.
My wife, Nana, and I bought our house in 2004. It's in Keansburg, New Jersey, right on the beach. When the storm hit, we had four kids, ages 1, 2, 4 and 13 — and Nana was seven months pregnant with our fifth child. 
It was like being hit with a second, harder hurricane.


Nothing like this hurricane had ever happened in our town before. We didn't think it was going to be bad, so nobody was prepared. But as the winds and waves increased, I knew we had to do something quickly. We only had time to grab some clothes. We figured we would be back in a day or two and everything would be fine, so we made no attempt to take important things, including our passports or family pictures. I dropped the whole family off at a nearby hotel and went back to the house to try to cover the windows. That was a bad idea. I had no idea the winds would be so strong and I realized how dangerous the storm was becoming, so I returned to the hotel. 

 Why Was Hurricane Sandy a "Superstorm"?
The effects of Hurricane Sandy were magnified by a phenomenon called the Fujiwhara effect: when two cyclones (in this case, a tropical storm in the Atlantic and a winter storm system over the eastern U.S.) spinning in the same direction pass close to each other and merge to form one massive storm.  

Three days after the storm, I walked through my front door in 2 feet of water. I'll never forget the sight of our microwave swimming toward me. The first floor — kitchen, living room, bedrooms, playroom and bathroom — was completely flooded. The refrigerator had been knocked to the ground, all of the kitchen cabinets were open, and food and cooking pans were floating around.
Everything was ruined. Our family photos, the kids' school certificates, even their sports trophies — all destroyed. The roof was a mess and wooden shingles had blown away. The boiler and heater flooded. Nothing worked.
I walked through my front door in 2 feet of water. I'll never forget the sight of our microwave swimming toward me.
My eyes were filled with tears. All I could think was "Where are we going to live?"
When one of my daughters saw the house, she cried and asked, "Daddy, what are we going to do?" I've never felt more helpless. I didn't have an answer for her, but with Nana about to give birth, I had to get the house fixed fast.
I got $80,000 from flood insurance, which I assumed would cover the damage, but I really didn't have much time to think about what was going on with the house because I was busy taking Nana to her doctor appointments. We had been living in a two-bedroom, one-bathroom apartment since the storm — all of us. I was eager to get my family back into our home.
Through a friend's recommendation, I found a contractor who completed the work in about two months. And I thought he did a great job. Our home was the first or second house fixed in our area. We moved back in March 2013. But that's when the real trouble started.  
My daughter cried and asked, 'Daddy, what are we going to do?' I've never felt more helpless.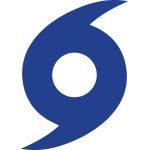 Hurricane Sandy made landfall on October 29, 2012, and caused $65 billion in damage stretching from the Carolinas to Maine. Floodwaters of up to 6 feet inundated approximately 50 percent of the structures in the Borough of Keansburg.
We couldn't get a certificate of occupancy. In June 2013, the Federal Emergency Management Agency released updated flood maps for Monmouth County, where we live, and our home fell into the high-risk Special Flood Hazard Area. Because my house had been so substantially damaged, new building codes based on the updated flood map applied to the renovation — we now had to raise the house 11 feet, the new Base Flood Elevation level.
I know now that I should have checked with the city before the renovation started, but things were moving so fast, and I wasn't aware of this rule. I just assumed the contractor would know about the new codes.
My three-story house, which was built in the 1970s, couldn't be moved or raised without causing more damage. Getting it above base flood elevation level — 11 feet — meant abandoning the first floor, ripping out $80,000 in work from the first renovation and starting over from scratch. Reconfiguring the floor plan wasn't easy — we were going to lose 2,500 square feet of space, including a kitchen, a living room, a bathroom, two bedrooms and a playroom.
At this point, I lost all hope that our home would ever be rebuilt.
To do the work this second time around, I got a $150,000 block grant from New Jersey's Reconstruction, Rehabilitation, Elevation and Mitigation Program, which is funded by the federal government. The whole process of filling out paperwork, getting the advance and hiring someone from the list took two years. I was given an advance of $75,000 and hired a contractor from the RREM-approved list. I never thought to check him out because he was working on two houses across the street, was very nice and said that he would help me.
What happened next never should have happened. The contractor pulled a demolition-and-desert-move. He completed less than $20,000 in work, and walked away with roughly $55,000. He ripped everything out of the first floor and part of the second floor, then stopped work and quit returning my calls. It was September 2016 — four years after the storm.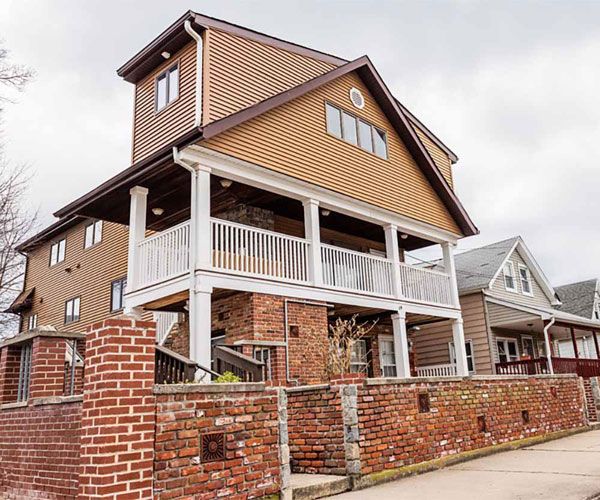 I finally did what I should have done in the first place — researched him on the Internet — and  found out he had been in jail before. At this point, I lost all hope that our home would ever be rebuilt.

I filed a complaint through the RREM fraud system, which involved compiling a lot of documents and filling out piles of paperwork — and a lot of waiting. Meanwhile, I was still desperately looking for a way to complete the renovation. In spring 2017, I went to the RREM office for advice, and they gave me list of nonprofits to check out. 
The 50 Percent Rule
F E M A's 50 Percent Rule or Substantial Damage Rule states that any building in a Special Flood Hazard Area must be elevated and brought into compliance if repair costs for damage by any cause (wind, flood, fire, earthquake or man) are 50 percent or more of the value of the building. 
I chose the nonprofit disaster relief organization SBP, and it's the best decision I made in all of this. We finalized the arrangement in March 2018 and everything happened so quickly from that point. We signed the contract that allowed SBP to serve as our general contractor on a Friday, and the SBP people were at the house on Monday. In a few months, they gutted the entire house, completed mold remediation entirely with the help of AmeriCorps volunteers and installed all-new electrical, plumbing, H V A C, walls and flooring.
SBP was my advocate during the fraud review, providing the documents and information needed for the case against the contractor. I was able to get the other half of the grant money in the fall of 2017 while the RREM team pursued the case against the contractor in court. (I wasn't the only one duped by this contractor, which made the process easier. The state determined the contractor had committed fraud and he was indicted.) To bridge the gap between what I lost and the remaining part of the grant, SBP provided additional grant money to pay for labor and materials to rebuild my home. 
We moved back home in December 2018 — more than six years after the storm.


During construction, I would go to the house to pick up mail or take my kids to see what was happening. It was just incredible. Every time, still, even now, tears come to my eyes thinking about how blessed we are. We moved back home — into a totally new house, and I mean everything is new, from the paint on the walls to the plumbing — in December 2018. I still can't believe it. My youngest son, who wasn't even born when it happened, is six years old now.
Dealing with two disasters — one sent by nature, one made by man — is not something that anyone should have to go through. The court case against the contractor isn't over, and I don't know when it will be. I have been told that I may have to testify against him. It's been hard, but for the first time in six years, I can see the light at the end of the tunnel.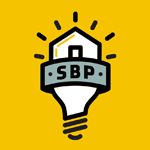 S B P, formerly the St. Bernard Project, was founded in March 2006 by a couple who volunteered in Louisiana's St. Bernard Parish after Hurricane Katrina. Since then, S B P has rebuilt homes for more than 1,500 families in communities hit by disasters with the help of 180,000 volunteers. For more information, visit Disaster Resilience & Recovery.


After Superstorm Sandy, Wamley Amoako was among a number of homeowners in New Jersey who repaired their homes quickly, but could not get certificates of occupancy based on new building codes.
Kevin McGee, director of New Jersey Recovery for SBP, says that in such situations, it ultimately falls to the homeowner to do due diligence.
"I've seen so many people end up in Wamley's place," he says. "For families impacted by disasters, this is often the crisis of their lives, and the desperation to get things done quickly and get back to normal is completely understandable. But it's important to take a step back and plan before diving headfirst into rebuilding."
He advises homeowners to seek counsel from a real estate lawyer who can evaluate construction contracts and explain all the terms of the disaster grants, which come with strict obligations.
"Yes, this could delay your repairs," he says. "And yes, it can cost more money in the short term. But the stakes are high — your home in is your number one asset."
Get a quote
Includes personal service from a Farmers agent.

Written by
Wamley Amoako,as told to Nancy Ruhling

The information contained in this page is provided for general informational purposes only. The information is provided by Farmers® and while we endeavor to keep the information up to date and correct, we make no representations or warranties of any kind, express or implied, about the completeness, accuracy, reliability, suitability or availability with respect to this article or the information, products, services or related graphics, if any, contained in this article for any purpose. The information is not meant as professional or expert advice, and any reliance you place on such information is therefore strictly at your own risk.