On August 12, a low-pressure storm system stalled over south central Louisiana, flooding 146,000 homes and killing 13 people.
Northeast of Baton Rouge, 30 inches of rain fell in just 15 hours. Linda Marcus and her husband Jesse, a Vietnam veteran, share the story of how they survived the "no-name storm" of 2016.
"It was horrible," Jesse Marcus recalls. He's sitting on plastic furniture next to his wife, Linda, in the carport attached to their flooded four-bedroom home. Although the arrangement creates a surprisingly comfortable makeshift living room vibe, the tiling trowels and buckets of grout arranged neatly on a folding table nearby are a jarring reminder of the tremendous rebuilding and recovery efforts going on inside and across south Louisiana after the August floods.
"A visual?" Linda cocks her head toward the high water mark: a stark, horizontal line slashing the perimeter of her carport, nearly five feet above the concrete floor.
Here, Linda recalls the day of the flood, their narrow escape, and the reality of rebuilding in the aftermath of the flood.
Friday, August 12, 2016
"Friday it rained nonstop. We never went to sleep. I was up, bailing out water that kept backing up in the toilet. I looked outside; our house had become an island."
Our son, Jess, lives three houses down. He saw how quickly the water was rising and at 3 a.m. he was at our door saying, 'You have got to get out of here. You've got to get out!'

That's when the water started coming inside the house. When we stepped outside to leave, it was just below our knees. Earlier that evening, we had put all our furniture up on cans. We'd never had water before—we just assumed everything would be fine. It wasn't, of course. I had just grabbed our bare essentials: a daily medicine sleeve and Jesse's insulin. We were prepared for two or three inches, not five feet.
It was dark and we could hardly see. We drove through the dark water to the main road and made it to the parking lot of our church, about a mile away.
Our next-door neighbors waited too long to leave. They tried to get out in their pickup truck, but the water was too high. They were in their truck for eight hours with no food, no water, cell phones dying. They were begging people to come get them in boats but the authorities were stopping everyone in a boat, trying to figure out if they were looters or helpers.
There's destruction everywhere but I'm staying positive. We've been living in our RV for nearly two months now, parked in our daughter's backyard. We're just thankful we had a place to go."
"Jesse and I have been together since high school. His senior year, he played in the marching band. The way he tells it, one day he jumped out the back of the band's bus, turned around and saw me...and that was it. I like to say he chased me until I caught him.
After high school, Jesse joined the Air Force and went to Vietnam. By the time he came back, the wedding was all planned. We've been married for 46 years.
Jesse was exposed to Agent Orange in Vietnam, which caused his Hodgkin's disease. Sixty-three radiation treatments cured the Hodgkin's, but caused all sorts of other problems. He's had knee replacements. Three strokes. I mean, the man has had 35 surgeries in 20 years. It's just been one thing after another.
We paid off the house when Jesse retired in 1991 — he didn't want us to have any extra financial obligations. We live on a very strict income, and flood insurance was about $800 a year. We'd never flooded so we canceled ours, and sure enough, after 38 years of living here, everything hit. Now I look at flood insurance and think it sounds dirt cheap.
"Before this '1,000-year flood' our home was our family's hub."
The little kids were in and out all day. We had a weekly tradition: Friday Night at Gran and Paw Paw's. I cook and they all come from work, from college, it doesn't matter: everyone is here on Friday nights. They like my hash brown casserole. When it's cold out, I'll make shrimp and corn soup. For birthdays we have cake and ice cream. It's a big deal. I'm not sure I can describe how much we miss those Friday nights."

"It only took a couple of days for the flood waters to recede, so we were able to get back in our house by Monday afternoon. Everything had been turned upside down—the fridge, our sofa. The water had thrown our chest of drawers right through a wall. Total destruction.
We immediately applied for F E M A money, and that came within the first month. We were glad to get what we got, especially since a lot of our neighbors are still waiting. Next came the daunting task of starting to rebuild. Since Jesse's strokes, his brain waves don't work the way they should sometimes, so it can be hard for him to understand things. I knew I would have to get all the permits. I would have to do everything, and I already wear a lot of hats, so I knew it wouldn't be easy.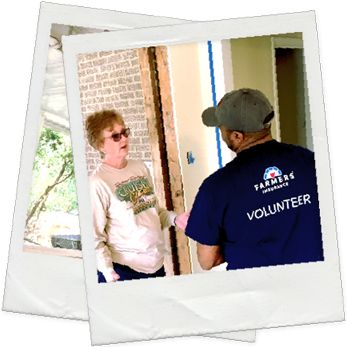 That's when SBP came in, like angels! SBP is a nonprofit that rebuilds homes damaged by disasters—they started after Katrina—and they prioritize serving veterans like Jesse. They knew Jesse served in Vietnam, and about his experience with Agent Orange. When they first contacted us, we were skeptical. Jesse kept saying, 'No, baby. This isn't real. Nobody does that sort of thing.' It wasn't until the second time we talked to them that it became kind of real.
They took care of the permits, everything, and we had at least five or six volunteers here, almost everyday, from early September through November. Either Jesse or I would go out to talk to them. The volunteers installed insulation and drywall, tiled and painted. Jesse would say, 'Y'all need a screwdriver? I'll go get you one!' We couldn't do the work ourselves, but we could sure help."
Tuesday, November 1, 2016
Bouncing her 9-month-old grandson, Jesse III, on her hip, Linda shakes her head at the sight of her home, rebuilt by hundreds of volunteers in less than three months.
"This has all just been amazing," she says. She motioned to the azalea bush in the front yard, its massive mid-section and bottom still stained dark brown from the flood. "You see that bush out front? You can still see the demarcation there, how high the water was. One guy saw that line yesterday and said, 'I thought that was a shadow!'"
She shifts her grandson to the other hip.
"I told him, Nope. That's not a shadow...that's real life."
80 percent
of the homes affected were not insured for floods and located in low-risk flood areas.

Written by
Linda Marcus, as told to Ann Williams

Video credit: Atmosphere Aerial

The information contained in this page is provided for general informational purposes only. The information is provided by Farmers® and while we endeavor to keep the information up to date and correct, we make no representations or warranties of any kind, express or implied, about the completeness, accuracy, reliability, suitability or availability with respect to this article or the information, products, services or related graphics, if any, contained in this article for any purpose. The information is not meant as professional or expert advice, and any reliance you place on such information is therefore strictly at your own risk.