Officer Brad Hughes was responding to a 17-car pileup on an icy road in Chesterfield County, Virginia, when a distracted driver lost control of his truck and hit him. Here, Hughes talks about the accident and the unusual phenomenon that puts first responders at risk in roadside emergencies every day.
People definitely stare when I'm getting out of my converted pickup truck. It's not often you see someone missing two legs. Whenever people approach, they inevitably ask, "What branch of the service were you in?" or "What war were you in?" When I tell them I lost my legs because of a distracted driver, the conversation changes.
On March 17, 2014, I was a special police officer in Chesterfield County, Virginia. I was responding to an accident on a highway during bad winter weather. As part of protocol, I used my car to block traffic in the middle lane to provide an extra buffer of protection for emergency responders on the scene. I was standing behind my car getting a safety jacket when I was struck by a driver who lost control of his pickup truck. I was declared clinically dead three times, but EMTs and hospital staff resuscitated me.
We found out later that the driver who hit me was talking to his wife, and he turned to look at the accident in the opposite lane. He didn't see the accident in his own lane and was driving at a high speed. When he pressed the brakes to avoid the accident, he hit a patch of ice, lost control of his pickup and slammed into three cars. That was it. I was caught between my vehicle and the bumper of the truck. I suffered a back injury, and I lost both legs above the knee.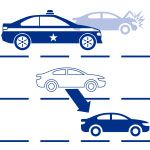 "Move Over" laws in all 50
states require drivers to
move one lane away from
emergency vehicles at an
accident scene to create a
buffer between moving
cars and emergency
responders.
This kind of accident is more common than you think.
Law enforcement and emergency responders have a word for what causes this kind of accident: stargazing. Passing drivers stare at flashing emergency lights at an accident scene, and when their eyes return to the road in front of them, they see black dots in place of those lights. I think the driver who hit me experienced this.
This is one of the reasons emergency responders to road and highway accidents are at a high risk for being injured or killed by distracted drivers. While I was in the hospital, three state troopers were also injured by distracted drivers who slammed into their vehicles in separate incidents.
The love and support of my entire family got me through it.
I was in the hospital for two months and spent the first few weeks just confused and lost. This was the hardest thing I've ever gone through. My whole focus was on getting strong enough to walk with prosthetics.
When I got home, my law enforcement family and the local community had a surprise: They renovated my house to make it accessible and gave me a specially outfitted van to accommodate my wheelchair. They also made my three-wheeled motorcycle accessible, including a mount for my wheelchair. All of these things helped, but really, it was the love and support of my entire family that got me through it.
It can happen in a split second.
If you ask someone to describe distracted driving, they always mention texting or talking on the phone, but it can be anything that takes your attention from driving. When I talk to people about distracted driving, I start the conversation with these questions.

1) What are you doing before you get into the car?
Before you open the car door, your behavior affects your ability to drive. You should have already shaved, fixed your hair, done your makeup, eaten your breakfast or lunch, read the newspaper, removed snow or ice off of your car. I've seen people doing these things more often than you can imagine. Whatever you have to do to prepare for the day or journey, do it before you put the key in the ignition.
2) What are you doing inside the car before the car starts moving?
Are you adjusting the car's controls, tuning in to your favorite station and fastening your seat belt? Are you defrosting the windows? Is the address punched into your GPS? Do everything before you take your car out of park. Today's cars have so many features that can help make driving more convenient and safer, but only if you're touching these things before the car starts moving.
3) What are you doing while you're driving?
When the pickle from the hamburger you just picked up at a drive-thru drops into your lap, you're immediately going to look down to see where it landed. Who, or what, are you going to hit because of a pickle? As soon as the car's wheels are turning, everything changes. Whether you're talking to a passenger or glancing at a ringing cell phone to see who's calling or leaning over to clean up the pickle, you need to understand you're driving a 4,000-pound machine that can injure or kill people.
Law enforcement was my life for 28 years, but this accident changed everything. Before I even left the hospital, I knew talking about distracted driving would a big part of my new life. When strangers ask what happened, I know my story and talking to a double amputee in a wheelchair can make them think twice when they're behind the wheel. More than anything, I'm grateful to be alive to tell them my story.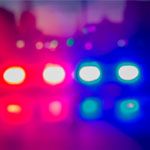 Another reason to keep
your eyes on the road
when passing an accident:
flashing lights from a
roadside emergency can
temporarily affect vision.
Get a quote
Includes personal service from a Farmers agent.

Written by
David Nusloch
The information contained in this page is provided for general informational purposes only. The information is provided by Farmers® and while we endeavor to keep the information up to date and correct, we make no representations or warranties of any kind, express or implied, about the completeness, accuracy, reliability, suitability or availability with respect to this article or the information, products, services or related graphics, if any, contained in this article for any purpose. The information is not meant as professional or expert advice, and any reliance you place on such information is therefore strictly at your own risk.