From simple flat tires and dead batteries to serious multicar collisions, Lieutenant Matt Hamilton has seen hundreds of roadside emergencies in his 15 years as a post commander for the Ohio State Highway Patrol. His top priority? Making sure drivers stuck on the side of the road don't make a bad situation worse by causing another accident or risking their lives trying to fix their car.
Here, Hamilton walks drivers through a step-by-step approach to handling common roadside emergencies, avoiding injury and getting assistance quickly when you're stuck on the side of the road.
1. Get off of the road — ASAP.

If the car is still operable, I tell motorists to drive their vehicle out of the path of moving traffic. On an Interstate highway, drivers should pull over to the right shoulder and into the grass, if possible. But if crossing lanes of traffic to get to the right side of the road isn't safe and if the left shoulder is wide enough, by all means, pull over to the left shoulder. The biggest priority is getting out of moving traffic. But if you're on a bridge, don't stop even if there's a small shoulder. Exit the bridge, then pull over. The most important rule: Put as much distance as you safely can between your vehicle and the road to reduce the risk of injury or further accident.
Also, if you're stranded, the smartest place for you to park is behind a guardrail because it provides the best protective buffer. One of the biggest mistakes I see people make is stopping in front of a guardrail, divider or wall. If another car strikes your car while it is parked on the side of the road, your car could get sandwiched between the other vehicle and this barrier.
2. GPS your location.
The highway patrol gets calls all the time from motorists who can't tell us where they are. If a tow truck driver or officer has to search for you, you can count on being stuck for a while. It sounds like the most obvious advice in the world, but keep track of what road you're on and the nearest exit or cross street. Before you call 911 or roadside services, use a smartphone navigation app or your car's built-in navigation system to pinpoint your exact location.
3. Make your car highly visible.
As soon as you know your car is in trouble, turn on your emergency flashers. When you're safely parked on the shoulder, place reflective warning triangles on the ground a few feet behind and in front of your car. Warning triangle kits are available at safety supply stores and meet visibility standards set by the U.S. Department of Transportation.
4. Call 911 if…
You're broken down and at a dead stop in a lane of traffic and can't get out of the path of moving cars. That's an emergency—call 911. Turn on your flashers and stay in your car with your seat belt on until help arrives.
5. Call roadside service.
Check your auto insurance card for an 800 roadside assistance hotline number. Some car manufacturers also offer roadside assistance and towing, and that information may be listed in your owner's manual.
Keep in mind: Highway patrol and police are not equipped to offer roadside services. They won't fix your flat, but I do recommend calling the state highway patrol or local police to alert them. Time permitting, an officer may be able to stay with you until a tow truck arrives.

6. Stay in your vehicle.

Standing on the side of any road carries the risk of getting struck by a passing vehicle, which is why I always tell drivers to stay in their car while they're waiting for a tow truck or roadside assistance. The only time it might be okay to get out of the vehicle on a highway is if you're stopped behind a guardrail or another type of solid barrier that offers some measure of protection.

Common Roadside Emergencies
Some of the most common roadside emergencies are also mostly avoidable if you follow a regular, seasonal maintenance schedule for your vehicle and, at a minimum, have your tires and battery checked before any major road trips.
Battery failure
Flat tire
Keys locked in car
Empty gas tank
Roadside Emergency Essentials

Don't leave home without these items in your car.
Fully-charged cell phone and car charger
Cell phone or built-in navigation app
Reflective warning triangle kit
Flashlight and batteries
Booster/jumper cables
First-aid supplies
Blankets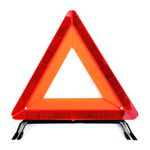 If it is safe to do so, set a triangle on the traffic side of the vehicle 10 feet (4 paces) from the front or rear of the car, depending on the direction of traffic. Place second and third triangles 100 feet (40 paces) behind and in front of the vehicle. – Federal Motor Carrier Safety Regulations
Get a quote
Includes personal service from a Farmers agent.

Written by
John Diether
The information contained in this page is provided for general informational purposes only. The information is provided by Farmers® and while we endeavor to keep the information up to date and correct, we make no representations or warranties of any kind, express or implied, about the completeness, accuracy, reliability, suitability or availability with respect to this article or the information, products, services or related graphics, if any, contained in this article for any purpose. The information is not meant as professional or expert advice, and any reliance you place on such information is therefore strictly at your own risk.