Working at his father's gas station as a teen, Mike Case fell in love with a 1968 Camaro Z/28. "I put the first tank of gas in that car," he says. "When the owner put it up for sale a few years later, I jumped at the chance to buy it." Case drove the Camaro in college, then all over the country as a corporate executive.
By 1995, he knew it was time to restore his now-classic muscle car. But after pulling the car out of two restoration shops for failing to complete the work, Case took matters into his own hands. "I outfitted my home garage to restore it myself on the weekends and hired a few guys to do it with me." His wife wasn't thrilled about the arrangement. "So I rented a place to do the work," says Case, who ultimately quit his corporate job and opened a restoration shop in North Fort Myers, Florida. "I started buying old cars and shipping them to the new space. By the time the Camaro was done, I had 21 restoration projects waiting for me."
"By the time the car was done, I had 21 restoration projects waiting."

–Mike Case
Case's shop has completed an estimated 1,000 restorations for clients all over the world, and he's seen where car enthusiasts and restoration projects can go off the rails. Here, Case and other restoration pros weigh in on what it takes to bring a classic car back to life.
What kind of restoration is right for your classic car?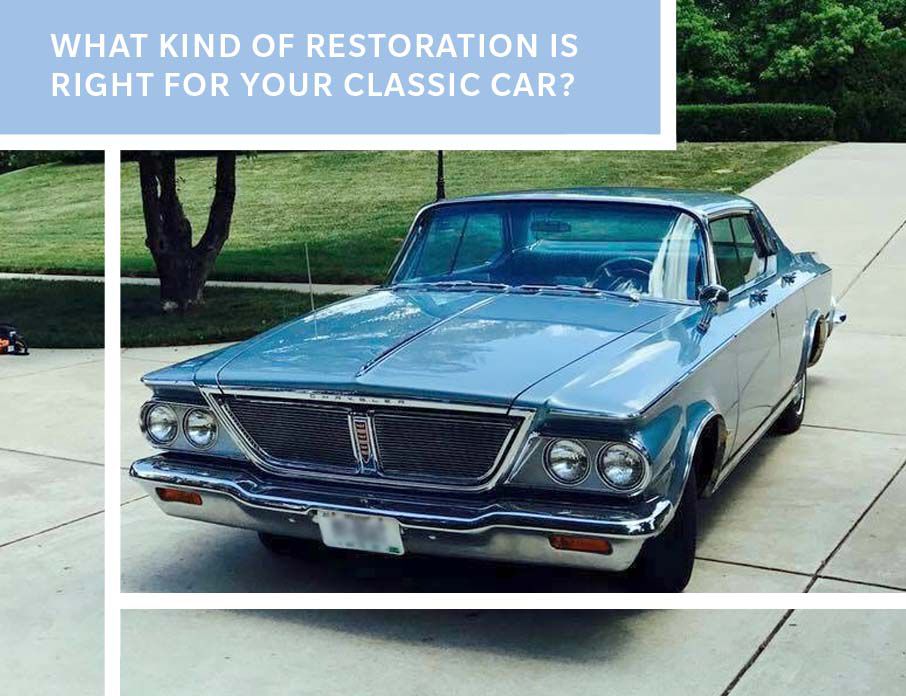 RESTORATION PLAN A:


"I want my car to look and run like it just rolled off the factory floor."


Case says most classic car owners planning a restoration project want to return the vehicle to factory condition, to end up with a car that looks and performs like new. This is called a "body off" restoration because it involves removing the body from the frame and, part by part, removing and inspecting every nut, bolt and screw. "The car goes back together with every part restored to new or replaced," says Case, who estimates a typical body-off restoration takes one year to complete and costs about $100,000 — typically more than the actual market value of the car.
"I get a lot of joy from driving it around on sunny days."

—Matt Schoonover
Cost was a secondary consideration for Matt Schoonover, who commissioned a body-off restoration of his late father's 1977 Ford F-150 pickup. "There are so many memories attached to it," he says. "I get a lot of joy from driving it around on sunny days."
It's often an emotional — not financial — investment, says Dale Oestreich, who has overseen hundreds of body-off restorations as owner of Precision Restorations in St. Louis, Missouri. "These customers have a strong emotional tie to the vehicle and usually intend to hand it down to future generations."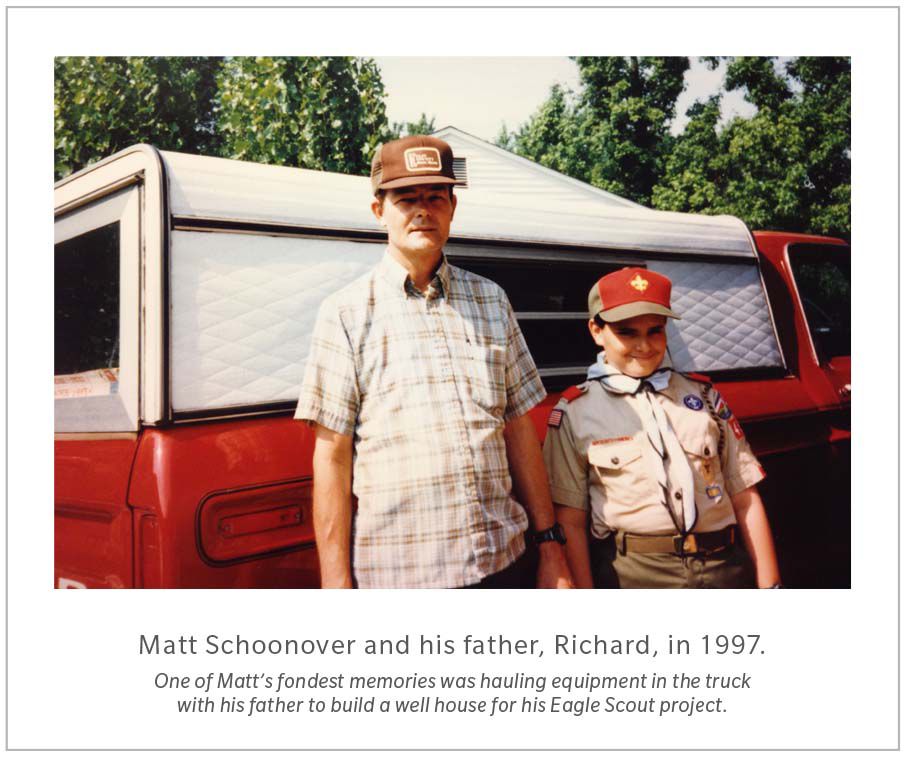 RESTORATION PLAN B:


"Let's keep it running and as original as possible — without breaking the bank."

Willie Laufer fantasized about driving his neighbor's 1964 Chrysler New Yorker when he was a kid. Decades later, he took home a low-mileage example with a pristine interior. He wanted to keep it as original as possible, while correcting problems like rust and a faulty power window. "With some body repairs and mechanical fixes, I ended up with my dream car at last," says Laufer.
"Not everyone who walks in the door needs or wants a body-off restoration," says Case. "Their goal is to repair the wear and tear that comes with age. That could mean several smaller repairs throughout the car, or the restoration of just one area, like the interior or under the hood."
Case's typical customers spend between $25,000 and $45,000 on a light restoration — and few expect to recoup that cost if they sell the car. But he has also completed makeovers for as little as $10,000 and as much as $300,000. The cost varies widely based on parts availability and the condition of the car, he says. For these restorations, the pleasure of ownership is the primary return on investment, so Case helps them budget accordingly. "I look at two things: what the car objectively needs and what matters to the customer," he says. "Then I can advise them on where to concentrate their resources. It's different with every car and owner."
Before your choose a restorer ask these questions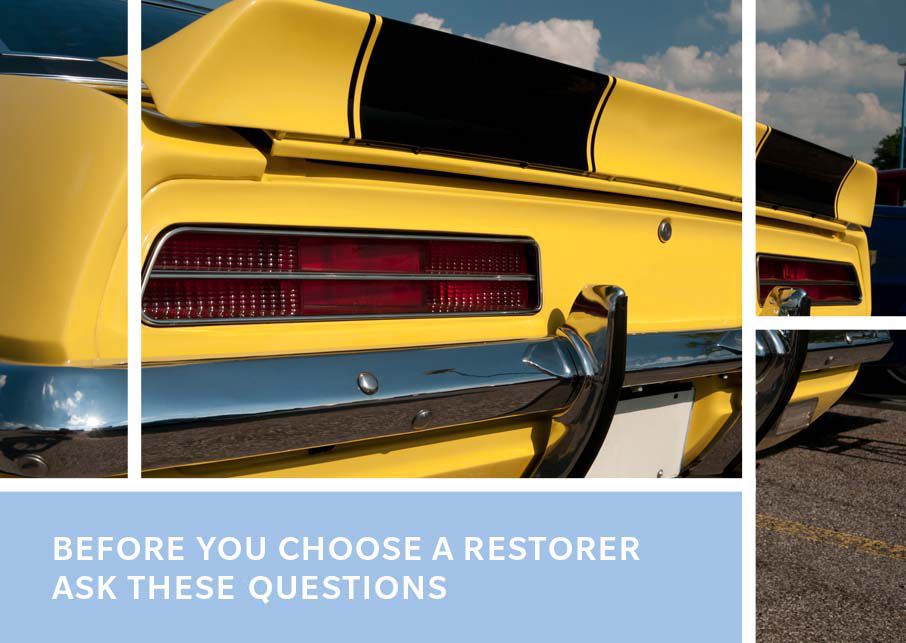 Mike Graham could've made a few expensive (and embarrassing, he now admits) mistakes when planning the restoration of his 2000 BMW M Roadster. But, he says, he relied on the advice of the shop because he trusted their expertise over his own ideas. "My shop pulled me away from some questionable ideas I had, like special paint effects and custom wheels. I'm glad they did."
Trust is important. When vetting a shop, the pros recommend asking restorers these questions:
QUESTION 1:


What is the production process like and how long will this restoration take?

"You want to make sure the shop follows an established process for completing cars on time and can explain it to you," says Oestreich. "A lot of companies get backed up beyond belief because they don't follow a formal production schedule."
Ralph Copeland relied on his own experience as an industrial project manager when vetting shops to restore his family's 1988 Cadillac DeVille. The shop he chose provided a detailed, written, yearlong project plan. If the restorer told him the job would take three months or the process description was too vague, Copeland says he would've walked away. "I knew that delivering a complex product to a certain specification took planning, process and time. My shop demonstrated that they understood this too."
QUESTION 2:


What projects have you completed that are similar to mine?

Portfolio pictures on a website aren't enough. Ask for details about the project and request customer references for restorations similar to the one you're planning. "Once you find out, talk to the owners of those cars about their experience," says Case.
"Many of the shops I looked at specialized in collector cars and muscle cars," says Schoonover. "That's great for connoisseurs, but I'm a guy with a 1970s Ford pickup. I wanted a shop that had a lot of experience with trucks and everyday vehicles."
QUESTION 3:


When can I stop by?

Schedule a time to visit the shop in person and meet the staff. Look for signs the shop might not be able to complete your project on time, like overcrowding and not enough workers.
"If you see cars stuffed in the corner, or just two or three people doing the actual work, move on to the next place," says Case.
"I had sit-down conversations with three different people at the shop," Laufer recalls. "I could tell they had the industry contacts and expertise to get the job done. I also sensed they loved what they were doing."
Be cautious if the shop owner or manager asks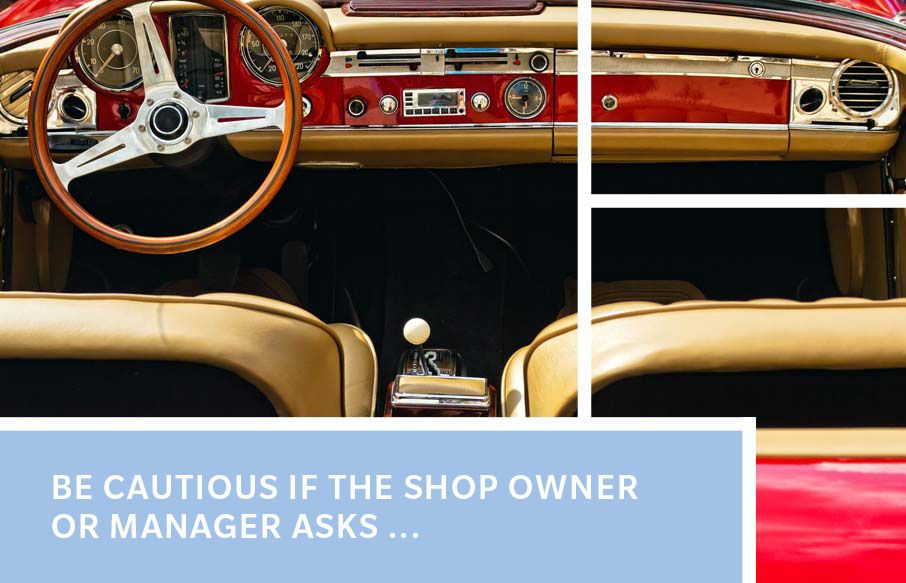 "What's your budget?"

Restoration estimates should be based on the project itself, not how much a customer can spend, says Oestreich. "If the job doesn't fit the customer's budget, we don't have a deal, and that's okay. The customer might decide on a different level of work that can be done within his budget."
"We need a 30 percent down payment to get started."

"If they ask for a huge down payment — run," says Case. A 10 to 25 percent deposit is standard. "I've met people who were asked to put 50 percent down. It could mean the shop needs the money to complete someone else's car or cover overhead."
"We'll bill you every week."

"I call this the 'open checkbook' approach. It often leads to overcharging the customer," says Oestreich. "With a reputable shop, the customer usually makes a few payments at predetermined points, with the final payment on completion."
This is what a project estimate should look like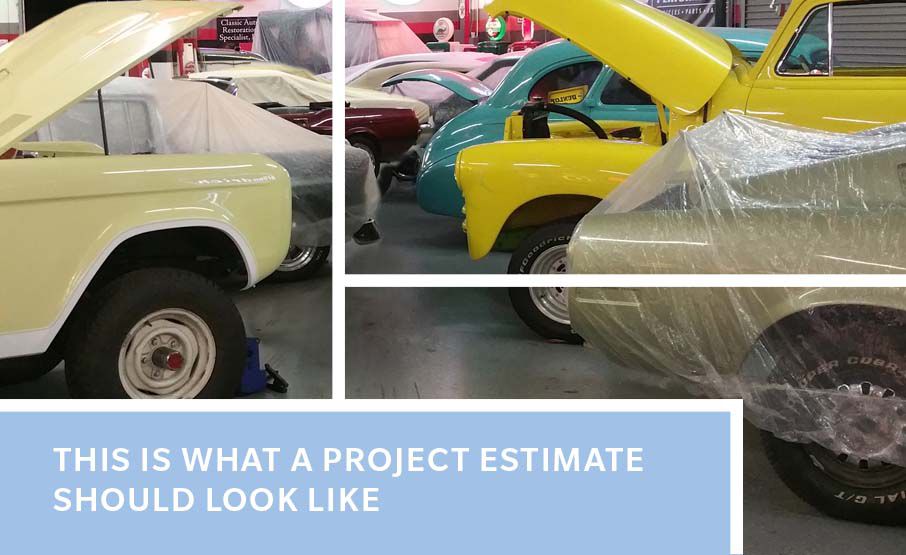 Get it in writing

"A qualified restorer will inspect the car and outline the entire project on paper," says Case. A good repair order or estimate should include the following:
A description of every task, including parts, hours of labor and the cost of each. For example:

A project timeline, including start and delivery dates


Project cost estimate and an agreement about disclosing cost overruns
"With any restoration, there can be issues we don't know about until we take the car apart. Let's say there's a square foot of rust hidden under the paint. It might take 10 extra hours of labor to repair it properly," Oestreich explains. "It's important to disclose the potential for unforeseen problems in writing so there are no surprises or misunderstandings." Reputable shops should provide a clear explanation (and pictures, if necessary) for work that will push the cost of the project over the estimate before completing the additional work.

Shop owner's signature
"This is a sign the owner is putting his full faith behind the estimate," says Case.
When a restoration goes off the rails on time or budget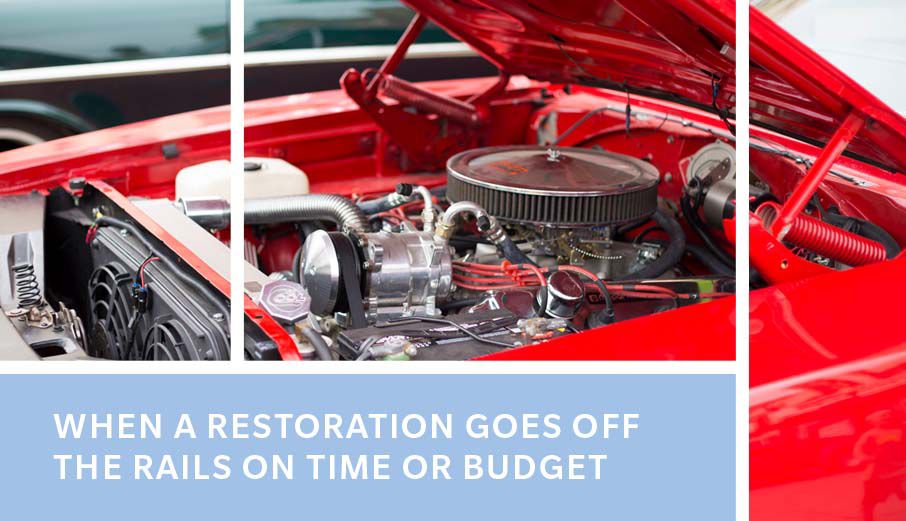 The project isn't going as planned. Now what?
Request a bill for the completed work and consider taking the car somewhere else, Case says. "I've pulled about 100 cars for customers when the shops they hired weren't getting the job done. There are so many reasons a shop might not be able to fulfill their end of the bargain — they took on too much, ran into financial problems or maybe the owner fell ill." The reason isn't important, he says.
Customers may dread the hassle of pulling their car from an underperforming shop, but it may be the only solution, Case says. "If a car sits for longer than 90 days without any progress, the job isn't going to get done under the original terms. Giving a shop more money or time doesn't solve the problem."
"It feels like handing off your own child."

—Willie Laufer
For classic car owners like Laufer, having a beloved vehicle restored can be a deeply satisfying project — a labor of love to be enjoyed, he says, not scrutinized at every turn. "Don't obsess about it too much," he says. "Find the best restorer you can, then take a leap of faith. It feels like handing off your own child, but the results can be dazzling."

Written by
John Diether


The information contained in this page is provided for general informational purposes only. The information is provided by Farmers® and while we endeavor to keep the information up to date and correct, we make no representations or warranties of any kind, express or implied, about the completeness, accuracy, reliability, suitability or availability with respect to this article or the information, products, services or related graphics, if any, contained in this article for any purpose. The information is not meant as professional or expert advice, and any reliance you place on such information is therefore strictly at your own risk.