On Wednesday, October 24, 2012, Kristina Wolko was recovering from the birth of her second son, Sam, when reports of a massive storm building in the Atlantic started to surface. "I was in a daze with a new baby. I remember thinking, 'We're 65 miles inland from the coast, totally protected. This is just one of those overblown weather things people freak out about,'" says Wolko, who lives in a suburb of Philadelphia.
By Saturday, October 27, she was home from the hospital and her husband was handling the storm preparation details. "He tied some things down outside and stocked up on food at the grocery store," recalls Wolko. "I was watching Matt Lauer tell people to 'de-clutter' their homes before the power goes out. I'm thinking, 'We're neat people with no clutter. All good!'"
Then her home lost power on the night of October 28, at a point when living without electricity for five days seemed unfathomable. "I was recovering from a C-section and gave Sam his first bath by the light of our fireplace, using a gas stove to boil water," says Wolko."I thought we had it bad with a newborn; we had no idea what was happening along the coast—the flooding, the wind, the houses reduced to sticks. We were unbelievably lucky, considering how unprepared we were and how truly devastating that storm was for so many people."

When it comes to hurricanes, the biggest mistake people make is not recognizing how vulnerable they are, which means their hurricane plan is either inadequate or non-existent, says Dennis Feltgen, a spokesperson for N O A A's National Hurricane Center.
"Assume you're vulnerable, and plan accordingly," Feltgen says.

Jeff Schlegelmilch, deputy director of the National Center for Disaster, agrees. "We're seeing more extreme weather events—both in severity and frequency—which makes disaster preparation critically important to reduce the impact they have on communities and families."

Whether you are making up for lost time or planning ahead, this nine-day preparedness guide can help you get ready before a hurricane or similar extreme weather event.

Day 1 : Research your hurricane risk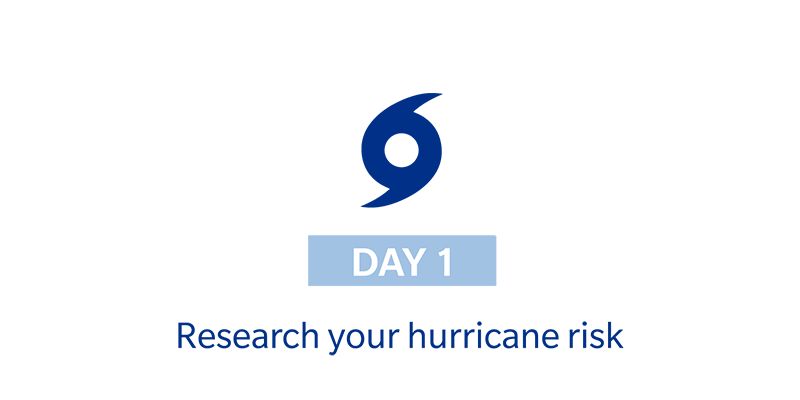 Hurricane season starts in June, and peaks in August and September in the U.S. Risk of landfall typically clears by the end of November, according to the N O A A National Hurricane Center.
Coastal Louisiana, North Carolina and South Florida bear the brunt of hurricanes in the U.S., but damage from flooding, winds and related tornadoes can happen miles inland, says Feltgen. Superstorm Sandy killed 72 people in the New York City region; power outages and damaging winds extended nearly 80 miles inland to Pennsylvania.

The National Hurricane Center's Hurricane Return Periods map details previous hurricane strikes and estimates the frequency and intensity of future hurricane landfalls.

If a Category 1 storm (they range from a dangerous 1 to a catastrophic 5) is headed your way, it helps to verify whether you are in a storm surge evacuation zone. If it's not clear, Feltgen recommends N O A A's Storm Surge Inundation map for a view of worst-case storm flooding scenarios. The Federal Alliance for Safe Home (FLASH) database, a state-by-state list of storm surge zones, can connect you to the Red Cross Evacuation Map for your region.

Day 2: Practice a utility shutdown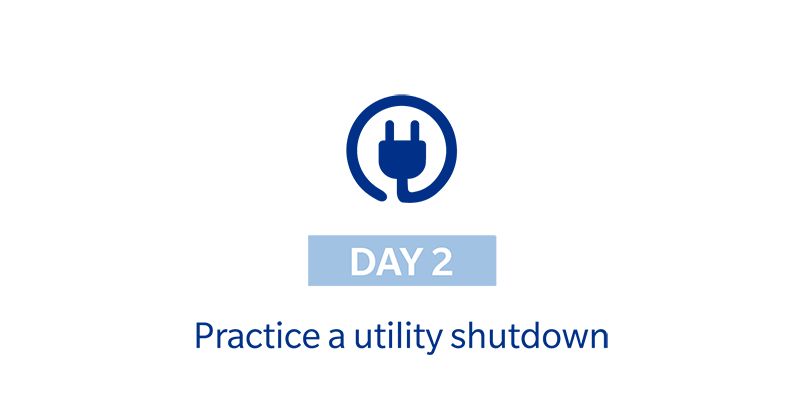 In the lead-up to and aftermath of a natural disaster, local authorities will announce preventive, proactive recommendations for the utilities you need to shut down, says Schlegelmilch. You may need to shut off your power or breakers to major appliances to avoid a strain on the system when power is restored, and you may need to shut off the main gas line valve. 
"Know where each of your electric, water and gas main switches or valves are located, and how and what tools are required to shut each one off," he says.

Day 3: Think beyond bandages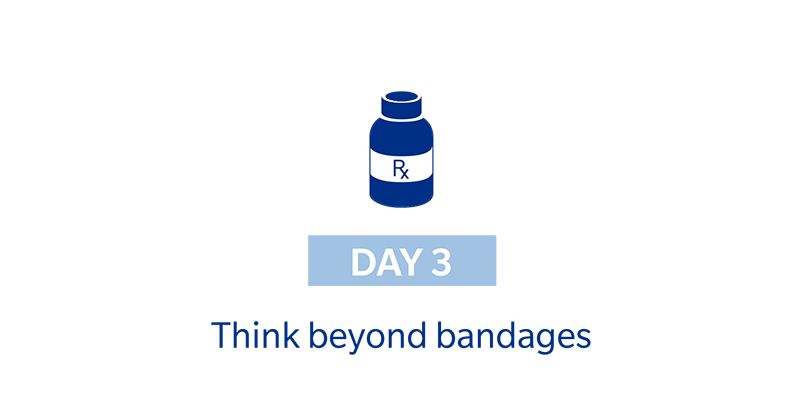 The Red Cross offers recommendations for stocking a first aid kit, but there's more to a medical than bandages, antiseptic and gauze, says Schlegelmilch. "Think about the medical requirements your family has right now and plan accordingly."
Schlegelmilch recommends keeping an advance supply of prescription medications, medical devices such as insulin or asthma supplies or oxygen concentrators. "If you can't get an advanced supply, your first aid kit should include a printed list of your family's medical requirements, health insurance and healthcare providers."

Day 4: Build a 72-Hour inventory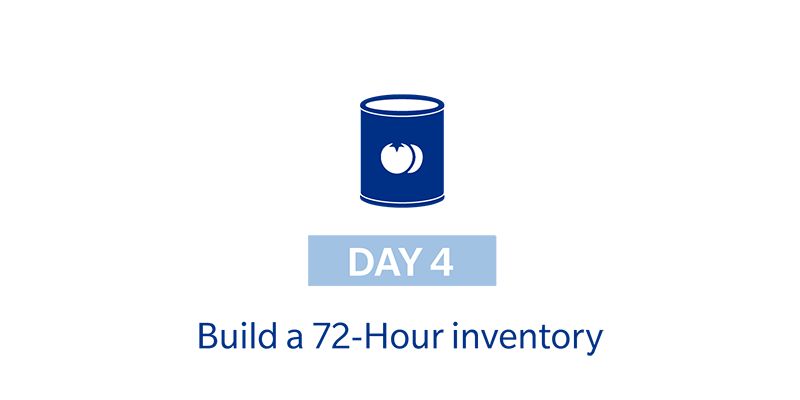 Schlegelmilch also recommends planning for 72 hours off the grid, which is how long it could take the Federal government to reach your community, declare a disaster and mobilize resources, he says. 
"Most of the time, they're able to reach you in less time, but it could take longer, as it did in Superstorm Sandy and Hurricane Katrina," he says. "In rural areas, it could take even longer to restore power and other services.

"Stock enough non-perishable foods to feed your family for three days, plus one gallon of water per person per day," says Schlegelmilch. Replace stored water — which can grow bacteria — every six months. 

If ATMs and card readers are down, you may need cash, too. The less prepared you are, the more cash you are likely to need. And remember that small bills may come in handy in an emergency.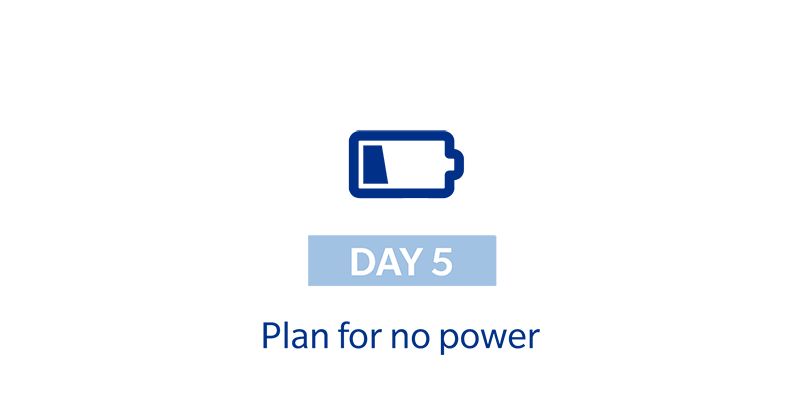 According to a study conducted by the Associated Press using U.S. Energy Department Data, it took 13 days to restore power to 95 percent of customers in New York after Superstorm Sandy. After Hurricane Katrina: 23 days to restore power to 95 percent of customers.
Ask yourself one question, Schlegelmilch says: What is necessary, beyond creature comforts? Then make a list of what you have or need, such as:
Medical devices or equipment
Landline with a corded or rotary phone that doesn't require battery or electric power
Windup radio, working flashlights with backup batteries
Battery packs for charging your cell phone or car
Butane lighter
Manual can/bottle openers
If you're considering buying a backup generator, stationary generators must be installed by a professional and are the most expensive — expect to spend $5,000 to $10,000, according to Consumer Reports' Generator Buying Guide. Portable generators cost $400 to $1,000.
If you do get a backup generator, learn how to install and use it safely. "We see a lot of carbon monoxide poisonings and fires associated with the improper installation or use of backup generators after a disaster," says Schlegelmilch.

Day 6: Identify three points of communication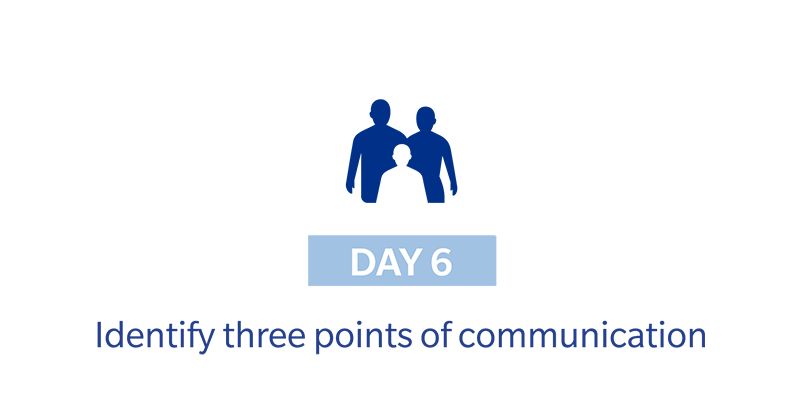 Between work, school and basic day-to-day activities, family members spend most of the day apart. In addition to a printed list of phone numbers and e-mail addresses for family, friends,
neighbors, work and school, a strong communication game plan should include three points of contact for your family, says Schlegelmilch. Everyone in your family needs to know:
One point person everyone calls to check in.
An out-of-state or out-of-disaster-area contact to call (in case local phone access is limited).
A common meeting place outside of your home if your neighborhood is inaccessible.
Day 7: Duplicate your documents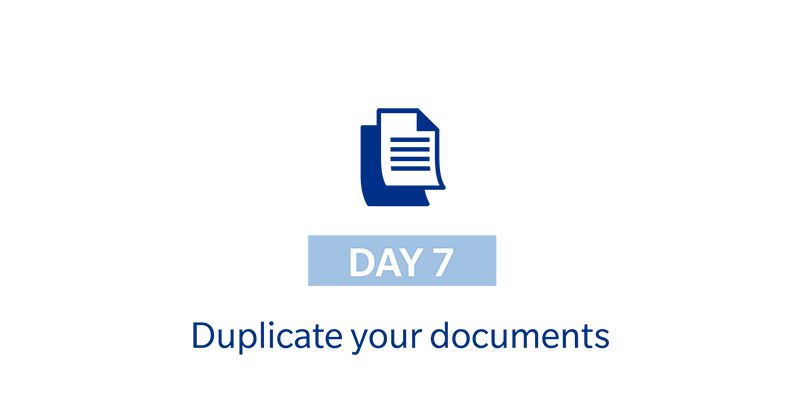 Schlegelmilch recommends scanning and storing digital copies of vital records and documents on a password-protected USB thumb or cloud storage drive, and keeping printed copies of those documents in a fireproof lockbox or safe deposit box.
According to F E M A's guide to safeguarding documents and valuables, vital records include:
Birth, marriage, divorce, adoption, child custody, and death certificates
Passport and driver license or other identification
Social Security cards
Insurance policies
Property leases, deeds and mortgages
Legal titles (home, auto)
Wills and powers of attorney
Recent financial documents, including tax returns, pay stubs and bank statements
Day 8: Inventory your home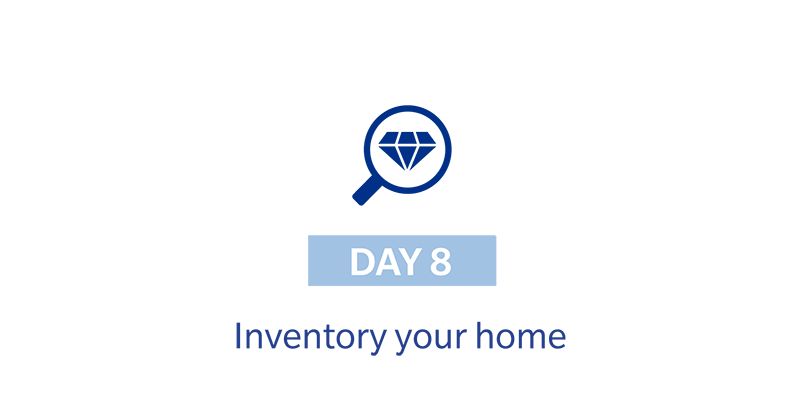 A top-to-bottom inventory of the items in your home can be useful in an insurance claims process, and may help you identify the amount of insurance coverage you need, says Schlegelmilch.
"Start with the high-value items, like antiques or wedding rings, and the most important items you need to get replaced quickly, like computers or appliances," he says.

Your insurance agent should be able to explain the documentation you'll need, such as receipts or photos. "This is an important conversation to have before a disaster, to understand what's covered and to make an informed decision on the type of coverage you need," Schlegelmilch says.

Day 9: plan for your pets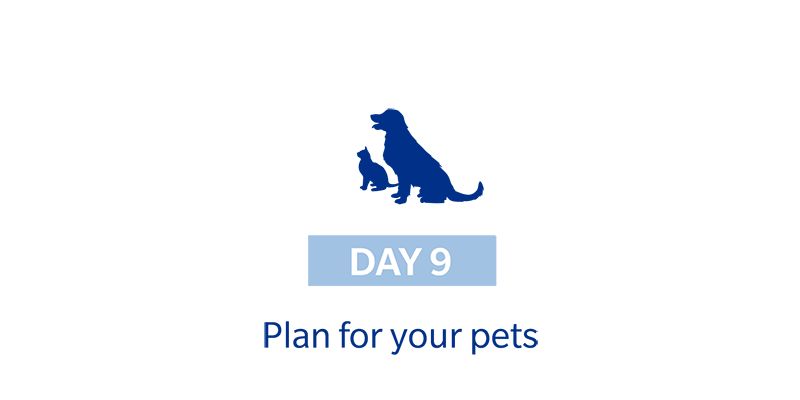 Review your pet's needs from every angle of your planning and preparation.
Do you have a seven-day stockpile of non-perishable food, clean water and first aid/medical supplies for your pet?
Do you have your pet's vital documents, vet records and a photo scanned and saved in digital and print format?
What items do you need to transport your pet if you evacuate? Think: travel carriers, harnesses, leashes and waste pick-up bags.
Is your evacuation destination pet-friendly?
Read more about how to evacuate with pets.
Can't do it all in nine days? Think of this disaster preparation plan as nine steps, instead, and start knocking out these To Dos one at a time before the next big storm or local disaster.

June-November
Hurricane season lasts about six months, peaking in August and September.

Written by
Colleen Rush

The information contained in this page is provided for general informational purposes only. The information is provided by Farmers® and while we endeavor to keep the information up to date and correct, we make no representations or warranties of any kind, express or implied, about the completeness, accuracy, reliability, suitability or availability with respect to this article or the information, products, services or related graphics, if any, contained in this article for any purpose. The information is not meant as professional or expert advice, and any reliance you place on such information is therefore strictly at your own risk.