Auto Claims
Farmers is here to help you get back on the road after a car accident.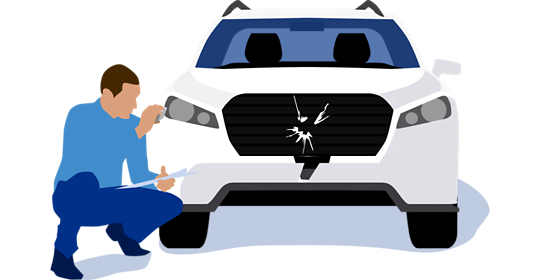 Steps to filing an auto claim
1
File your claim online or call a claims representative
Have your claim filed in under 5 minutes by answering a few simple questions.
2
Your claim is reviewed by a claims representative
We may reach out to you or others involved in the claim to get more details
3
Choose how you'll have your vehicle repaired
Once you've filed your claim, you have several options when you're ready to have your vehicle repaired.
Use a repair shop near you from our network of highly trained repair facilities. We guarantee the repairs as long as you own the vehicle.
Repair your vehicle at a shop outside of our network. We will work with you to get photos of the damage and create an estimate for your repairs.
We have options for rental vehicles while your vehicle is being repaired.
4
Track and manage your claim online
Check the status of your claim and manage your claim details by using our online claim management portal.
Upload receipts or documents
View payments
View claim letters
Track claim status
View repair shop and rental details
5
We pay for the repairs
You have options for payments:
Farmers pays the contractor directly 

You are reimbursed by direct deposit to your bank account or debit card
We can send you a check
6
We close your claim
Once all payments have been completed and repairs made to your satisfaction, we will close your claim.

Roadside assistance
Schedule immediate towing or roadside assistance

Glass repair
Schedule an appointment for immediate glass repair or replacement
Auto claims FAQs
Get quick answers to our customers' most common questions
What is the Guaranteed Repair Program?
Farmers has a network of repair shops with locations all over the country.  These shops have high quality repairs, highly trained technicians, and provide a Farmers backed written warranty for repairs as long as you own your vehicle.  These shops also have certifications from vehicle manufacturers so you can feel comfortable they know how to repair your specific vehicle.
While the choice of where you repair your vehicle is entirely up to you, we offer this program to our customers so they can work directly with the shop to schedule the repair at their convenience and can bypass having to get a Farmers approved estimate before starting repairs.

Find Guaranteed Repair Shops in your area. 

What if I'm not at fault?
You can choose whether to file the claim under your Farmers policy or you can file with the other person's insurance company.  If you file under your Farmers policy, you will be able to use the benefits of your policy to get the process moving.  You would be responsible for paying your deductible to repair your vehicle, but we would seek reimbursement from the other insurance company.
If you choose to file with the other insurance company, you will have to wait until they have determined their insured to be responsible for the accident before they will work with you on repairing your vehicle.

Do I need a police report?
Having a police report may be helpful and can simplify the claims process, but you can still file a claim without a police report. For example, some states don't send police to minor accidents with no injuries. Or, you may not be able to get a police report for an accident that happens in a parking lot. However, police reports may be required when filing a claim for a hit-and-run accident. When in doubt, contact your local police department to ask if a police report is recommended.
What if someone was injured in the accident?
You can file the claim online and we will assign a claim representative to review the details and work through the process with you.
When can I get my rental car?
Typically rental car coverage is applicable if you are repairing your vehicle through your policy, which means the damage to your vehicle exceeds your deductible.  Your rental coverage kicks in if your vehicle is not drivable, or if it is drivable, once the vehicle is in the shop for repairs to begin.  Rental is not applicable for drivable vehicles while waiting for your repair appointment.
What if my car is a total loss?
Generally a vehicle is considered a total loss when the cost to repair the vehicle is more than the value of the vehicle.  The claim representative will review the damage to the vehicle and inform you if it is considered to be a total loss.  They'll walk you through each step of the settlement process.