Summer House, an airy restaurant on Lake Erie with scenic views of downtown Cleveland, held its grand opening on a Monday in early March. For head chef Vinson ("Vinnie") Cimino, it was an exhilarating launch. The kitchen turned out a bounty of small plates — smoked chicken, house-made lavash, fire-roasted kebabs — and diners dished out praise.

The celebration was short-lived. Within the week, state officials, hoping to slow the spread of the aggressive COVID-19 virus, ordered Ohio restaurants to end dine-in service. And Summer House, its coolers stuffed with perishables, closed down.
Cimino and a handful of Summer House staff turned the food on hand into meals for cash-strapped coworkers. But hundreds of local restaurant workers were also plunged into financial crisis; the moment called for more. So they cooked up a community food relief effort they call Cleveland Family Meal.
I'm a chef by trade. I've run restaurants, consulted for restaurants, been a traveling sous chef.
I just kind of fell into this vocation out of my love of eating and wanting to understand what makes food taste good. I like to make people happy with cooking — to use good ingredients and let them talk for themselves.
In late 2019 I signed on to open up Summer House, a new restaurant in Lakewood, right outside downtown Cleveland.
As head chef, I was tasked with creating a light, summertime-feel restaurant in the middle of Cleveland, which has winter eight months out of the year. The place is perched right on Lake Erie, with gorgeous views. My challenge was: How do I take this super bright, airy restaurant and make this Cleveland? In the Midwest we eat a lot of hearty foods — Rust Belt fare. We love our potatoes and our meats. So how do you create Midwestern food and atmosphere, but lighten it up a bit?

Summer House opened in early March. It was the best opening week I've ever been part of. The feedback was tremendous, and the food was extremely well received.
We were open just six days before COVID-19 shut us down. The state authorities ordered all restaurants to close, except for take-out.
Feeding ourselves quickly morphed into cooking for our community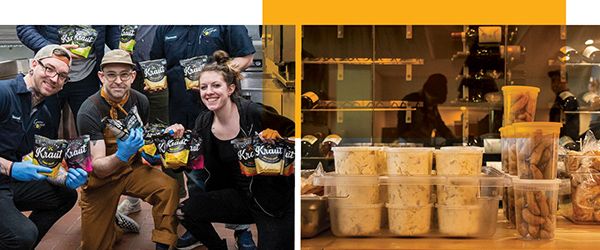 The shutdown was announced on a Sunday. By Monday we were saying, "What can we freeze? How do we get through these next two weeks?" By Tuesday it was, "This is clearly going to last longer than initially anticipated. What can we do to help out, knowing that our friends and families are out of work?"
More than 50 people on staff were left without income, and many of them live paycheck to paycheck.
As a brand-new restaurant, we had tons of food in our coolers. So we said, "Let's cook everything we can and feed our staff."
Then we started getting food donations, and more food donations, and it just kind of blossomed. We asked ourselves, "How do we continue this relief program — not just for our own staff, but for as many out-of-work hospitality workers as we possible?"
Back to Business
Get personal service
from a Farmers® agent.
Family meal means cooking for our own. Our family just got a lot bigger.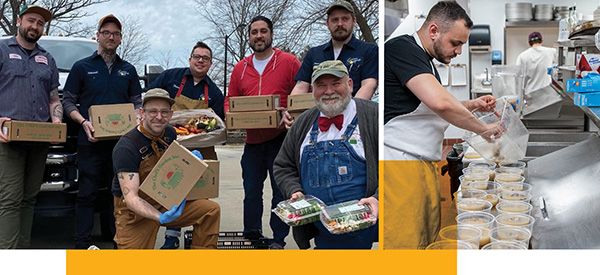 We launched Cleveland Family Meal, which is modeled on the "family meal" that staff shares at many restaurants. Every day someone on staff cooks a meal. And then from say 3:30 to 4:00 p.m., before opening, we all eat together. It builds bonds. In a lot of restaurants, it's front of the house vs. back of the house; there's a lot of oil and water. I don't believe in that. We're one family; we're together in this. 
"This horrible thing that's happening — not just to our country but the world — is bringing people together."
Fortunately, our owner allowed us to continue to cook out of the Summer House kitchen. We kept our numbers very small — just four of us, eventually — to help us stay safe and not perpetuate the spread of the virus. Luckily our kitchen is large, so that four people can work at opposite ends of the room. As fast as we get food in, we're cooking it.
Our culinary community in Cleveland is tight knit. Everybody knows everybody, and we all band together to help each other out. I just happen to be the ringleader on this. A number of local restaurants, when the shut-down happened, heard of what we were doing, and they cleared out their coolers and dropped off all their food.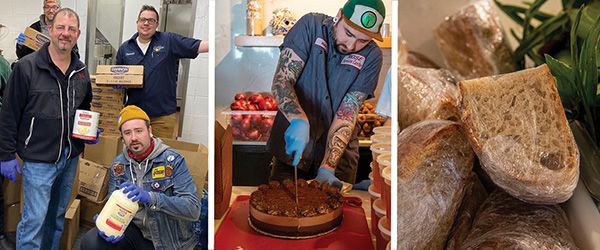 When life gives you 56 gallons of mayonnaise

We've gotten donations from family farms and local produce partners. We've gotten large corporate donations of salads, burger patties, yogurts, potatoes, sour cream. A local baker has donated bread. A hot-sauce company donated hot sauce.

We always adhere to the strictest food safety guidelines — it's what we're trained to do in restaurants. Now, it helps us figure out what food donations we can accept and how to handle them. Then, as chefs, we get to be really creative. How do we turn 150 pounds of chicken into multiple meals? Maybe it's chicken salads, rotisserie-style chicken, chicken paprikash or chicken stock. How can we utilize what comes in to its fullest potential to feed people? Let's take the potatoes. Let's make mashed potatoes. Let's make au gratin potatoes. Let's make potato soufflé.
Once a week I drive down to a pork processor, and he has either hot dogs or bacon or pork butts ready to go. I load up the car, bring it back to Cleveland, cook it all off.
A beef company will drop off 50 to 100 pounds of beef, and we grind, repackage and freeze it. People in Cleveland couldn't find ground beef in the stores. So, we've packaged ground beef for people to cook at home. We make meat loaf, shepherd's pie.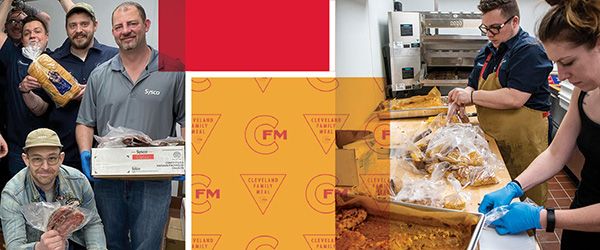 Once we received 14 cases of mayonnaise — 56 gallons in all. I have a propensity for mayonnaise; I'm getting a mayo tattoo designed for me eventually. But 14 cases was eye-popping even for me.
So we had to get creative. Mayonnaise is mostly eggs and oil, so we made cornbread, substituting mayo for eggs and fat. We marinated and roasted chicken in mayonnaise. We made cakes, cookies, barbecue sauces, salad dressings and pasta and chicken salads. (And we still have nine cases left.)
"I still work long hours, but my days look very different than before."
We do food distribution several times a week. It took us a while to figure this out. At first we underestimated our community's need for us — and people's need for social interaction. We constantly remind everyone about social distancing. Eventually we moved pickup operations outside to a parking lot. Now we have long tables, and we're on one side with gloves on. Everybody who comes up to the table gets hand sanitizer and then gloves. We encourage them to wear masks.
We set up bags of food for people to take home. And bins of wrapped breads and fruits, quart and pint containers of different stocks. Recently we did chicken stock and bone broth — things that are healthy and hearty.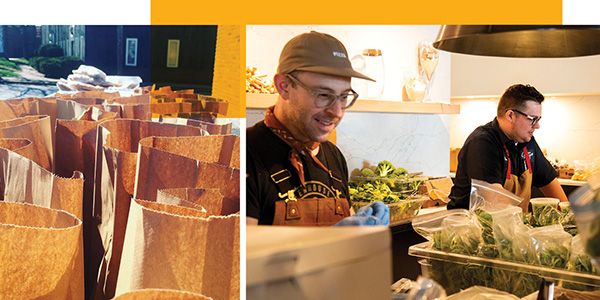 "We want to hug you but we can't"

Right now Cleveland Family Meal is feeding 100 to 150 people a week. Most are folks from the hospitality industry. We've had people in tears, so appreciative, saying, "We want to hug you but we can't!"
This horrible thing that's happening — not just to our country but the world — is bringing people together. I've felt that firsthand. We want to be a little ray of sunshine. And, frankly, it keeps us sane.
I have a wife and three children, and I'm very fortunate: I've been allowed to keep my job. I can't imagine being in the circumstances a lot of people are in. So I want to pay it forward — use my good fortune as a fuel to help as many people as possible.
I still work long hours, but my days look very different than before. I'm not operating a restaurant. I'm coordinating donations, scheduling drop-offs, updating a website (which I've never done before). I'm talking with local nonprofits about how to be able to accept larger donations from businesses that want to help.
After the pandemic, mapping out a new normal

As for the future, I'll continue my career as a chef, but my wife and I also plan on helping with Cleveland Family Meal. It has grown; even after restaurants open up again, CFM can continue to help workers who suddenly lose their jobs, or can't work for medical reasons, or have to take care of someone at home. The average cook, bartender or server lives close to, or below, the poverty line. They need better wages and more affordable healthcare.
I don't feel things will go back to "normal" when restaurants are allowed to reopen. This is going to change the industry; we're in uncharted waters.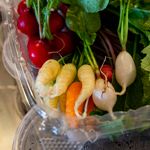 As fast as the COVID
pandemic is evolving,
so is Cleveland Family
Meal. The team recently
launched Cleveland
Family Market, a
collaboration with
other local restaurants
to provide prepared
meals, produce and non-
perishable food to out-
of-work service industry
employees.

Written by
Vinson Cimino, as told to Cathy Cockrell
The information contained in this page is provided for general informational purposes only. The information is provided by Farmers and while we endeavor to keep the information up to date and correct, we make no representations or warranties of any kind, express or implied, about the completeness, accuracy, reliability, suitability or availability with respect to this article or the information, products, services or related graphics, if any, contained in this article for any purpose. The information is not meant as professional or expert advice, and any reliance you place on such information is therefore strictly at your own risk.