Business Insurance for Education and Non-Profit
You run your educational or non-profit organization with the best
intentions — whether you're increasing knowledge or improving lives.
Even so, an unfortunate event can still distract you from your mission
statement's purpose.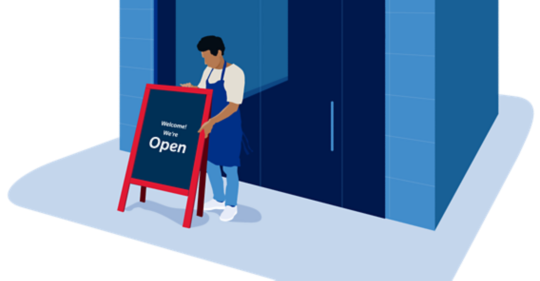 A Farmers® agent can show you insurance options for your private school, museum, civic group or religious organization. And you can choose personalized coverage that can help minimize typical risks.
Here are some of the ways you can manage typical risks:
Risk:
An employee in your administrative office accidentally starts a fire when he forgets to turn off an old coffeemaker.
Coverage: Business property insurance can help with the cost of restoring your office building and its contents — including important paperwork like donor records.
Risk:
A protestor sues your organization for injuries sustained when he fell while being escorted off your property.
Coverage:
Business liability insurance can help offset the cost of hospital bills and lawsuits related to accidents on your premises.
Risk:
A fire seriously damages lecture halls and dorms just weeks before school starts — there's no way to accommodate all enrolled students.
Coverage:
Tuition and fees coverage can help when you're unable to collect fees and tuition because of damage caused by a fire or other covered event.
Risk:
You learn your computer system was hacked — confidential information, including student social security numbers, has been stolen.
Coverage:
Cyber liability and data breach insurance can provide legal and forensic assistance to help you recover stolen data and better manage cyber risks.
Farmers helps you keep your eye focused on your mission
You can tailor a Farmers policy to the precise needs of your educational or non-profit organization with coverage options like these:
Counseling professional liability insurance helps if there is claim of negligence related to a covered service like vocational counseling or educational therapy. 
Abusive acts liability insurance helps pay defense costs if there are claims of abuse or molestation.
Employment practices liability insurance can help if your organization, directors, officers or employees are accused of wrongful termination, harassment or discrimination.
Employee benefits liability insurance can help with legal costs if there are errors in the administration of employee benefits programs.
Workers' compensation insurance can help pay for medical costs when employees are injured on the job.
Farmers works to build strong customer relationships
Farmers has spent 90 years putting customers first. Are you shopping for coverage, or do you have a question about your policy? Maybe you're ready to get a quote for your educational or non-profit organization. Be sure to let a Farmers agent deliver personalized service and support.
You'll experience a similar level of care from our knowledgeable claims representatives, who will provide assistance as quickly as possible.
To learn more about what Farmers can do for your educational or non-profit organization, call an agent today.
Talk to a Farmers® agent about insurance for nonprofits.
Understand your options, to find the personalized coverage that works for your organization.