When Kelley Sanborn's school in Bar Harbor, Maine, switched to distance learning on March 13, 2020, it was life-altering for her students — ninth- to 12th-graders with complex disabilities such as autism, traumatic brain injury, medical issues and Down syndrome. The 54-year-old special-education teacher knew reaching and engaging her students remotely would be a challenge.
"Some of our students commute by boat to school. For them, remote learning was in some ways easier," says Sanborn. "But for kids with significant disabilities and cognitive issues, we've had to rely on parents to help them navigate the experience."
Sanborn also knew finding quiet, private space for a classroom would be important — but not easy in her open-floor-plan, two-bedroom home on Mount Desert Island.
"When schools in Maine shut down, we went from a three-person, one-dog household to suddenly having our college-age son and niece, our daughter, my husband and two dogs under one roof. It wasn't pretty," says Sanborn.
After Sanborn tried working from her bedroom (artfully arranging her laptop so that the view of the forest through a window behind her made it look as though she was sitting on her porch), her husband, Bill, devised a better plan. A custom home builder and woodworking craftsman, Bill had built two of the family's homes and renovated two rental cabins on a nearby pond. Using leftover construction materials and an underused storage shed, he created a free-standing home classroom in their backyard, complete with electricity, Wi-Fi, lighting, custom-built shelves and double windows with a view of the woods surrounding their home.
Adding on or renovating?
Talk to a Farmers® agent about how it might affect home insurance coverage.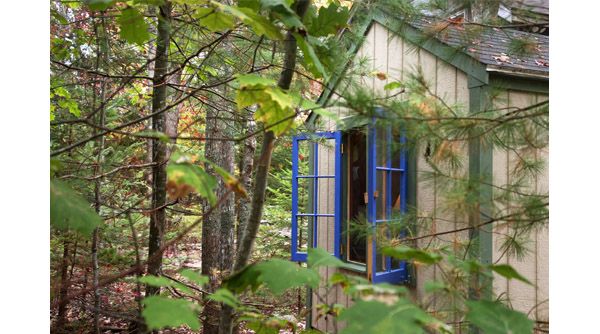 "When I'm not conferencing with parents, students and staff, I can watch birds and squirrels through the window while I work. It's heaven."
"When I'm not conferencing with parents, students and staff, I can watch birds and squirrels through the window while I work. It's heaven."
And because Bill built out the shed with leftover construction material they had on hand, their only expense was a couple of cans of paint to freshen up the exterior and paint the shelves a bright, happy color to create a home classroom environment she knew her students would enjoy.
"Everything is sort of makeshift and make-do with what we have, and I've put up lots of photos, cards and quotes. I've surrounded myself with things that make me and my students happy." Including the Princess Leia poster she liberated from her daughter's bedroom. "It looks like she's peeking over my shoulder," says Sanborn. "This thrilled a student who advocated for our May the 4th Be With You class party online."
Sanborn is discovering ways the shed is mutually beneficial — for her and her students. "It provides the calm consistency my students need to stay focused under unusual circumstances," says Sanborn. "Having materials and resources close at hand, rather than teetering on the edge of my bedside table, also means that I can go home from work and not have it consume me. The walk across the yard provides needed separation between the two."
"When my students see a familiar face on the screen — someone who looks relaxed and comfortable — it can impact their comfort and learning."
She noticed an interesting and unexpected change in one student, in particular — a senior working to build foundational literacy skills. "Quiet, one-on-one work with a teacher in remote learning removed the distractions of a busy classroom and allowed us to use online resources that we typically don't use in the classroom — but were necessary for remote teaching," says Sanborn, who has been a special-needs educator for more than 30 years.
Although the shed enables these bright, teachable moments, Sanborn also notes that it is no substitute for in-person teaching and learning. "It is the human connections and relationships that drive teachers, and they are especially important for students who struggle to learn. We are finding innovative and meaningful ways to build and maintain these connections virtually, and a private space like this shed is a valuable tool in that process."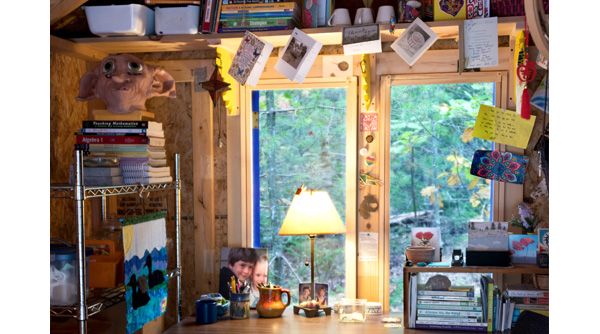 "We are finding innovative and meaningful ways to build and maintain [human] connections virtually, and a private space like this shed is a valuable tool in that process."
With the new school year in progress, Sanborn and her husband are looking at the next upgrades for the makeshift home classroom, including proper insulation for the shed. "My first days in the shed happened in March. In Maine," she says, recalling the chilly conditions inside the uninsulated shed. "We have no idea what the new school year will bring, but it's very likely that we'll need the flexibility to move back and forth from in-person to hybrid to remote. I'll need more than a space heater to keep me warm in January! Insulating the walls, floors and roof are all possible."
"I love my work, helping to launch young adults with disabilities into the many years of life that come after school ends. Learning to be flexible and learning new things is what we expect of them," says Sanborn. "It's a good reminder that we should be able to expect the same of ourselves."
Virtual Learning Made Easier
Robin Sweany, a kindergarten-through-fourth-grade resource teacher in Hamilton Southeastern Schools in Fishers, Indiana, shares strategies that can help parents and students with exceptionalities be more successful during virtual learning.
Establish a dedicated space for learning. Separate "home" and "school" as much as possible. This could be a desk, office, kitchen table. Any place where distractions can be minimized. Natural light is a plus! Some students (those with ADHD, for example) may need room to stand or move to help them focus. Tape on the floor can create an area for movement while keeping students on camera with the teacher in the home classroom environment.





Limit distractions. Remove toys, televisions, gaming devices and cell phones, if possible. Use headphones to help dampen background noise. If students are learning in a busy or noisy setting (like daycare or neighborhood co-op), earbuds with a built-in microphone can help minimize background noise for the teacher or classmates.


Post a visual schedule. It can be a challenge to keep lessons and Zoom calls straight, especially for students with multiple supports like special education, ENL or Title I. Making a daily schedule with all sessions listed or even color-coded helps keep students on track throughout the day. For students with autism or anxiety, knowing what comes next is key.





Use a timer or alarm. Setting an iPad, computer or watch timer for five minutes before a scheduled Zoom call or meeting can help foster student independence and keep them organized so they don't miss lessons.
 
Make learning multisensory. The more sensory pathways students use when learning, the better they may understand and retain the information. Teachers can send home or parents can get manipulatives, fidgets, physical books, homemade whiteboards (white cardstock in a sheet protector and a dry erase marker) and other supplies to help students stay engaged in their learning.  


Schedule breaks. When students get overwhelmed or overstimulated, take a brain break. A posted list of quick break activities can be useful, or students can visit one of many fun websites for a dance break or yoga session. Students can also do some large muscle movement like jumping jacks or wall pushups to get their blood flowing and their body ready to learn. Sometimes a few deep breaths can help students stay calm and focused.





Provide incentives. Even adults like to look forward to something after a hard day's work. Schedule a fun activity or quality time with your student for when they complete their schoolwork for the day or week. 


Communicate with your child's teacher. Teachers want their students to succeed. If you or your child are struggling with something at home, consider reaching out to your teacher for tips or strategies that can help. 

Written by
Maria Neuman
The information contained in this page is provided for general informational purposes only. The information is provided by Farmers® and while we endeavor to keep the information up to date and correct, we make no representations or warranties of any kind, express or implied, about the completeness, accuracy, reliability, suitability or availability with respect to this article or the information, products, services or related graphics, if any, contained in this article for any purpose. The information is not meant as professional or expert advice, and any reliance you place on such information is therefore strictly at your own risk.