Kelly P.'s* jaw dropped when her mother-in-law opened the old-fashioned photo album she had just pulled out of her linen closet.
"Her older sister Lucretia had recently passed away," Kelly remembers. The album held dozens of professionally developed 8-by-10 large-format camera photographs featuring some very famous faces.
It was a collection of never-before-seen images of the funeral ceremonies for the tragically slain 35th president, snapped from intimate angles in the Capitol Rotunda, where his body lay in state in November 1963, and at his graveside in Arlington National Cemetery. "I'm like, 'Mom, this is JFK's funeral!'" she recalls.
"She said, 'I know, Aunt Cree's best friend was a photographer, she covered the whole funeral procession.' I had never seen anything like them before," Kelly says.
Kelly's husband is the youngest of five, and the siblings all agreed their late aunt's photo album was a potentially significant treasure. But they had no idea how to find out for sure, or what to do with it once they knew.
With the family's permission, Kelly took the album home to Dallas, Texas. There, a curator at the Sixth Floor Museum, which chronicles the Kennedy assassination and its aftermath, confirmed that the images were unique close-up views of the final presidential rites.
"He said they would be thrilled for us to donate them, but some of my husband's siblings said we should try to sell," Kelly says. "Then, we just came to a standstill."
That was in 2001.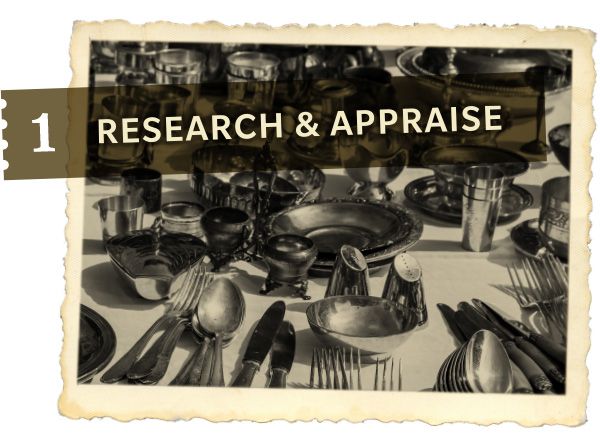 A Tarnished Treasure — Rescued

In the aftermath of a loss, dealing with the possessions a loved one left behind can be bewildering. "The inclination is to just freeze in a panic of uncertainty," says Jennifer Carman, an accredited senior appraiser in Little Rock, Arkansas. Popular television shows about antique auctions and appraisals can contribute to that sense of uncertainty. "There's this fear that they might become the fool who sells a priceless treasure at a yard sale."
"But if people blunder through the process, they can end up losing a lot of money," warns historian and museum curator Mary Miley Theobald. Her book Stuff After Death was inspired by her rescue of a valuable piece of tarnished sterling silver from the throwaway pile at her late mother-in-law's home.
"If people blunder through the process, they can end up losing a lot of money. "

—Mary Miley Theobald
Fear makes some heirs reluctant to examine a cherished item's history. Linda Fuentes of Commack, New York, feels a sentimental attachment to two pieces of porcelain that belonged to her grandmother. "I almost don't want to know if it's valuable because I might be tempted to sell it," Fuentes admits.
Fuentes kept a gilt china bowl and hand-painted Limoges plate hidden away for years, worried her small children might break them. "I never did any research, but I'm starting to wonder if I should," she says.

Research starts at home
Gather information from the family's files or records as a first step, Carman says. "A little snooping can reveal bills of sale or old appraisals or documentation that will lend clues to an object's provenance (history of ownership) or identification." 
How much is it worth?
Search your area for auction houses that host free appraisal days. These "verbal" appraisals don't include documentation, but can give you an auction-value estimate for the item.

Fuentes has no paperwork on her pieces. According to family lore, they once belonged to her grandmother's godmother, whose name no one remembers. "We think they must be 150 years old," Fuentes says.
In that situation, the objects themselves may tell a story. "A plate marked 'Limoges' on the back with a hand-painted design on the front — usually floral or botanical — might be the work of the relative herself," Theobald explains. "Nicely brought up ladies were raised to have these talents at the turn of the last century."
To confirm preliminary research, Theobald recommends taking older items to a reputable antique dealer or a museum curator. "Many are happy to give you an off-the-cuff idea of what an item is, but not a formal valuation." Live auction websites that specialize in art, antiques and collectibles may also give you a rough idea of an heirloom's value, once you know what it is.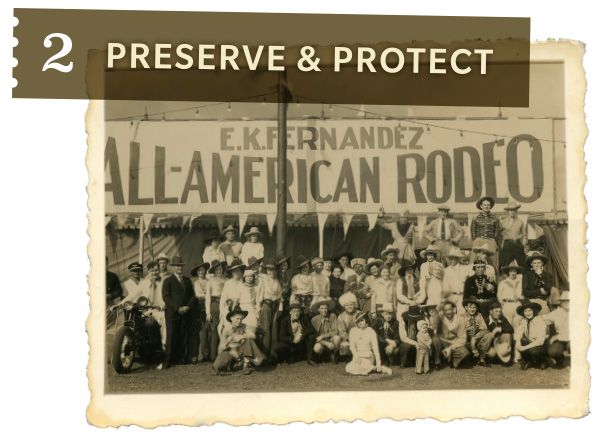 A Cowgirl's Life in Pictures

Valerie Grant of Everett, Washington, knows exactly what she has and what she wants to do with it. But getting her inherited collection into the right hands is taking years.
"My great-grandma, Hazel McCart, was a rodeo trick rider in the 1930s," Grant says. "She was one of the very first cowgirls to ride a Brahman bull."
Hazel McCart's career included a stint with the E.K. Fernandez Wild West Rodeo, which sailed to Japan on Emperor Hirohito's own ship for an imperial command performance in 1934. McCart carefully packed away a trunkful of newspaper clippings, photographs and gifts.
"If you store the items in your house, keep them out of the attic or basement. "

—Mary Miley Theobald
"I have the ship manifest, a map of the stadium, notes on where they had to stand," Grant says. "Pictures of them riding through the streets in Japan and thousands of pictures of her trick riding. I have her chaps and a basket they say was given to her by the emperor. It should be in a museum."
Grant has nominated her relative for inclusion in the Cowgirl Hall of Fame in Fort Worth, Texas. While she waits for their decision, keeping the fragile items safe is a constant worry.
Carman recommends consulting the American Institute for Conservation's website, which has pages of detailed information on caring for documents, textiles, photos, books and more. As a rule, keep temperature and humidity fluctuations to a minimum. "That means, If you store the items in your house, keep them out of the attic or basement," Theobald says. "Those areas tend to damage things." Consider a climate-controlled storage facility if your home is not suitable.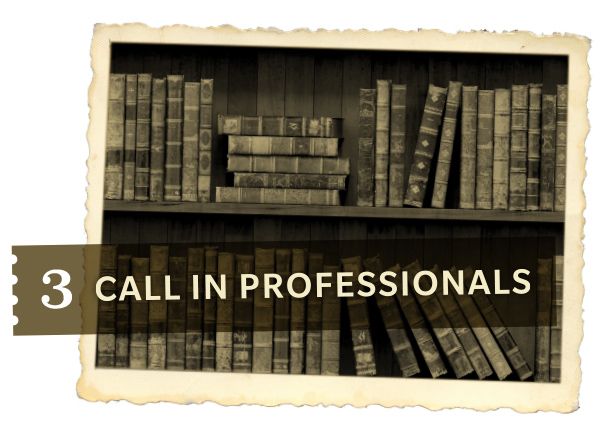 A Rare Book Collection — Discovered

Bert Bigham's concern is purely practical. "We're downsizing to retire, and a lot of things have got to go," Bigham says. "Now we have our own stuff, as well as my sister's."
Bigham could only take a week away from his Biloxi, Mississippi, business last year to clear out his beloved older sister's Houston home. When he arrived, he found two extensive collections belonging to her late husband.
"He had two shelves of books from the 1800s, probably 30 or 40 at least," Bigham says. Many were first-edition volumes about the Civil War, signed by the authors. "His great-grandfather was a general, so we think they were his."
The brother-in-law's second collection was much more modern: "I knew he had collected Playboy magazines — but I didn't know he had every one of them from 1955 to 2004."
Although the set doesn't include the iconic, and very valuable, Marilyn Monroe issue from 1953, several items in the group can fetch a bundle. A copy of the January 1955 edition featuring Bettie Page, for example, sold on eBay for $475 in 2018.
"I don't know what to do next. I would like to find a value for them and sell them," Bigham says. "But if we need an expert appraiser, do I have to find two different ones?"
"I knew he had collected Playboy magazines — but I didn't know he had every one of them from 1955 to 2004. "

—Bert Bigham
In Bingham's case, Carman says it's possible to find an expert who can address both collections. "Many well-respected book appraisers also dabble in magazines."
Take care when choosing an appraiser. The field isn't tightly regulated, so just about anyone can call themselves an appraisal pro. However, there are federally recognized standards of practice designed to protect consumers.
"Find an unbiased consultant who is affiliated with a major professional organization or accrediting body, such as the American Society of Appraisers," Carman advises. That organization's website lets you sort by location and specialty. 
Finding a qualified appraiser
Reputable appraisers clearly state their areas of expertise up front, and will refer you to a more appropriate colleague if necessary. Beware of any "expert" who seeks to purchase your item or offers to sell it for a commission, Carman says. 

Expect to pay your appraiser an hourly rate — most are in the $150 to $250 range, Carman says. You should receive a written report detailing his or her research, including an analysis of comparable sales data and estimated values for your inherited objects.
"These concerns are so ubiquitous among families who find themselves in these circumstances," Carman says. "Every family is going to experience this eventually." With a bit of research and help from the right professionals, heirs can find a good home for handed-down treasures — and get paid what they're worth.
* Name has been altered for privacy, at the request of the source.
Are collectibles covered?
You may be able to insure some inherited valuables for their current market value by adding a personal articles floater to your homeowners policy. Click here to learn more.
Written by
Mary Kay Linge


The information contained in this page is provided for general informational purposes only. The information is provided by Farmers® and while we endeavor to keep the information up to date and correct, we make no representations or warranties of any kind, express or implied, about the completeness, accuracy, reliability, suitability or availability with respect to this article or the information, products, services or related graphics, if any, contained in this article for any purpose. The information is not meant as professional or expert advice, and any reliance you place on such information is therefore strictly at your own risk.