On May 8, 2017, emergency alert sirens shrieked from cell phones across Denver. Minutes later, Jeffrey Silverberg stood transfixed as the "Hailstorm of the Century" slammed into the luxury car dealership where he worked.
Golf ball-size hail smashed windshields and windows. It pounded deep dents in the roofs and hoods of every, single car on the lot, and hammered the metal roof on the showroom. 
"All the car alarms went off at the same time. Inside the showroom, it sounded like artillery shells hitting the roof," says Silverberg, chief operating officer at the dealership. "Everyone stopped working and just watched."
By the end of the storm, nearly 400 cars (many priced in the six-figure range) were completely totaled. Silverberg says the loss — 100 percent of their inventory — and damage to four buildings at the dealership rang up $3 million in damages. The dealership's business was at a complete standstill for nine days. "It was a mess," he says.
Hail isn't just about property damage

Seeing the destruction hail can wreak on steel, it should come as no surprise that it's a dangerous force against humans too.
If a person is struck by a 2-inch hail ball, "Severe bruising is a certainty, and broken bones are a possibility," says Dr. Ian Giammanco, lead research meteorologist at the Institute for Business and Home Safety (IBHS). "Larger hail can cause even more severe injuries. Hailstones over 3 inches can kill people and livestock."
Do you live in a hailstorm zone?
Check your ZIP code
Hailstorms are most common in Tornado Alley — the Midwest and Great Plains areas east of the Rocky Mountains. But they can happen in any part of the country when conditions are right.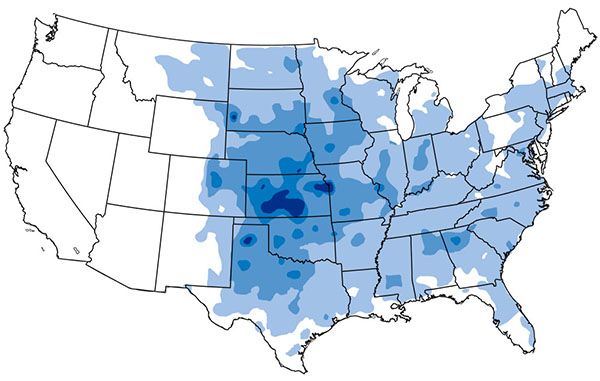 Rich Cavaness, a project manager at a company that specializes in roof construction and repair in Plano, Texas, saw what 60-mph, wind-driven hail the size of a softball can do to a home after a 2016 hailstorm in Wylie, Texas. Hail punctured holes in siding and shattered windows. It cut through shingles, roof decking, insulation and ceiling material, then bounced around inside homes, damaging furniture and flooring in its final impact. "The hail was so large, entire homes were written off as a total loss."

How big (and fast) is hail?
The size of a hailstone affects its falling speed, referred to as terminal velocity.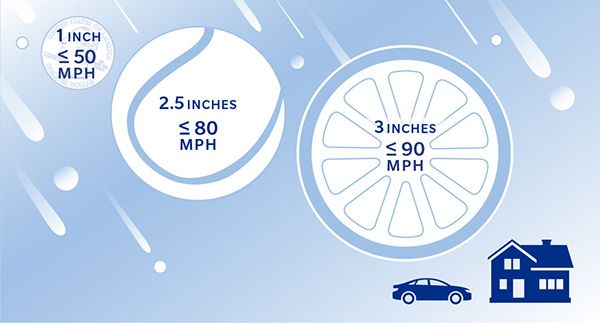 Transcript[TXT]
Are you prepared for the next hailstorm?

Preparation and safety procedures can help minimize damage. The I B H S offers these recommendations to provide maximum protection.
1. Know the rating of your roofing shingle.
Imagine firing a 2-inch steel or ice ball at a roofing shingle at 70 mph. Roof coverings with a Class 3 or Class 4 rating withstand this rigorous testing in order to receive those high ratings.
When researching high-quality roofing material, if you live in a hail-prone region, I B H S recommends considering a Class 3 or Class 4 rated roof covering, such as slate or tile with a F M 4473 Class 4 hail rating; or, metal or asphalt shingles with U L 2218 Class 4 impact rating.
2. Protect expensive equipment outside your home or business.
Think about equipment sitting outside or on the roof, such as commercial or residential H V A C units, exhaust fans and vents. Hail guards or hail netting can protect these investments and pay for themselves by preventing total losses.
3. Find the safest places in a hailstorm.
Hail warnings are typically triggered up to 30 minutes prior to a storm, but Giammanco says weather apps rely on a single computer model forecast and can share inaccurate information. Local television and radio broadcast weather information can supplement these apps with the most up-to-date information about a storm's approach and capabilities.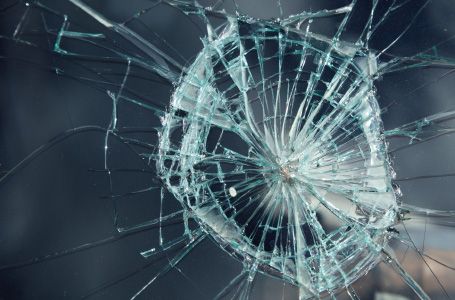 When a hailstorm alert is issued
Stay away from windows. Avoid going outdoors in a hailstorm.

If you can't seek shelter indoors, "Get under trees and branches, which may break up the hail and slow its descent. Find a gas station, car wash, carport, retail store or restaurant," says Cavaness.

"If you can't find shelter, cover your head with your arms to help protect your head as best you can," says Giammanco.

Avoid stopping under an overpass if you're driving — a common instinct for drivers. Giammanco says the threat of a serious traffic accident or pileup under an overpass is far greater than hail damage to your car.

Silverberg says it took months for the dealership's operations to return to normal. And, because the hailstorm was localized, Silverberg says nearby competitors who didn't suffer the same fate tried to capitalize on their losses by advertising "hail-free" vehicles. "We had dealerships soliciting our salespeople too. But we were able to take care of our commissioned salespeople and pay them a salary as goodwill for hanging in there."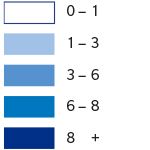 The number of reported
hailstorms producing
hail 1" or larger,
according to IBHS.
Get a quote
Includes personal service from a Farmers agent.
Written by
Eric Grossman

The information contained in this page is provided for general informational purposes only. The information is provided by Farmers® and while we endeavor to keep the information up to date and correct, we make no representations or warranties of any kind, express or implied, about the completeness, accuracy, reliability, suitability or availability with respect to this article or the information, products, services or related graphics, if any, contained in this article for any purpose. The information is not meant as professional or expert advice, and any reliance you place on such information is therefore strictly at your own risk.