As a 12-year-old living in south Louisiana, Ian Giammanco first witnessed the brutal force of high winds shredding structures and the surrounding landscape at 100-plus miles per hour.
"It was Hurricane Andrew in 1992 that really sparked my career," recalls Giammanco, lead research meteorologist for the Insurance Institute for Business and Home Safety (IBHS).
Since then, he has experienced 15 landfall hurricanes and countless severe thunderstorms as a researcher.
"I've seen flying plywood get embedded in the side of buildings. Very unnerving."
While Giammanco cut his teeth on a coastal hurricane, he notes no region is immune from damaging winds. "East of the Rockies, you get thunderstorms — which can occur anytime — and tornadoes in the spring and summer. In the Northwest, you get low-pressure systems; that means sustained high winds from fall until early spring."
To help homeowners prepare for the brunt of powerful winds, IBHS researchers and engineers subject homes to extreme weather, from wind to hail. Out of this testing, IBHS recommends best building practices for homeowners.
"Mother Nature makes a mess whenever and wherever she wants."

— Anne Cope, senior vice president of research and engineering at IBHS
"Mother Nature makes a mess whenever and wherever she wants," says Anne Cope, senior vice president of research and engineering at IBHS. She recommends homeowners focus on three key areas on the property to help prepare a home for high winds. 
The Roof

Although many roofs are rated to withstand winds of 90 mph, damage can begin around 50 mph — and about 10,000 thunderstorms hit the U.S. each year with winds of 58 mph or above, with 100-mph bursts common.[1] Tornados are considered minor at 72 mph and rise from there to catastrophic. And reports of severe wind events are rising, Giammanco says.
Is Your Roof Prepared for the Worst?
You don't need to be a professional contractor to spot common signs that a roof might be vulnerable to wind damage, says Cope. A few things can easily be seen from the ground — though sometimes a leak is the first tipoff that there's a problem.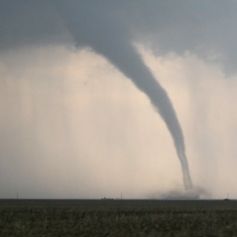 In 2018, there were 1,124 confirmed tornadoes in the U S .

One of the most important elements of a strong roof may not be as easy to see, Giammanco says. It's the adhesive that holds down the visible part of the shingles — the tabs, in roofer speak. A shingle that's lifting in the wind means the adhesive isn't doing its job anymore. And that means trouble, he says.
"It's progressive. Once one shingle starts lifting, others will too, and then in a severe thunderstorm or tornado those shingles will start to peel off," says Giammanco. "That's the main vulnerability."
When a roof is installed, the adhesive needs to reach 140 degrees to activate — and that depends on heat from the sun, he explains. A friend who recently put a new roof on his home — in winter, in Colorado — had to replace the whole thing when the adhesive failed to activate because it was too cold. His best advice:
"If you're reroofing, do it in the warm months. We tell folks, 'Don't do it in winter.'"

— Ian Giammanco, lead research meteorologist for the Insurance Institute for Business and Home Safety (IBHS)
A homeowner might be able to spot lifting shingles from the ground during high winds, but Giammanco recommends getting a roofer to check — and to re-seal where the adhesive has failed. "It's a lot cheaper than a new roof," he says.
If any problems are apparent, Cope has this advice: "Take care of them immediately, before a high-wind event occurs." Contractors are usually booked solid following severe weather, and it could take months to get the repairs scheduled after incurring damage./p>
---
MEET THE NAIL THAT CAN HELP KEEP ROOFS INTACT.
It's called an 8d ring shank nail. In testing, researchers at IBHS found that common 8d nails and staples — the type allowed in older building codes — are inadequate to keep a roof from lifting up in high winds.

If you're considering replacing a roof, IBHS recommends installing 2 3/8" 8d ring shank nails (actual size shown). The ridged rings offer better holding power because wood fills the spaces between the rings and also provides friction to help prevent the nail from backing out over time.
If a roof inspector finds common 8d nails or staples on a roof, ring shank nails should be added. According to I B H S, the cost of re-nailing the roof deck costs a few hundred dollars on a typical, 2,000-square-foot roof.
If your roof needs to be repaired or replaced, I B H S and the National Roofing Contractors Association recommend the usual care in vetting and selecting a contractor:
Verify license and liability insurance coverage.
Don't just check the references provided by the company; comb municipal permit files for previous clients and check with them.
Get all the details — materials, work to be done, payment schedule and start and end dates — in writing.
Research the kind of shingles a roofer proposes using, and make sure you understand the warranty.
Snap a selfie with your roofer and ask for cell phone pictures of your roof after their inspection and upon completion of the work.
The Backyard

"The key here is to keep any physical object from blowing around," says Cope.
Start securing and moving items before weather becomes severe. "When something like a lawn chair or planter crashes through a window, it's much more serious than just a broken window. You now have high winds entering the house. There's pressure on the inside and outside, which multiplies the total force on the house, leading to greater potential for damage."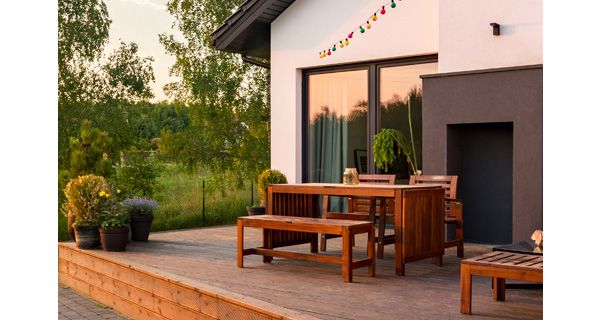 For homes located in regions where high wind events are common, IBHS recommends considering the following:
Move furniture, potted plants, garbage cans and charcoal grills inside.
Do not move propane tanks for gas grills inside. Secure the tank upright (never on its side) on the leeward side of a shed or against a retaining wall.
Repair parts of fencing that appear weak or loose. High winds can easily rip away boards and send them into the air.
Don't use pebbles, gravel or small rocks in landscaping. Propelled by high winds, they can tear through windows, vinyl siding and even mailboxes. Instead, use soft materials like mulch or heavy paving stones that stay put.
Inspect the caulking on windows, doors and pipes leading inside. Replace any worn or missing caulk to keep wind-driven rain from leaking into interior walls.
The Trees

"Trees can be incredibly damaging when they fall into your home," says Cope. "Residential structures simply aren't designed to withstand that kind of impact."
While it's not easy to predict which trees are most vulnerable, there are steps that can help reduce the risk of tree damage to your home.
Prune trees twice a year — in late winter or early summer ­— and remove branches that are dead, weak or hanging over the house.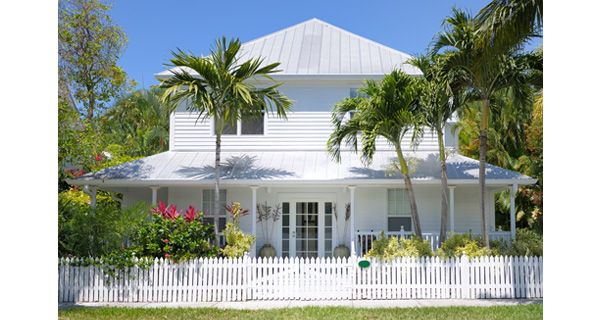 Remove moss growing on branches with a power washer. The weight of the moss, especially when wet, can weaken branches and leave them vulnerable to wind.
To avoid weakening, keep tree limbs trimmed to 5 feet or less.
Trees with flexible trunks (think: palm trees) stand up better to wind because they bend. Select native or indigenous trees when landscaping — they're more likely to withstand local weather, including high-wind conditions.(Check Native Plant Finder for native plants and trees for your area. )

Written by
John Diether

The information contained in this page is provided for general informational purposes only. The information is provided by Farmers® and while we endeavor to keep the information up to date and correct, we make no representations or warranties of any kind, express or implied, about the completeness, accuracy, reliability, suitability or availability with respect to this article or the information, products, services or related graphics, if any, contained in this article for any purpose. The information is not meant as professional or expert advice, and any reliance you place on such information is therefore strictly at your own risk.