Gina Kirk couldn't quite trust the perfect images of DIY resurfaced cabinets she saw on Pinterest.
Like most homeowners, Kirk spent hours researching the details of the kitchen makeover she and her husband were planning. With the price tag for a midrange major kitchen remodel in the U.S. hovering around $66,000, according to the 2019 Cost v. Value report from Remodeling magazine, Kirk was looking for ways to save without compromising the look of her dream kitchen in their Massachusetts home.
"Every cabinet resurfacing tutorial used different methods, but every picture looked the same in the end: perfect."

— Gina Kirk
Custom cabinets and top-of-the-line appliances are the major expenses in most kitchen remodels, according to the study. Replacing the dark, dated (but solid oak) cabinets in her kitchen would be costly — at least $8,000 for new oak, or $2,500 for pressed particleboard cabinetry, according to Kirk's research. Which is how she landed on Pinterest, the popular social media site for sharing visual projects and ideas. "Every cabinet resurfacing tutorial used different methods, but every picture looked the same in the end: perfect," she says. "We couldn't find a single, definitive process, which made me wonder if most of those 'after' pictures were Photoshopped."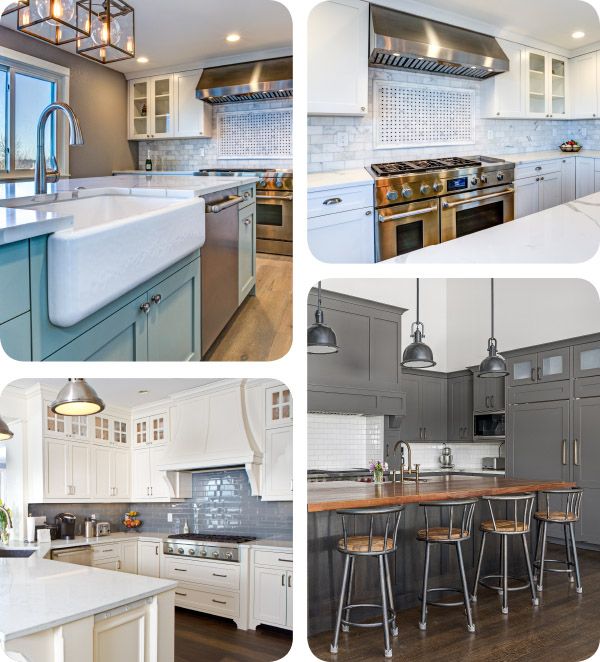 Kirk hired a professional to resurface her cabinets and paint the trim for $1,800, money she classifies as well spent. And watching a pro's process was an eye-opening experience, she says. From taping off the entire kitchen, to removing every door, knob and hinge, to priming, sanding and applying wood filler — it was a staggering amount of work, very little of which had been detailed correctly in the DIY tutorials.

"I totally underestimated the process, the amount of time it would take, all of these critical details," she says.


"A major kitchen remodel is like heart surgery for the home."

— Sal Ferro, CEO of Alure Home Improvements
Although experts flag cabinetry as one of the top areas where homeowners make mistakes, a number of other common cautionary tales exist.
"A major kitchen remodel is like heart surgery for the home," says Sal Ferro, CEO of Alure Home Improvements in East Meadow, New York, one of the top-grossing design/build/remodeling companies in the U.S., according to Qualified Remodeler magazine. "It's the center of your home, which makes a kitchen remodel the most intrusive and time-consuming home improvement," he says.

Whether it's worth the cost varies widely from homeowner to homeowner. Given that a $66,000 kitchen renovation adds an average of $41,000 to the resale value of a home according to Remodeling's survey, if your family will move in the next few years, you should weigh whether a 35 percent loss is worth an updated kitchen.

Here, Ferro lists details homeowners frequently overlook in this kitchen remodel process.

3 Ways Homeowners Blow the Budget
A major kitchen remodel can last from eight to 12 weeks, and your kitchen could be closed for business for most of that time. "The expense of eating out every day adds up," says Ferro.


Unless there's a fatal flaw in the classic refrigerator/stove/sink "work triangle," don't change the basic floor plan of your kitchen, he says. "Relocating gas lines, moving plumbing or electric — after cabinetry, this is the biggest expense. And it's avoidable in some cases," he adds.


Buy appliances that suit your reality. "I've seen homeowners spend top dollar on top-of-the-line stainless steel ranges, and they don't even cook," says Ferro. Allocate your dollars to items that will bring you satisfaction today; for some, that's the beautiful ambience of a premium lighting package. For others, basic lighting is a smarter choice if it means being able to purchase a great dishwasher and premium (yet rugged) refrigerator that can handle the demands of a large family.

Written by
Margaret Heidenry
The information contained in this page is provided for general informational purposes only. The information is provided by Farmers® and while we endeavor to keep the information up to date and correct, we make no representations or warranties of any kind, express or implied, about the completeness, accuracy, reliability, suitability or availability with respect to this article or the information, products, services or related graphics, if any, contained in this article for any purpose. The information is not meant as professional or expert advice, and any reliance you place on such information is therefore strictly at your own risk.