Oklahoma Homeowners Insurance
You might not live exactly like your parents. Why should you insure your home in the exact same manner? Whether you own a modern ranch home outside Oklahoma City or a lovingly restored Craftsman in the Panhandle, with a Farmers FlexSM Personal Home policy, you can choose quality coverage for your lifestyle today, with new ways to help you save.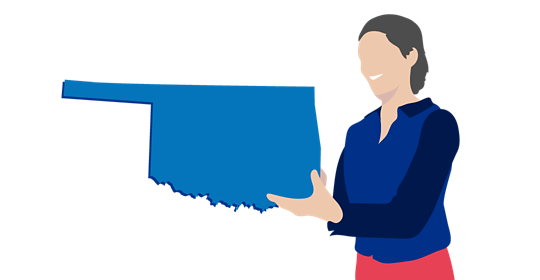 Home insurance coverage options in Oklahoma
A standard homeowners insurance policy typically includes three major types of coverage: dwelling coverage, which helps pay to repair or rebuild your home if it's damaged or destroyed by a covered, sudden, accidental event; personal property coverage, which helps pay to repair or replace your belongings; and liability coverage, which helps in case you're financially responsible for injury to others or damage to their property for incidents covered by the policy.
The new Farmers FlexSM Personal Home policy in Oklahoma gives you three highly customizable packages as a starting point:
Standard - Basic coverage for an affordable price
Enhanced - Provides higher coverage limits and additional optional features
Premier - Coverage with higher limits and the broadest choice of optional features
Read more about other types of Home insurance coverage.
Optional coverages
Within each Farmers Flex customizable package, you have the flexibility to adjust coverage types, select coverage options and choose policy limits.
Guaranteed Replacement Cost
Don't worry about escalating construction costs — for covered losses, with Guaranteed Replacement Cost, we'll guarantee coverage for the full cost to rebuild your home, even if it exceeds your policy limits.
FORTIFIED RoofTM Upgrade
This coverage pays to rebuild your damaged roof to enhanced standards to help resist severe storms.
Water Backup and Sump Overflow
This coverage can help pay to fix water damage caused by water backing up through drains and sumps.
Cyber and Identity Shield
Coverage for many forms of identity theft and cyberattacks, and monitoring services to help you prevent them from happening.
Emergency Mortgage Assistance
This option can provide three months of mortgage payments, up to $10,000, while your home is uninhabitable when you rebuild after a covered loss.
Home Businesses
If your house is more than just your home, get coverage for your home business, too.
Home Sharing
Coverage for renting part or all of your home through a home-sharing business.
Flex Features
When you purchase a policy with Farmers, you're not just getting insurance backed by almost a century of experience. You can also get other benefits and savings, such as:
Declining Deductible
Earn $50 toward your applicable deductible each year your home policy remains in force.


Multi-Policy Discount
Save by purchasing Home, Auto and select other policies with Farmers.


Claim Forgiveness
When you've been claim-free with Farmers for five years, we won't increase your premium for a single claim.
Oklahoma home insurance discounts
Farmers Flex Personal Home also offers a variety of savings opportunities for eligible home insurance customers in Oklahoma. For example:
Welcome Discount
Home Buyer Discount
Multi-Policy Discount
Theft Protection Discount
Loyalty Discount
Claim Free Discount
Fire Protection Discount
Water Protection Discount
You might qualify for additional discounts on your home insurance. Ask your Farmers agent about discounts available in Oklahoma.
This information provides only a general description of coverages and potential discounts. Not all products, coverages and discounts are available in every state, and they can vary by state. Discounts, availability and eligibility requirements can vary by state. Coverages and discounts are subject to the terms, limits, provisions, exclusions, restrictions and conditions in the policy, including applicable endorsements. Contact Farmers for details and additional information.
Can you get homeowners insurance on an old house?



Yes, you can usually get homeowners insurance on an old house. The cost of your insurance, though, may be higher, depending on what kinds of updates have been done. Old wiring or an aging roof may be considered higher risks, for example. A home with outdated systems, repeated insurance claims, or significant wear may not qualify for standard homeowners insurance – you might need to get a specialty policy designed for homes with these issues. And keep in mind that the cost of repairs for wear and tear and maintenance typically are not covered by home insurance.
Does homeowners insurance in Oklahoma cover tornadoes?



Homeowners insurance typically can help cover damage from wind, including a tornado's punishing gales, according to the Insurance Information Institute. But that can vary by insurer. You may need to accept a higher deductible for wind and hail damage, and your roof may need to be built to higher standards to qualify for some policies. Whether it's tornadoes or any other risk, you can understand your coverages by checking your policy and talking to your agent.
However, tornadoes can bring heavy rain and flooding — and floods, along with earthquakes, are not covered by standard home insurance policies. Separate flood and earthquake policies are available.
View more coverage options in Oklahoma
Auto insurance
Find minimum state requirements for auto insurance in Oklahoma, available discounts and more.
Learn From Experience
Read real-life stories about insurance, renovations, home safety and more from pros and homeowners like you.
---