Travel Insurance*
Travel insurance offered and provided by Cover-More*. Whether it's for vacation or business, travel is by nature unpredictable. Travel insurance can help you protect your travel investment when unexpected situations happen.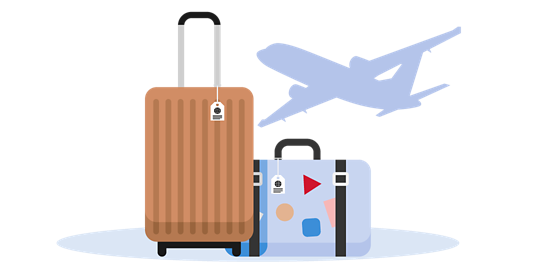 Coverage for the unexpected - offered and provided by Cover-More*
Have you ever had to cancel travel plans unexpectedly, and you've already bought your flight and a stay at an all-inclusive resort? Or paid for a last-minute hotel room in New York because you missed your connection? Maybe you fell ill in remote Nepal and needed to be airlifted to a hospital. Or the airline routed your bags to Arkansas and you were headed to Arizona.

What is travel insurance?
Travel insurance can help you protect your travel investment whether you're away from home for work or taking the vacation of a lifetime. Wherever you're going, for whatever reason, traveling comes with risks that range from minor disruptions like flight delays to catastrophic events like medical emergencies. Purchasing travel insurance can help you give you and your family a sense of security.

What does travel insurance cover?
Travel insurance can provide multiple types of coverage, including:

Trip cancellation coverage in a comprehensive plan helps with trip costs — things like the plane ticket you've bought or cancellation fees — if you need to cancel for a reason that's covered by your policy; for example, if a hurricane renders your destination uninhabitable.
Trip interruption coverage helps reimburse you for the unused pre-paid non-refundable cost of your trip, if it's cut short due to a covered reason— if you get sick while abroad, for example.
Medical and dental coverage reimburses you for health-related expenses if you become injured or sick while on your trip. Since U.S. health insurance isn't always accepted in other countries, this coverage can help reimburse you for expenses related to medical emergencies while traveling.
24-7 travel assistance provides support in the case of emergencies, such as losing your passport or needing an emergency evacuation.
Two travel insurance plans to choose from, covering as many as ten people per household, with a range of benefits - offered and provided by Cover-More.
The Comprehensive Plan offers competitive coverage, including trip cancellation, trip interruption, and trip delay for covered reasons, emergency medical, emergency evacuation/repatriation, baggage and baggage delay.
The Post-Departure Plan helps recover costs if your trip is interrupted by a covered event (does not include trip cancellation) and also includes emergency medical, emergency evacuation/repatriation, trip delay, baggage and baggage delay.
Travel insurance policies can cover losses related to:
A severe illness or injury
Lost or delayed baggage and personal effects
An airline, rail line or cruise company stopping service due to an unannounced strike or severe weather
A natural disaster, such as a hurricane, that makes your travel destination uninhabitable
A traffic accident en route to your departure
A terrorist event at your destination 
What is not covered by travel insurance?
A travel insurance policy doesn't cover all unforeseen events. Some things that might not be covered include:

Travel advisories and border closures
Travel costs for trips to seek medical treatment in another country
Civil unrest
Losses resulting from a pre-existing condition — an injury or illness that started before the coverage began — may not be covered unless, in some cases, you purchase a policy far enough in advance. You may be eligible for a pre-existing condition exclusion waiver if certain purchase requirements are met.
*Travel Insurance is offered and provided by Cover-More Inc. and made available through Kraft Lake Insurance Agency, Inc. in Alabama, Alaska, Arizona, Arkansas, California, Colorado, Connecticut, Delaware, Florida, Georgia, Hawaii, Idaho, Illinois, Indiana, Iowa, Kansas, Kentucky, Louisiana, Maine, Maryland, Massachusetts, Michigan, Minnesota, Mississippi, Missouri, Montana, Nebraska, Nevada, New Hampshire, New Jersey, New Mexico, New York, North Carolina, North Dakota, Ohio, Oklahoma, Oregon, Pennsylvania, Rhode Island, South Carolina, South Dakota, Tennessee, Texas, Utah, Vermont, Virginia, Washington, West Virginia, Wisconsin, Wyoming, and District of Columbia.  Cover-More Inc. (CA Agency License #0N13321) is the travel insurance provider.  The product is underwritten by Zurich American Insurance Company (NAIC #16535) and claims are administered and paid by Zurich Travel Assist. Farmers Insurance entities are not underwriting the travel insurance and are not responsible for the travel insurance products and/or services. The product descriptions provided here are only brief summaries. The full coverage terms and details, including limitations and exclusions, are contained in the insurance policy.
Travel Assistance is provided by Zurich Travel Assist. Any inquiry regarding claims may be directed to Zurich Travel Assist at claims@zurichtravelassist.com, P.O. Box 968019, Schaumburg, IL 60196-8019; Toll Free: 888-999-8405. This is intended as a general description of certain types of insurance and services available to qualified customers through the companies of Zurich in North America, provided solely for informational purposes.  Nothing herein should be construed as a solicitation, offer, advice, recommendation, or any other service with regard to any type of insurance product underwritten by individual member companies of Zurich in North America, including Zurich American Insurance Company, 1299 Zurich Way, Schaumburg, IL 60196. Your policy is the contract that specifically and fully describes your coverage, terms and conditions. The description of the policy provisions gives a broad overview of coverages and does not revise or amend the policy. Coverages and rates are subject to individual insured meeting underwriting qualifications and product availability in applicable states. If you have questions about coverage available under available plans, please review the policy or contact Cover-More. Cover-More Inc. 810 N 96th Street, Suite 300, Omaha, NE 68114. Toll Free 844.240.8419. Insurance coverages underwritten by Zurich American Insurance Company (NAIC # 16535).