Wildfire Defense To Help Your Home
Affected by a recent catastrophe? Farmers® Catastrophe Response Team is here to help you.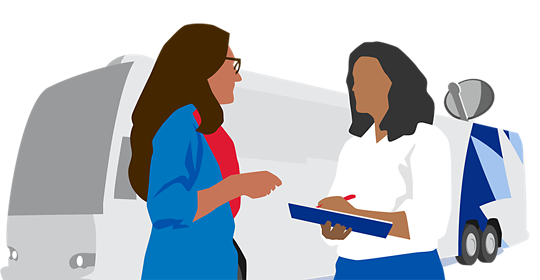 No home is fireproof, but by taking precautions, you can help prepare your home.
Here are some ways to make your home and property more resistant to wildfire:
Remove dead vegetation from plants and lower branches from tall trees.
Keep the gutters, roof and outdoor spaces free of debris like leaves and twigs.
Clear out window screens and attic vents.
Move firewood at least 30 feet from the house.
Use roofing materials with a Class A fire rating (the highest).
Install metal angle flashing at the edge of the roof.
Box-in eaves that have an open construction (i.e., where rafter tails are visible).
Install metal flashing where wood decking meets the siding (if the siding is combustible).
Replace single-pane windows with multi-pane, tempered glass windows with screens.
Create Defensible Space Zones
According to readyforwildfire.org, an important step in reducing wildfire risk to your home is the creation of defensible space zones. Think of defensible space zones as a layer of protection between your house or business and the approaching wildfire.
Zone 0: 0 feet to 5 feet
The Immediate Zone is closest to your house and the most vulnerable — it should be most aggressively maintained for fire resistance.
Remove any combustible outdoor furniture. Replace jute or fiber door mats with fire resistant materials.
Remove or relocate all combustible materials, including garbage and recycling containers, lumber and trash

Clean all fallen leaves and needles regularly. Repeat often during fire season.
Remove tree limbs that extend into this zone. No vegetation is recommended within five feet of structures.
Do not store firewood, lumber or combustibles under decks or overhangs.
Use only inorganic, non-combustible mulches such as stone or gravel.
Zone 1: 5 feet to 30 feet
The Intermediate Zone may include buildings, structures, decks, etc. Keep this area "Lean, Clean, and Green."
Remove dead plants, grass dry leaves and pine needles from your yard, roof and rain gutters.
Trim trees regularly to keep branches a minimum of 10 feet from other trees.
Remove branches that hang over your roof, and keep dead branches 10 feet away from your chimney.
Relocate wood piles into Zone 2, or at least 30 feet from any structures.
Remove vegetation and items that could catch fire from around and under decks.
Zone 2: 30 feet to 100 feet
The Extended Zone may even include space more than 100 feet away if required by steep slopes, nearby vegetation conditions, and/or your local fire department.
Cut or mow annual grass down to a maximum height of four inches.

Remove fallen leaves, needles, twigs, bark, cones and small branches. However, they may be permitted to a depth of three inches if erosion control is an issue.
Check with your local fire department for any additional defensible space or weed abatement ordinances.

---
Following a Disaster
Should you become separated from family members, use your communication plan. Letting family and friends know you are safe and well can bring them peace of mind — you can register yourself or search for loved ones at the Red Cross's safeandwell.org.
If you are evacuated, return home only when officials say it is safe. If you cannot return home and have immediate housing needs, text SHELTER + your ZIP code to 43362 (4FEMA) to find the nearest shelter in your area (example: shelter 12345).
Please stay alert and away from dangers like:
Damaged roads or bridges
Broken or damaged power lines and gas lines
Broken glass, splintered wood and other sharp, dangerous objects
Gas fumes (open windows for ventilation, and wait to use lighters or matches)
Flood residue contaminated with sewage or chemicals
Remember to cooperate with authorities. We can all do our part to help in an emergency by staying updated and complying when officials in the area recommend keeping phone lines clear, staying off emergency roads or taking other safety precautions.
Inspect and protect your property
Once the catastrophe has passed and you've checked in with friends and family, the next step is to call your insurance agent to report any property damage.
If it is safe to do so, protect your property from further damage by making small emergency repairs to your home before an insurance adjuster sees it. This could include boarding up windows, putting a tarp on the roof and salvaging  undamaged items.
If possible, keep damaged items or portions of these items until the claim adjuster has visited your home. Consider photographing or videotaping the damage to provide further documentation to support your claim.
FEMA may also provide assistance after some disasters — call 800-621-3362 or go to www.DisasterAssistance.gov for more information.
---
Preparation and Safety Tips
She Raced a Fire That Scorched 40,000 Acres in 12 Hours and Lost Almost Everything
A harrowing first-person account of a family outrunning one of the worst blazes in California history.



Report a claim online
The convenient way to report losses while at home or on the go.
Report a claim