Tornado Safety and Preparation Tips
Affected by a recent catastrophe? Farmers® Catastrophe Response Team is here to help you.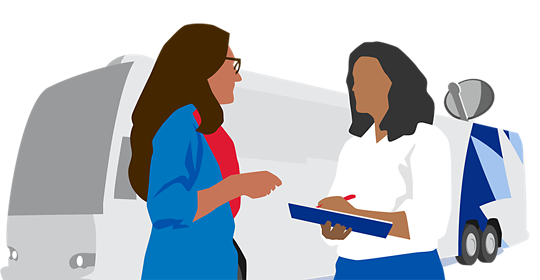 No one can control or predict a serious tornado, but the more you know, the better you can plan for what's ahead.
According to NOAA, the average lead time for tornado warnings is just 13 minutes. That means you must act immediately:
Go to the basement or storm cellar and take cover under something sturdy, like a workbench or staircase. Do not open windows.

If you don't have a basement, head to the centermost part of your home, preferably a room without windows.
Close interior doors to help compartmentalize the structure and provide more barriers between you and the storm.
Do not stay in a mobile home — go directly to a designated shelter or nearby building.
Do not stop under an overpass or bridge. You're safer in a low, flat location.
---
Following a Disaster
Should you become separated from family members, use your communication plan. Letting family and friends know you are safe and well can bring them peace of mind — you can register yourself or search for loved ones at the Red Cross's safeandwell.org.
If you are evacuated, return home only when officials say it is safe. If you cannot return home and have immediate housing needs, text SHELTER + your ZIP code to 43362 (4FEMA) to find the nearest shelter in your area (example: shelter 12345).
Please stay alert and away from dangers like:
Damaged roads or bridges
Broken or damaged power lines and gas lines
Broken glass, splintered wood and other sharp, dangerous objects
Gas fumes (open windows for ventilation, and wait to use lighters or matches)
Flood residue contaminated with sewage or chemicals
Remember to cooperate with authorities. We can all do our part to help in an emergency by staying updated and complying when officials in the area recommend keeping phone lines clear, staying off emergency roads or taking other safety precautions.
Inspect and protect your property
Once the catastrophe has passed and you've checked in with friends and family, the next step is to call your insurance agent to report any property damage.
If it is safe to do so, protect your property from further damage by making small emergency repairs to your home before an insurance adjuster sees it. This could include boarding up windows, putting a tarp on the roof and salvaging  undamaged items.
If possible, keep damaged items or portions of these items until the claim adjuster has visited your home. Consider photographing or videotaping the damage to provide further documentation to support your claim.
FEMA may also provide assistance after some disasters — call 800-621-3362 or go to www.DisasterAssistance.gov for more information.
Talk with your Farmers® agent. They can help you understand your insurance options so you can select the insurance you want and answer your insurance questions.
---
Preparation and Safety Tips
"At 2 a.m., I woke up to see the bedroom walls bowing in."
Tornado survivors and disaster preparation experts share real-world insights that may help you prepare for a major twister.



Report a claim online
The convenient way to report losses while at home or on the go.
Report a claim