Disaster Preparedness
Affected by a recent catastrophe? Farmers® Catastrophe Response Team is here to help you.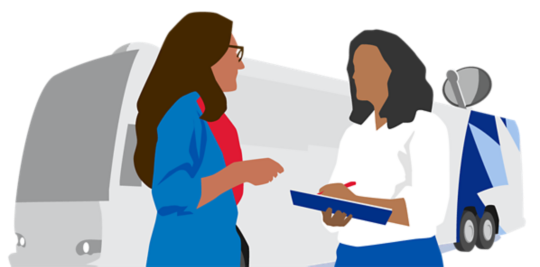 Disasters can happen without warning. Damage to roads, bridges and power lines, or even because of continuing bad weather could mean that emergency services and personnel may not be available for up to three days after a major disaster. You could be on your own, and you need to be prepared.
Step 1: Develop a Family Communication Plan
Remember, you might not be together in an emergency. Sit down with your family and work out a plan for contacting one another, including meeting places and pickup points. Write it down and make sure everyone has a copy when they're away from home. FEMA has developed a communication plan template that you can fill in and print on your computer.
Step 2: Get Informed
Every state has an emergency management agency, as do most counties and cities. Learn about the hazards, warning systems, response plans and evacuation procedures in place where you live. Go to redcross.org/get-help to find the nearest shelter and emergency resources. You can also sign up for text or email alerts from official sources.
Weather apps can provide early warning of severe weather. These include: NOAA Radar Live and Alerts, Weather Channel Maps and Storm Radar, or AccuWeather Tracker. Your state or local emergency management agency may also recommend apps that carry alerts for hazards in your area.
Step 3: Build a Survival Kit
Experts recommend storing enough provisions to sustain everyone in your family — including pets — at least three days.
Keep these items in a designated place where they're protected from damage and separate from things you use every day.
---
Three gallons of bottled water per person
Canned and packaged foods
Prescription medications
50-piece first aid kit
Body wipes and hand sanitizer
Rugged clothes and blankets
Protective eyewear and dust masks
Battery-powered radio and clock
Flashlight and additional batteries
Lighter or waterproof matches
Disposable plates and utensils
Hard copy of emergency phone numbers
Solar phone charger or hand-cranked
Wrench to close gas supply valve
Prybar to lift and move debris
Small emergency tent
Trash bags
Local map
---
Following a Disaster
Should you become separated from family members, use your communication plan. Letting family and friends know you are safe and well can bring them peace of mind — you can register yourself or search for loved ones at the Red Cross's safeandwell.org.
If you are evacuated, return home only when officials say it is safe. If you cannot return home and have immediate housing needs, text SHELTER + your ZIP code to 43362 (4FEMA) to find the nearest shelter in your area (example: shelter 12345).
Please stay alert and away from dangers like:
Damaged roads or bridges
Broken or damaged power lines and gas lines
Broken glass, splintered wood and other sharp, dangerous objects
Gas fumes (open windows for ventilation, and wait to use lighters or matches)
Flood residue contaminated with sewage or chemicals
Remember to cooperate with authorities. We can all do our part to help in an emergency by staying updated and complying when officials in the area recommend keeping phone lines clear, staying off emergency roads or taking other safety precautions.
Inspect and protect your property
Once the catastrophe has passed and you've checked in with friends and family, the next step is to call your insurance agent to report any property damage.
If it is safe to do so, protect your property from further damage by making small emergency repairs to your home before an insurance adjuster sees it. This could include boarding up windows, putting a tarp on the roof and salvaging  undamaged items.
If possible, keep damaged items or portions of these items until the claim adjuster has visited your home. Consider photographing or videotaping the damage to provide further documentation to support your claim.
FEMA may also provide assistance after some disasters — call 800-621-3362 or go to www.DisasterAssistance.gov for more information.
---
Preparation and Safety Tips
This Mom's Trouble "Sounded Like a Million Trains Coming" 
Her family's Central Texas home was considered outside of the danger zone, then back-to-back disasters changed everything.



Report a claim online
The convenient way to report losses while at home or on the go.
Report a claim